Displaying 866 results.
This document contains a Blue Carbon and Biodiversity within Suriname's Mangrove Forest using a multipurpose National Forest Inventory (NFI).
Author: Wip, G., Wortel, V., Ngu Chin Tjon, A., Marjanom, G., Feyen, J., Crabbe, S., Jairam, R., Traag, D., Landburg, G. & Lingaard, M.
Year: 2019
Keywords: blue carbon
---
Identifying ways of factoring the climate change mitigation role of coastal ecosystems, and trier role in carbon sequestration, into policy making has been the focus of an international workshop held 23-25 June in Guayaquil, Ecuador. Around 50 international experts joined the discussion in Guayaquil, either in person or remotely and shared lessons learnt from national and project level implementation efforts on Blue Carbon (BC).
Author: Conservation International
Year: 2015
Keywords: blue carbon
---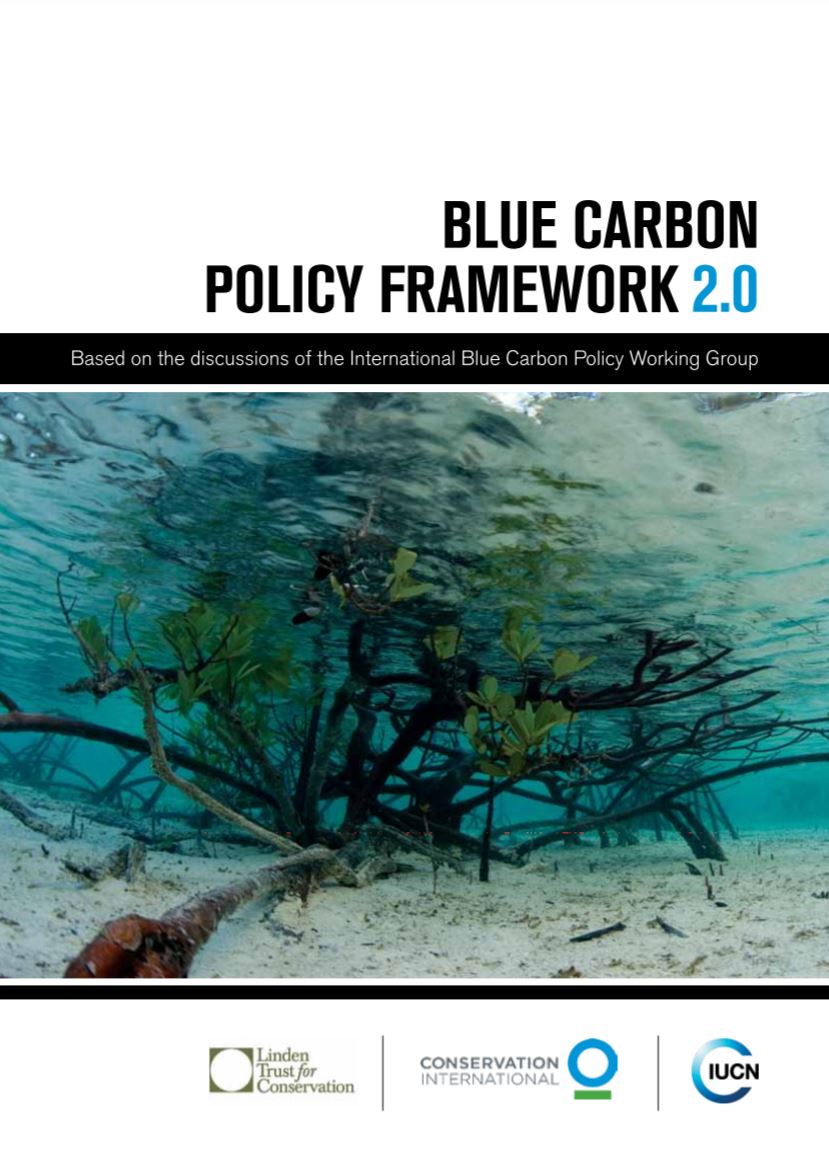 Development and implementation of blue carbon-based activities now requires strategic policy and incentive mechanisms to achieve coastal conservation, restoration and sustainable use, and provide disincentives to drain or damage coastal systems. A first effort to develop such a strategic program was set out in the first edition of the Blue Carbon Policy Framework. Based on additional information and current progress a revised Blue Carbon Policy Framework 2.0 has now been developed. It updates the previous version and adds a detailed coordinated program of policy objectives and activities. It outlines the activities needed for the integration of blue carbon into existing policy initiatives and the implementation of coastal management activities. The framework, described in this document, also details a timeline and identifies the possible stakeholders to further develop the activities.
Author: Herr, D., Pidgeon, E., Laffoley, D.
Year: 2012
Keywords: Oceans, Carbon sequestration, ecosystem management, Coastal zones, Ecosystem services, Policy making blue carbon, marine habitats
---
Author: Pidgeon, E.
Year:
Keywords: blue carbon
---
This publication includes examples from across different continents, ecosystems and cultures, but they all address the priorities of livelihoods and conservation in combination and bring benefits on both fronts. By giving local communities an immediate, concrete stake in the sustainable management of the ocean's resources, these projects have each secured the local stewardship they need to be a viable, long-term part of the blue economy.
Author: UNDP
Year: 2018
Keywords: Blue Economy Community Solutions blue economy
---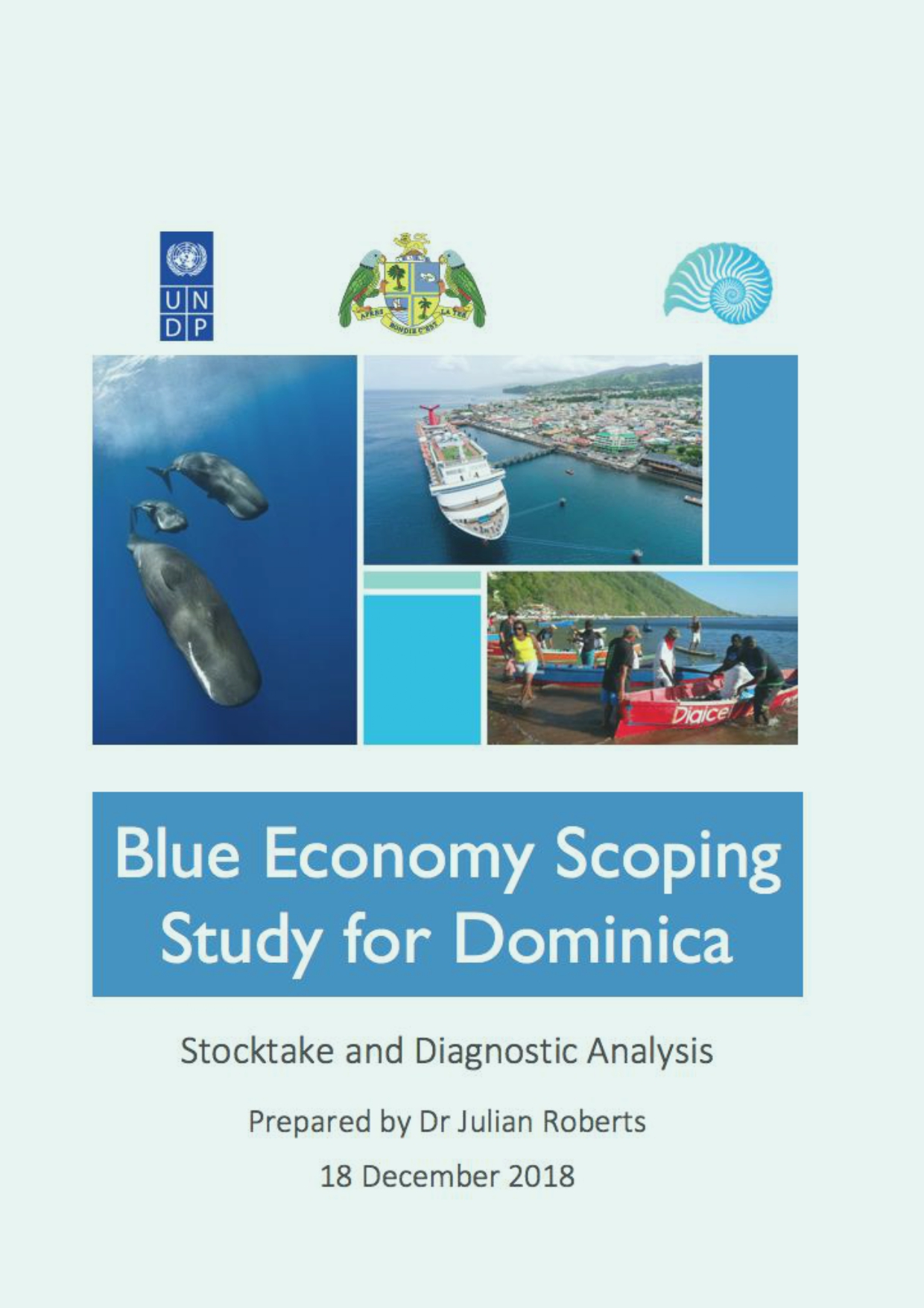 Following the devastating hurricane that struck the island of Dominica in 2017, the Government of Dominica is focusing on the development of a long-term strategy to become the world's first Climate Resilient country. In this regard, the Government has signalled its desire to integrate the Blue Economy into future resilience building initiatives. The United Nations Development Programme is supporting them in this aspiration and is extending technical support to Dominica to explore options to integrate the blue economy into its broader resilience building activities.
This report, prepared on behalf of UNDP, underpins this technical support and represents the first two of three deliverables under the UNDP programme of assistance, namely: a Stocktake; and a National Diagnostic Analysis. The purpose of these outputs is to provide both UNDP and the Government of Dominica with some understanding of the possible opportunities that the blue economy presents. They provide an overview of current context and opportunities, a technical analysis of impediments, and makes recommendations for ways forward.
Author: Roberts, J.
Year: 2018
Keywords: blue economy
---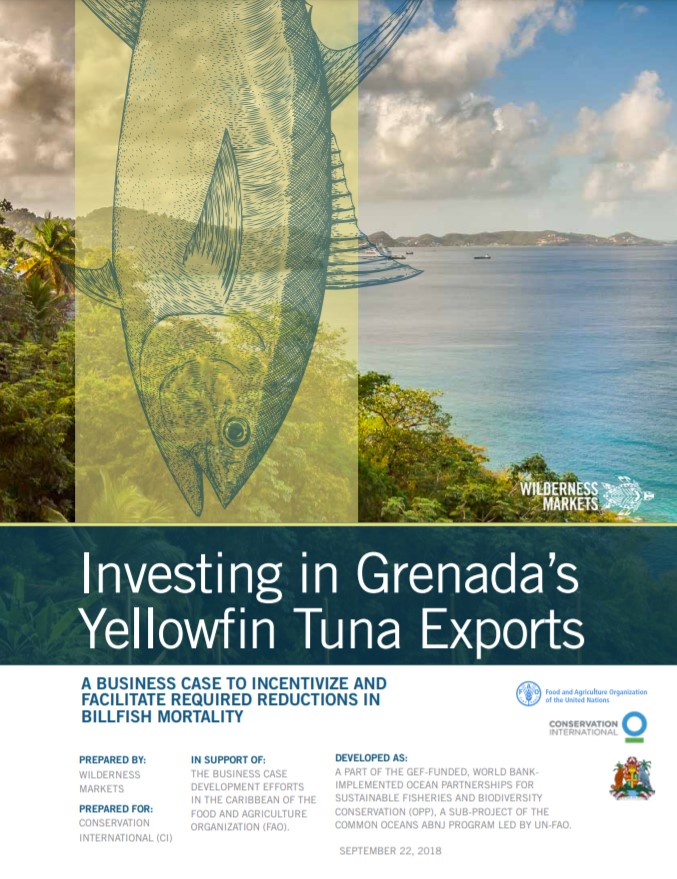 The relatively high incidence of billfish mortality in Grenadian fishing landings and the overall poor health of billfish stocks harvested in the region demonstrates a need for an urgent reduction in incidental billfish landings and mortality. Extensive research and analysis based on 2018 Fishery Performance Indicators (FPIs) indicate that the yellowfin tuna (YFT) export fishery in Grenada may provide the necessary triple-bottom line opportunities to use a parallel approach1 to address billfish mortality and achieve improved fisheries management. This may be achieved by increasing tuna quality and values for fishers, exporters and the government. At the same time, it is expected that the pressure on the billfish stocks will be reduced through investments to change gear, practices and technology. The increase in tuna quality and reduction in billfish landings is not expected to negatively impact subsistence fishing.
Author: FAO/Wilderness Market/CI/CLME+
Year: 2018
Keywords: Yellowfin Tuna Exports case study, investment
---
Author: FAO/Wilderness Market/CI/CLME+
Year: 2019
Keywords: Guyana Business Case Finfish sector Business Case, Finfish
---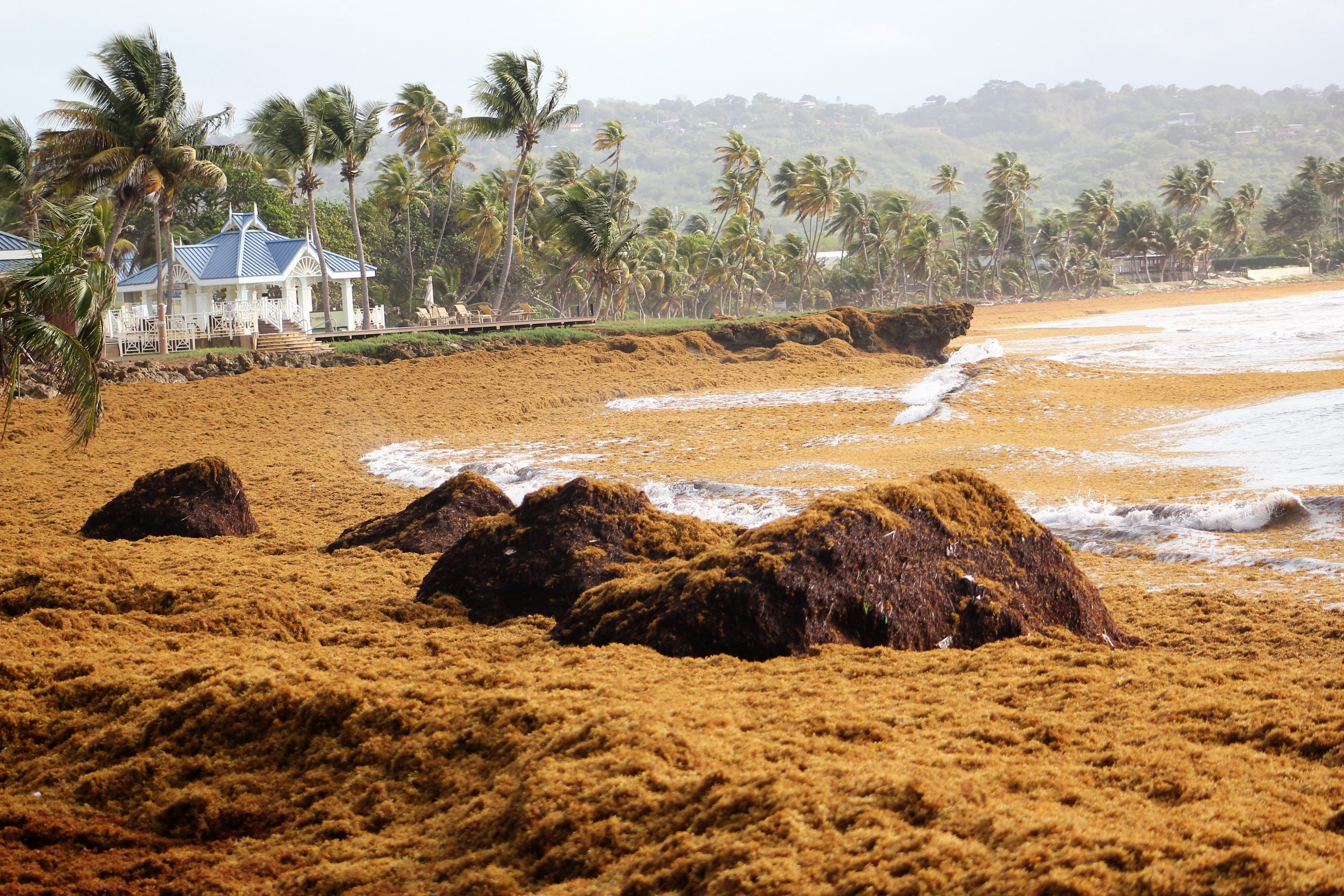 Climate change poses a critical challenge for Caribbean small island developing states (SIDS). Rising sea levels and sea surface temperatures, ocean acidification and more intense hurricanes and storms, and the resulting impacts on coastal and marine ecosystems, pose significant threats to communities, livelihoods and key economic sectors that depend on these ecosystems. CANARI Issue Paper No. 2 – Rising to the climate challenge: Coastal and marine resilience in the Caribbean highlights important lessons and innovations from work by the Caribbean Natural Resources Institute (CANARI) to build resilient coastal and marine ecosystems and liveli¬hoods in Caribbean SIDS using a participatory and socially inclusive approach. The issue paper draws on ten years of work by CANARI and its partners across the Caribbean, particularly under the following projects:
· Climate Change Adaptation in the Fisheries of Anguilla and Montserrat, 2017-2020, funded by the United Kingdom Government under the Darwin Initiative
· Engaging Civil Society in Strategic Action Programme Implementation under the Catalysing Implementation of the Strategic Action Programme for the Sustainable Management of Shared Living Marine Resources in the Caribbean and North Brazil Shelf Large Marine Ecosystems (CLME+) Project, 2017-2021, led by the United Nations Development Programme (UNDP) and funded by the Global Environment Facility (GEF) (32 countries and territories across Latin America and the Caribbean)
· Powering Innovations in Civil Society and Enterprises for Sustainability in the Caribbean (PISCES), 2017-2020, funded by the European Union EuropeAid Programme (10 countries: Antigua and Barbuda, The Bahamas, Dominica, Grenada, Haiti, Jamaica, St. Kitts and Nevis, Saint Lucia, St. Vincent and the Grenadines, Trinidad and Tobago)
· Regional Implementation of a Vulnerability and Capacity Assessment of Coastal and Fishing Communities under the Climate Change Adaptation in the Eastern Caribbean Fisheries Sector Project (CC4FISH), 2017-2020, led by the Food and Agriculture Organization of the United Nations (FAO) and funded by GEF (5 countries: Grenada, St. Kitts and Nevis, Saint Lucia, St. Vincent and the Grenadines, Trinidad and Tobago)
· Strengthening Caribbean Fisherfolk to Participate in Governance Project, 2013-2016, funded by the European Union EuropeAid Programme (17 countries: Anguilla, Antigua and Barbuda, The Bahamas, Belize, Barbados, Dominica, Grenada, Guyana, Haiti, Jamaica, Montserrat, St. Kitts and Nevis, Saint Lucia, St. Vincent and the Grenadines, Suriname, Trinidad and Tobago, Turks and Caicos)
Author: CANARI
Year: –2021
Keywords:
---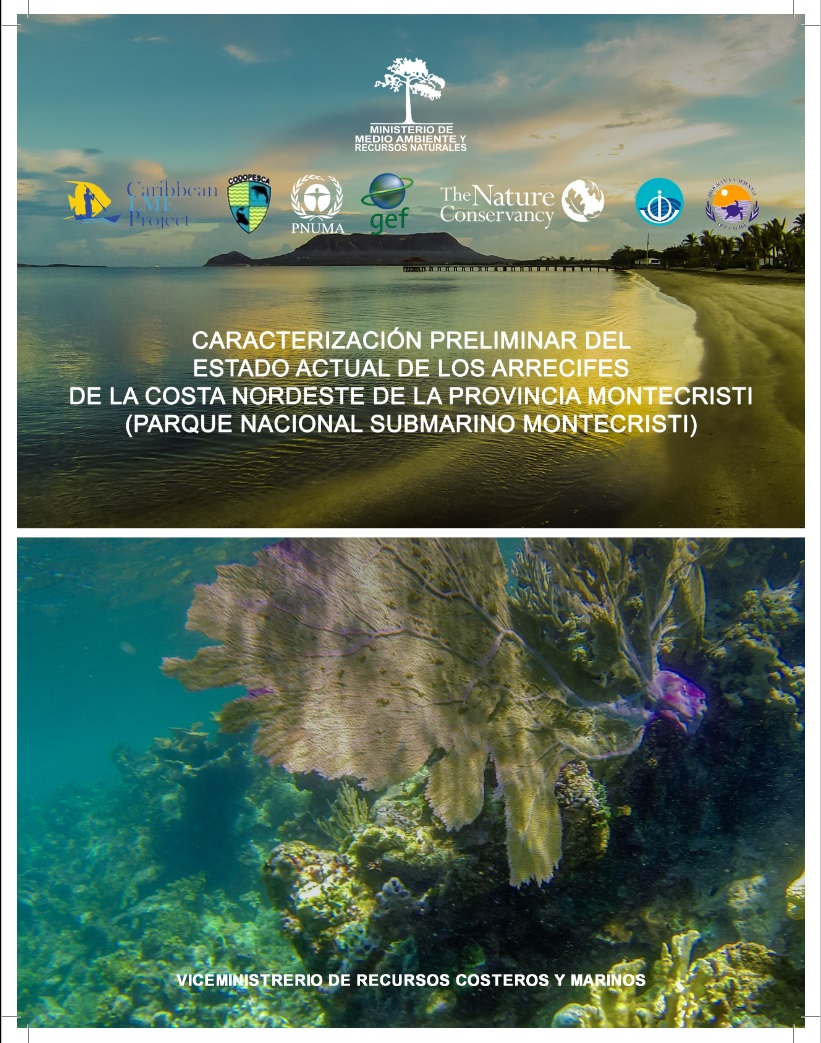 Este reporte presenta los resultados preliminares de la evaluación del estado actual de los arrecifes del Parque Nacional Submarino Montecristi, en la provincia de Montecristi, realizada durante los meses junio y julio 2012.  La zona de estudio estuvo comprendida desde Punta Rucia hasta cerca de la vertiente Este del Morro, la cual incluye los espacios del Parque Nacional Submarino Montecristi (PNSM) y áreas aledañas dentro del conjunto de áreas protegidas de la Provincia Montecristi.
Los objetivos del trabajo consistieron en evaluar el estado de salud del arrecife, obtener información de línea base para actualizar la Base de Datos Ambientales del Ministerio de Medio Ambiente y Recursos Naturales (MA) y generar insumos para la fase Diagnóstica y Propuesta de Zonificación del Proyecto Piloto de Manejo y Conservación de la Pesquería y Biodiversidad Arrecifal Parque Nacional Submarino Montecristi (MA- CLME).
Author: ViceMinisterio de Recursos Costeros y Marinos, Ministerio de Ambiente y Recursos Naturales, Republica Dominicana
Year: 2012
Keywords:
---
FROM VISION TO STRATEGIC ACTION
FROM VISION TO STRATEGIC ACTION
The CLME+ Hub is an initiative of the Secretariat of the CLME+ Interim Coordination Mechanism (ICM), in collaboration with the members of the CLME+ ICM and CLME+ Project Executive Group (PEG) and (prospective) Partner Organizations. Development of the Hub has benefited from the financial support of the UNDP/GEF Project: "Catalysing Implementation of the Strategic Action Programme (SAP) for the Sustainable Management of shared Living Marine Resources in the Caribbean and North Brazil Shelf Large Marine Ecosystems" (CLME+ Project, 2015-2020). The CLME+ Project is executed by the United Nations Office for Project Services (UNOPS) in close collaboration with a large number of global, regional and national-level partners. For more information on the CLME+ Project click here
Copyright © 2021 CLME + HUB