Displaying 866 results.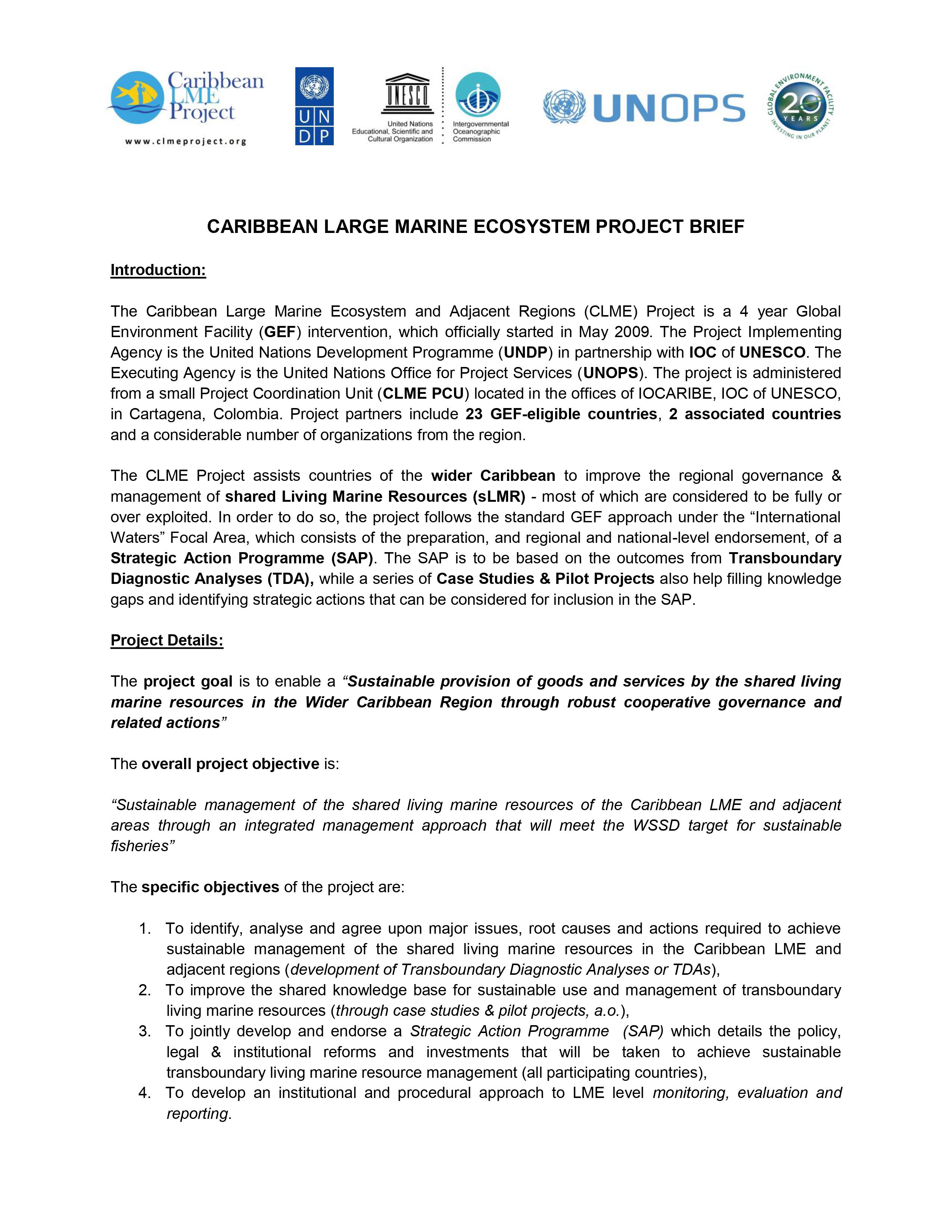 This Document is makes a brief description of The Caribbean Large Marine Ecosystem and Adjacent Regions (CLME). This is Project is a 4 year Global Environment Facility (GEF) intervention, which officially started in May 2009. The Project Implementing Agency is the United Nations Development Programme (UNDP) in partnership with IOC of UNESCO. The Executing Agency is the United Nations Office for Project Services (UNOPS). The project is administered from a small Project Coordination Unit (CLME PCU) located in the offices of IOCARIBE, IOC of UNESCO, in Cartagena, Colombia. Project partners include 23 GEF-eligible countries, 2 associated countries and a considerable number of organizations from the region. The CLME Project assists countries of the wider Caribbean to improve the regional governance & management of shared Living Marine Resources (sLMR) – most of which are considered to be fully or over exploited. In order to do so, the project follows the standard GEF approach under the "International
Waters" Focal Area, which consists of the preparation, and regional and national-level endorsement, of a Strategic Action Programme (SAP).
Author: CLME PCU
Year:
Keywords:
---
In 2013, coastal countries of the CLME+ region (Caribbean Sea and North Brazil Current LMEs) adopted a 10-year Strategic Action Programme (SAP) for the Sustainable Management of the Shared Living Marine Resources of the Caribbean and North Brazil Shelf Large Marine Ecosystems (CLME Project, 2013; Debels et al., 2017). This SAP provides a roadmap for sustainable living marine resources management, which is to be achieved by targeted interventions supported by strengthening and consolidating cooperative governance arrangements at regional and subregional levels.
Author: Fanning, L., and. Mahon, R.
Year: 2021
Keywords: CARIBBEAN, LARGE, MARINE, ECOSYSTEM, STRATEGIC, ACTION, PLAN, SAP, MONITORING, REPORT
---
Author: CLME+ PCU
Year: 2020
Keywords: Caribbean Marine Atlas Project Phase 2
---
Author: CLME+ PCU
Year: 2020
Keywords: Caribbean Network of Fisherfolk Organizations (CNFO)
---
Author: CLME+ PCU
Year: 2019
Keywords: Caribbean Regional Oceanscape Project (CROP) Participating Countries
---
This assessment will attempt to contribute to the scientific basis of the decision-making framework in which policy and management decisions are taken and governance arrangements designed.
The assessment will also establish a consolidated baseline of data and analysis relating to the condition of the Caribbean Sea, for use in periodic monitoring. It will also serve as an example of an approach to integrated assessment of ecosystems, and to inter-governmental/civic society/academic collaboration.
Author: University of West Indies
Year: 2006
Keywords:
---
The CLME project responds to the need cited by key decision-makers for attention to the management of shared marine resources in the Caribbean LME and adjacent regions and the call to provide mechanisms facilitating informed decision-making. Typically, the LME approach includes
five modules that focus on different aspects of the ecosystem: (1) productivity, (2) fish and fisheries, (3) pollution and ecosystem health, (4) socio-economics, and (5) Governance.
Author: CERMES
Year:
Keywords:
---
Larval drift determines the source of recruitment to the fishery, and it is thought that maintaining the lobster population at a particular site may depend on larvae arriving from distant localities. The drift of larvae across political boundaries creates a strong link among the countries that share this transboundary resource.
Author: CLME+ PCU
Year: 2019
Keywords: spiny lobster
---
Author: CLME+ PCU
Year: 2020
Keywords: Caribbean Tourism Organization (CTO) Government Members
---
This document contains a list of shipping companies operating in the Caribbean, potential carriers of Ferrybox equipment providing real time and on line data on meteorological and hydrographical conditions in the Caribbean. In a next phase of CLME and IMS/REMP they could be approached to assess their willingness to participate in a regional Ferrybox excercise.
Author: CLME PCU
Year: 2012
Keywords: shipping companies operating in the Caribbean carriers of Ferrybox equipment meteorological and hydrographical conditions in the Caribbean
---
FROM VISION TO STRATEGIC ACTION
FROM VISION TO STRATEGIC ACTION
The CLME+ Hub is an initiative of the Secretariat of the CLME+ Interim Coordination Mechanism (ICM), in collaboration with the members of the CLME+ ICM and CLME+ Project Executive Group (PEG) and (prospective) Partner Organizations. Development of the Hub has benefited from the financial support of the UNDP/GEF Project: "Catalysing Implementation of the Strategic Action Programme (SAP) for the Sustainable Management of shared Living Marine Resources in the Caribbean and North Brazil Shelf Large Marine Ecosystems" (CLME+ Project, 2015-2020). The CLME+ Project is executed by the United Nations Office for Project Services (UNOPS) in close collaboration with a large number of global, regional and national-level partners. For more information on the CLME+ Project click here
Copyright © 2021 CLME + HUB