Displaying
321-330

of 452 results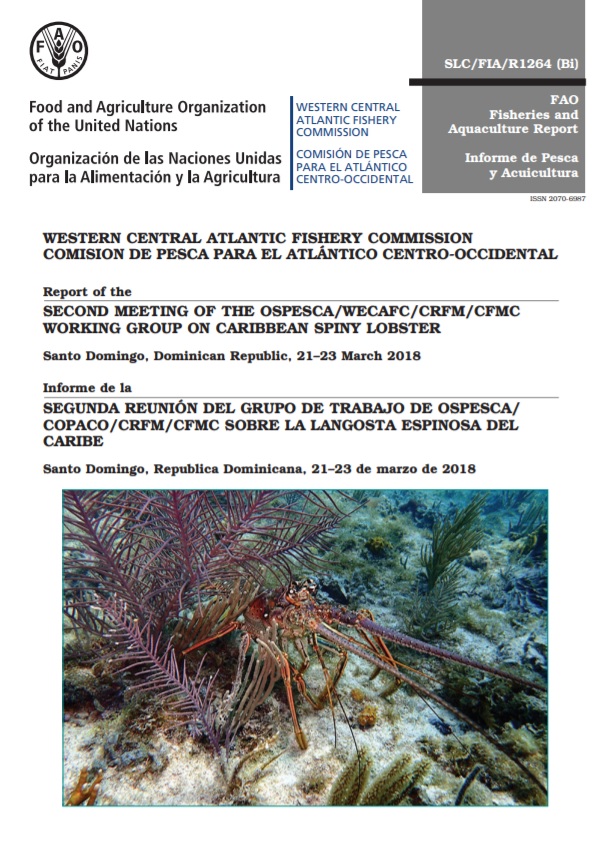 Report of the second meeting of the OSPESCA/WECAFC/CRFM/CFMC Spiny Lobster Working Group
The second meeting of the OSPESCA/WECAFC/CRFM/CFMC working group on Caribbean Spiny Lobster took place in Santo Domingo, Dominican Republic, from 21 to 23 March 2018. The status of the Caribbean spiny lobster fishery was presented in the subregions of OSPESCA and the CRFM, as well as in Brazil, Cuba, the United States and Mexico. Delegates also learned about the progress in the implementation and definition of indicators of subcomponent 4A related to spiny lobster in the CLME + Strategic Action Plan and the preparation and contents of the SOMEE Report. A new expanded and updated proposal of a regional plan for the management of Caribbean lobster prepared in the context of the Ecolobster + sub-project of the CLME + project was also presented. In the same context, a harmonized system of data collection and evaluation of lobster stocks that allows for minimum common elements among countries for purposes of comparing results and estimating the spiny lobster stock status was presented. Additionally, advances in the design and implementation of a proposed regional standard for traceability of fishery products, with emphasis on the Caribbean lobster fishery, were shown. Terms of Reference of the working group were discussed and updated, and the 2016–2018 work plan was adopted. The working group also adopted a new definition in the identification and distribution of spiny lobster stocks in the Greater Caribbean.
Year: 2019
Author: FAO WECAFC
Keywords: spiny lobster

8



Report issue
---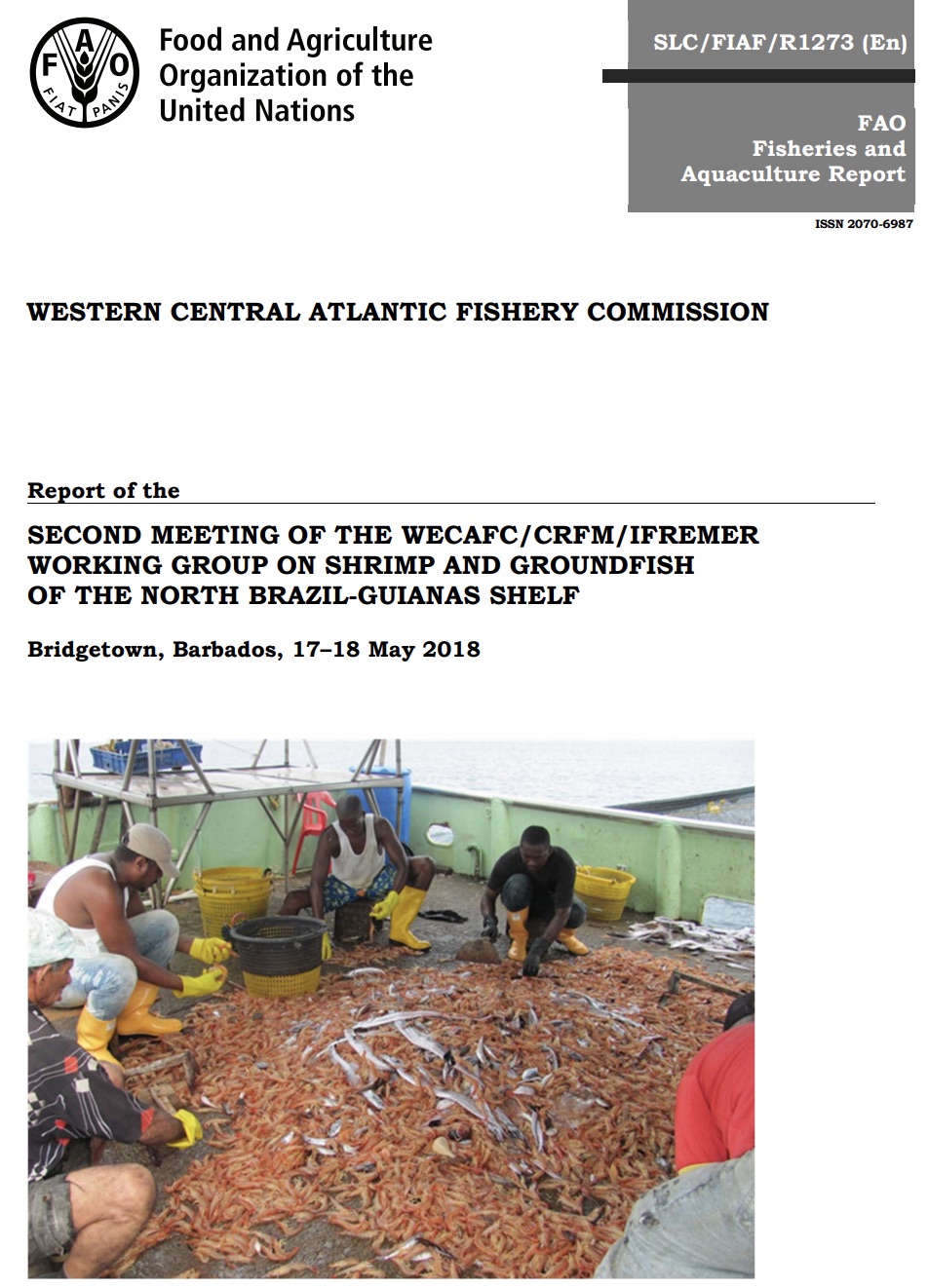 Report of the Second Meeting of the WECAFC/CRFM/IFREMER working group on shrimp and groundfish of the North Brazil – Guianas shelf Bridgetown (Barbados, 17–18 May 2018)
The Second meeting of the Working Group on Shrimp and Groundfish of the North Brazil Guianas Shelf was held in Barbados 17-18 May, 2018. The meeting brought together 25 participants including Working Group members, fisheries officers, fisherfolk representatives, academia, government organizations and FAO. The scope of the working group is to provide scientific and management advice for the sustainable management of the shrimp and groundfish resources of the Northern Brazil-Guianas shelf in the WECAFC Region. The participants reviewed and analyzed the current state of data collection and fisheries management for each country in the North Brazil Guianas Shelf. The assessment of data limited fisheries was presented as an approach to consider for the North Brazil Guianas Shelf shrimp and groundfish fisheries. Additionally, the current status and necessary steps to develop a sub-regional EAF management plan for shrimp and groundfish were discussed, as well as the need to enhance capacity in stock assessment techniques in the sub-region.
Year: 2018
Author: FAO
Keywords: fisheries, Shrimp and groundfish




Report issue
---

Report of the Second Workshop on the Management of Caribbean Spiny Lobster Fisheries in the Wecafc Area Havana, Cuba, 30 September – 4 October 2002
Este documento presenta la continuación del trabajo efectuado en el primer taller sobre manejo como fue reportado en el FAO Informe de Pesca No. 643. El segundo taller consistió de un Taller Científico (30 septiembre - 3 octubre) y una Reunión de Tomadores de Decisiones (4 octubre). La parte I contiene los informes de las dos reuniones, incluyendo secciones sobre «Mejoramiento de la efectividad del manejo nacional de la langosta y del Grupo de Trabajo ad hoc» y «El trabajo futuro del Grupo de Trabajo ad hoc de la COPACO sobre la langosta espinosa del Caribe». Los Apéndices de A hasta I presentan más informaciones sobre el Taller, incluyendo la lista de requerimientos de datos sobre las consideraciones para el manejo responsable de las pesquerías de langosta espinosa; los informes subregionales sobre el estado actual de los recursos de langosta, investigación y manejo; una presentación de «Algunas consideraciones para la ordenación responsable de pesquerías de langosta espinosa en la región de la COPACO»; las declaraciones efectuadas por los Tomadores de Decisiones en el lenguaje original; y un resumen de las recomendaciones del taller
Year: 2002
Author: FAO WECAFC
Keywords: fisheries, spiny lobster, Working Group




Report issue
---
Report of the thirty-fourth session of GESAMP, Paris, 8-11 May 2007
The Joint Group of Experts on the Scientific Aspects of Marine Environmental Protection (GESAMP) held its thirty-fourth session at the Headquarters of the United Nations Educational, Scientific and Cultural Organization (UNESCO) in Paris, from 8 to 11 May 2007. GESAMP was established in 1969 by a number of United Nations Organizations as a Joint Group to encourage the independent, interdisciplinary consider-ation of marine pollution and environmental protection problems with a view to avoiding duplication of efforts within the United Nations system. The main topics considered at this session are described below.
Year: 2007
Author: IMO/FAO/UNESCO-IOC/WMO/IAEA/UN/UNEP
Keywords:




Report issue
---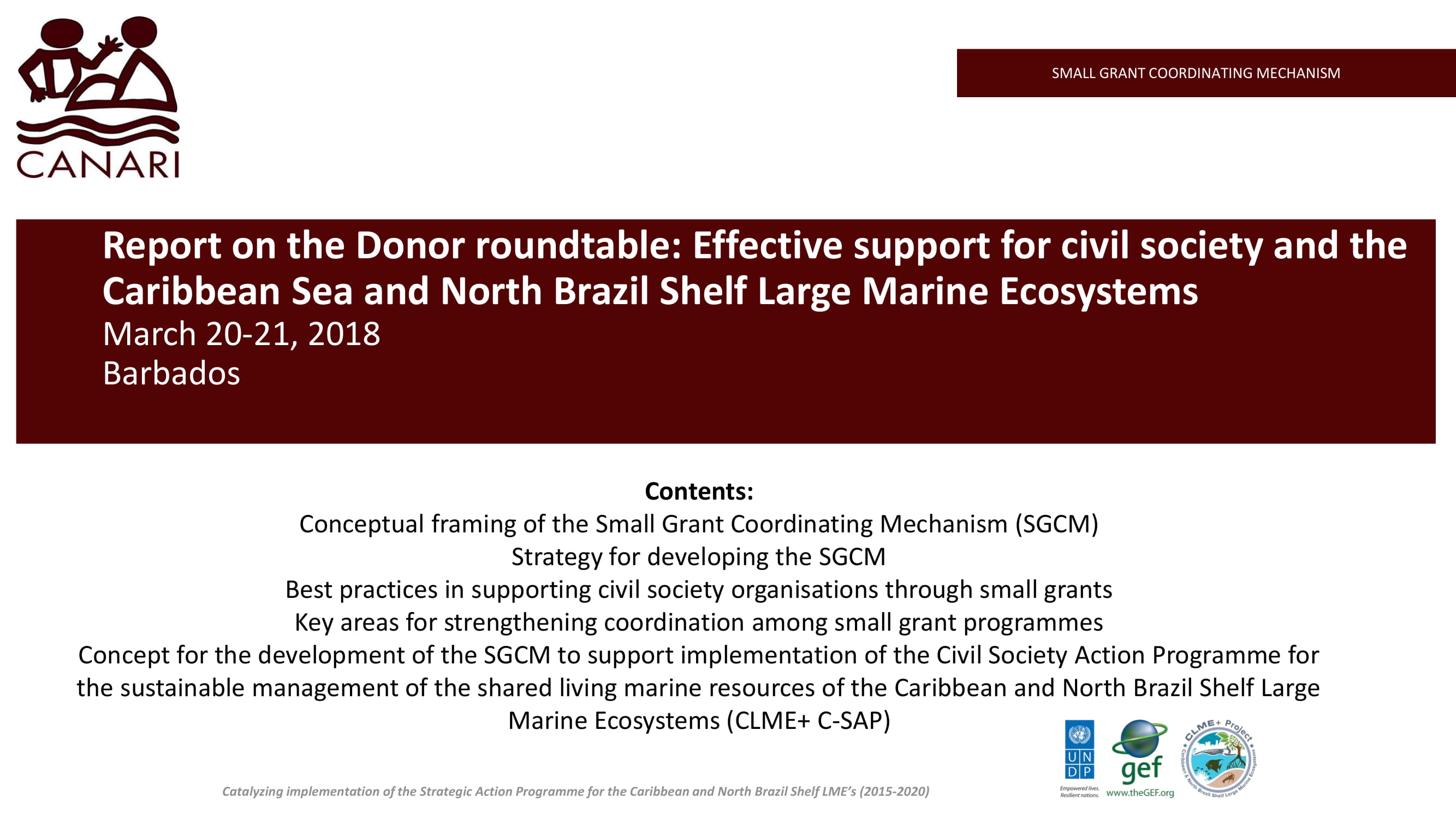 Report on the Donor roundtable: Effective support for civil society and the Caribbean Sea and North Brazil Shelf Large Marine Ecosystems
This document contains the results of the donor roundtable organized by CANARI  to raise awareness, build commitment and develop agreement on the design of a Small Grant Coordination Mechanism to support civil society's contribution to governance and management of the living resources in the CLME+ region. This report contains a: Conceptual framing of the Small Grant Coordinating Mechanism (SGCM); Strategy for developing the SGCM; Best practices in supporting civil society organisations through small grants; Key areas for strengthening coordination among small grant programmes; Concept for the development of the SGCM to support implementation of the Civil Society Action Programme for the sustainable management of the shared living marine resources of the Caribbean and North Brazil Shelf Large Marine Ecosystems (CLME+ C-SAP)
Year:
Author: CANARI
Keywords:

3



Report issue
---
Report on the Survey of National Inter-sectoral Coordination Mechanisms (NICs)
This report contains a global rapid survey of NICs in a selection of LMEs. Evidence was gathered through review of LME project documents and email communication with LME project leaders. Ten LMEs were surveyed. The report also presents the results of the survey of NICs in the CLME+ region.
Year: 2016
Author: CERMES
Keywords: coordination mechanism, governance

2



Report issue
---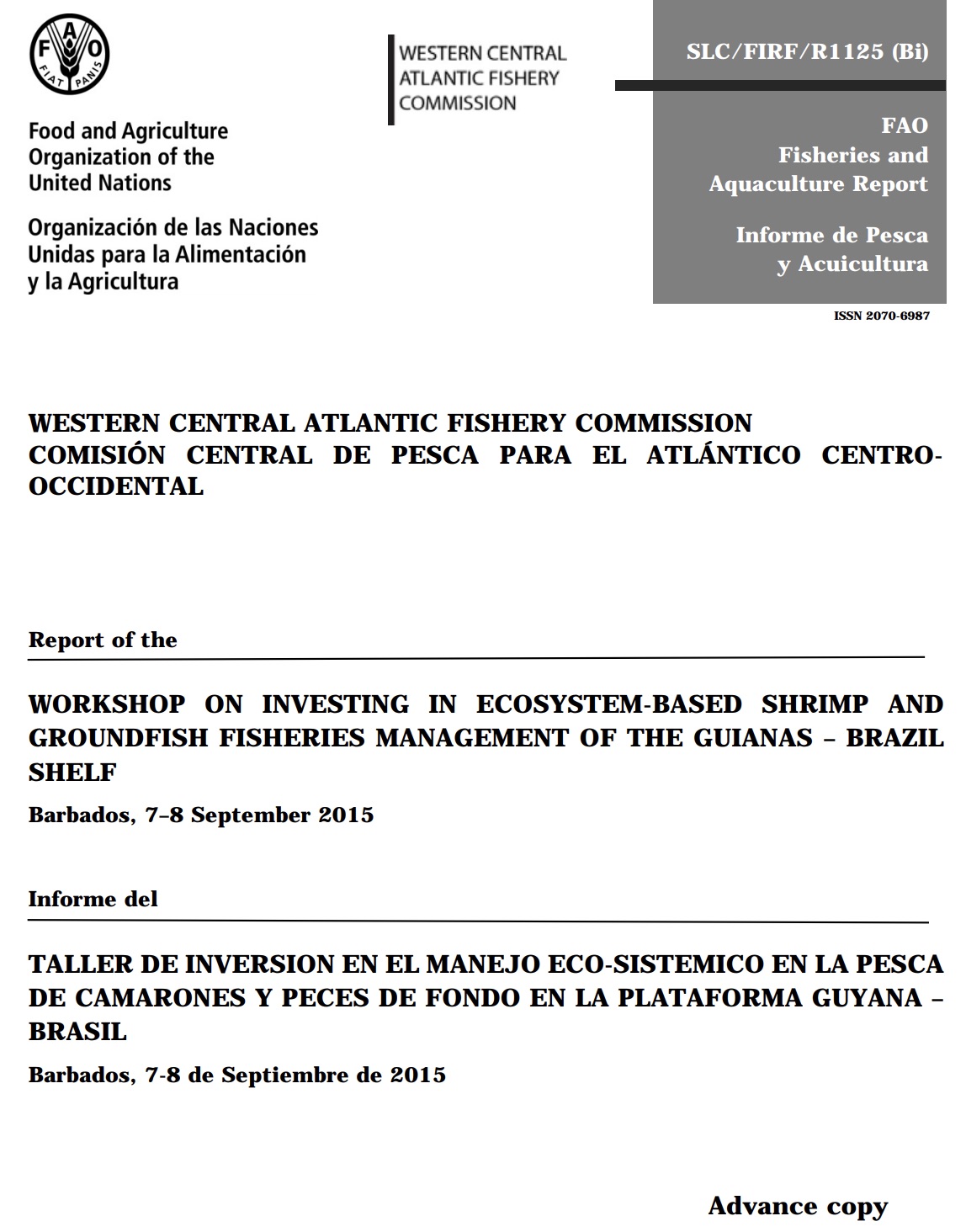 REPORTE DEL TALLER DE INVERSION EN EL MANEJO ECO-SISTEMICO EN LA PESCA DE CAMARONES Y PECES DE FONDO EN LA PLATAFORMA GUYANA – BRASIL
El taller sobre Inversión en el Manejo Eco-sistémico en la Pesca de Camarones y Peces Demersales en la Plataforma Guyana-Brasil se realizó en Barbados, 7-8 Septiembre 2015. El taller es el 1er Taller realizado por el Grupo Colaborativo de Trabajo en Camarones y Peces Demersales de la Comisión de Pesca para el Atlántico Centro-Occidental (COPACO), El Mecanismo de Pesca Regional del Caribe (CRFM), y el Instituto Francés para la Investigación del Aprovechamiento (Explotación) del Mar (IFREMER). Los 35 expertos que asistieron al taller, discutieron y analizaron la existencia de las poblaciones de Camarones y Peces Demersales en la Subregión - que comprende Brasil, Venezuela, Guayana Francesa, Guyana, Trinidad y Tobago y Surinam – y además, analizaron las oportunidades de armonizar medidas de manejo que incrementarían la sostenibilidad financiera y ambiental del sector. Las Recomendaciones presentadas en el documento tienen el propósito de incrementar la colaboración en la evaluación de poblaciones y provisión de peces y camarones entre los países, de fomentar capacidades para llevar a cabo los análisis necesarios para apoyar el Ordenamiento Pesquero y la toma de decisiones, y para desarrollar un Plan de Acción para combatir la pesca ilegal, no declarada y no reglamentada ( INDNR), lo mismo que la elaboración de un Plan de Manejo Sub-regional para Camarones y Peces Demersales en el área de la Plataforma de Norte de Brasil - Guyanas. También se finalizó un Plan General de Inversión y la posibilidad de atender a los países de la Región en realizar los estudios de factibilidad necesarios para realización de propuestas de inversión para la instalación y construcción de Pesqueras. Los Términos de Referencia para el Grupo de Trabajo fueron discutidos y actualizados y un Grupo de Aprobación fue elegido.
Year: 2015
Author: FAO
Keywords: Ecosystem Based Management, fisheries, Shrimp and groundfish




Report issue
---
Resultados 2019 En la Protección y Conservación del Arrecife Mesoamericano
Sistema Arrecifal Mesoamericano (SAM) enfrenta muchos desafíos en los cuatro países que abarca -México, Belice, Guatemala y Honduras- tales como la contaminación de los océanos por desechos líquidos y sólidos, la sobrepesca, tormentas, huracanes y el avance rápido del síndrome blanco, enfermedad que afecta mortalmente a una cantidad grande de corales duros. A pesar de estos retos, ha habido avances significativos que contribuyen a reducir las amenazas. Reconocemos y agradecemos a los socios que trabajan incansablemente en y por la región y a los donantes que apoyan el SAM por estos resultados.
Year: 2019
Author: Fondo SAM
Keywords: coral reefs




Report issue
---
Résumé – Les Eaux usées: Une ressource inexploitée – Raport mondial des Unies sur la mise en valeur des ressources en eau 2017
A plupart des activités humaines utilisant l'eau produisent des eaux usées. À mesure que la demande totale d'eau augmente, la quantité d'eaux usées produites et la charge polluante totale augmentent continuellement dans le monde entier.Dans tous les pays sauf les plus développés, la grande majorité des eaux usées sont déversées directement dans l'environnement sans traitement adéquat, avec des conséquences néfastes pour la santé humaine, la productivité économique, la qualité des ressources en eau douce et les écosystèmes.
Year: 2018
Author: UNESCO
Keywords:




Report issue
---
Resumen Ejecutivo – Las Aguas Residuales: el recurso desaprovechado – Informe Mundial sobre el desarollo de los recursos Hidricos de las Naciones Unidas 2017
La mayoría de las actividades humanas que emplean agua producen aguas residuales. A medida que aumenta la demanda total de agua, la cantidad de aguas residuales producidas y la carga contaminante total de las mismas aumentan continuamente en el mundo entero. En todos los países, salvo en los más desarrollados, la gran mayoría de las aguas residuales se vierte directamente en el medio ambiente sin tratamiento adecuado, con consecuencias perjudiciales para la salud humana, la productividad económica, la calidad de los recursos ambientales de agua dulce y los ecosistemas.
Year: 2017
Author: UNESCO
Keywords:




Report issue
---