Displaying 866 results.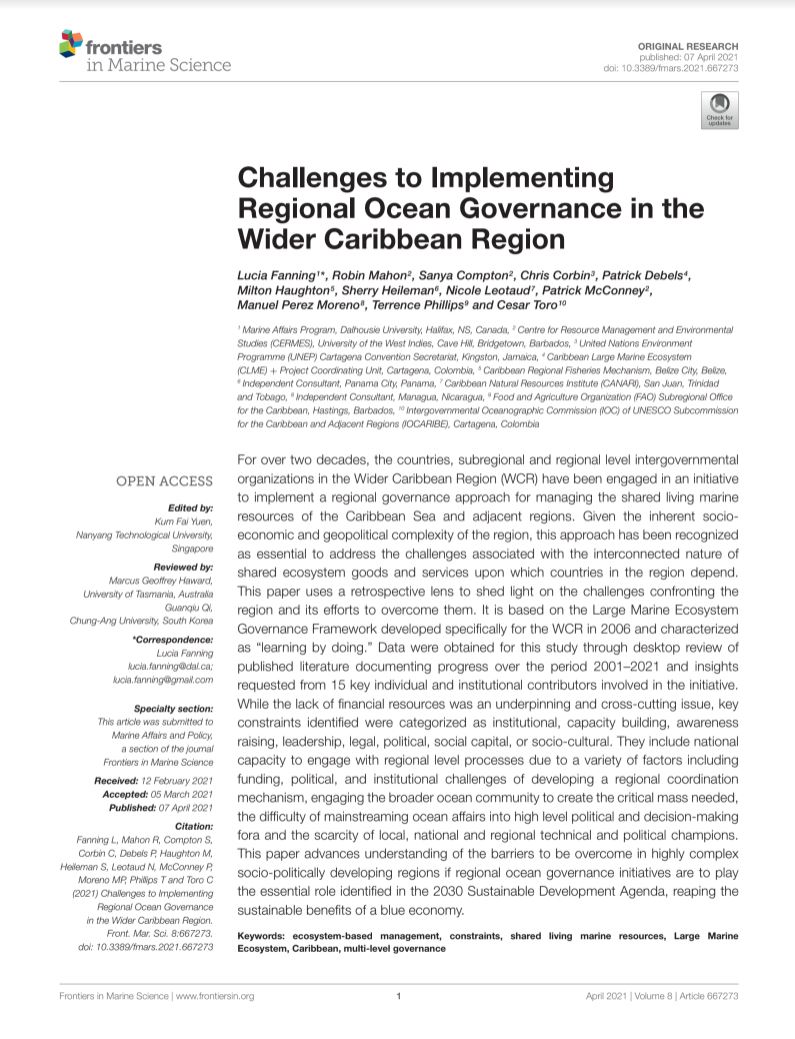 For over two decades, the countries, subregional and regional level intergovernmental organizations in the Wider Caribbean Region (WCR) have been engaged in an initiative to implement a regional governance approach for managing the shared living marine resources of the Caribbean Sea and adjacent regions. Given the inherent socio-economic and geopolitical complexity of the region, this approach has been recognized as essential to address the challenges associated with the interconnected nature of shared ecosystem goods and services upon which countries in the region depend. This paper uses a retrospective lens to shed light on the challenges confronting the region and its efforts to overcome them. It is based on the Large Marine Ecosystem Governance Framework developed specifically for the WCR in 2006 and characterized as "learning by doing." Data were obtained for this study through desktop review of published literature documenting progress over the period 2001–2021 and insights requested from 15 key individual and institutional contributors involved in the initiative. While the lack of financial resources was an underpinning and cross-cutting issue, key constraints identified were categorized as institutional, capacity building, awareness raising, leadership, legal, political, social capital, or socio-cultural. They include national capacity to engage with regional level processes due to a variety of factors including funding, political, and institutional challenges of developing a regional coordination mechanism, engaging the broader ocean community to create the critical mass needed, the difficulty of mainstreaming ocean affairs into high level political and decision-making fora and the scarcity of local, national and regional technical and political champions. This paper advances understanding of the barriers to be overcome in highly complex socio-politically developing regions if regional ocean governance initiatives are to play the essential role identified in the 2030 Sustainable Development Agenda, reaping the sustainable benefits of a blue economy.
Author: Fanning, L. Mahon, R. Compton, S. Corbin, C. Debels, P. Haughton, M. Heileman, S. Leotaud, N. McConney, P. Perez, M. Phillips, T. Toro, C.
Year: 2021
Keywords: Challenges to Implementing Regional Ocean Governance in the Wider Caribbean Region
---
The coastal and marine resources in the CARICOM region are of critical importance. As most of the Member States are either small-island or low-lying coastal states, the issues affecting them are similar in nature, though different in magnitude
Author: CARICOM
Year:
Keywords:
---
---
Este Documento muestra cifras y datos en modo de gráficas, con el propósito de exponer la importancia que tienen las aguas residuales en la economía de las regiones y del modo en que estas son empleadas como instrumento de aprovechamiento económico, resalta también la forma en que estas influyen en el medio ambiente y la salud para la población en general.
Author: UNESCO
Year: 2017
Keywords:
---
Author: CLME+ PCU
Year: 2020
Keywords: Civil Society Action Programme for the Sustainable Management of the Shared Living Marine Resources of the Caribbean and North Brazil Shelf Large Marine Ecosystems Endorsements by Civil Society by Country/Territory in the Caribbean
---
In preparing for the 23 September 2019 Climate Action Summit called by the United Nations Secretary-General, the Nature-Based Solutions (NBS) Coalition put out a global call for initiatives on how NBS can be enhanced and scaled-up. More than 180 proposals were received and have been posted online in advance of the Summit.
The purpose of this compendium is to share a summary of initiatives and best practices received from the global call. The NBS coalition co-leads, China and New Zealand, drew on the proposals to build the NBS for Climate Manifesto below in order to articulate the value and rationale for implementing NBS.
Author: NBS Facilitation Team
Year: 2019
Keywords:
---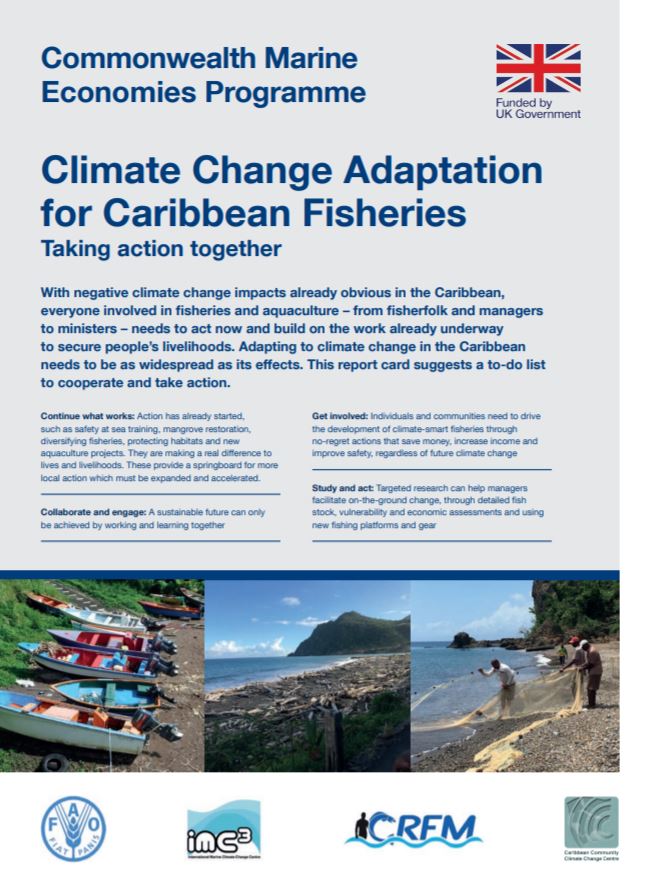 With negative climate change impacts already obvious in the Caribbean, everyone involved in fisheries and aquaculture – from fisherfolk and managers to ministers – needs to act now and build on the work already underway to secure people's livelihoods. Adapting to climate change in the Caribbean needs to be as widespread as its effects. This report card suggests a to-do list to cooperate and take action.
The impacts of climate change on Caribbean fisheries are described in the 2017 Caribbean Marine Climate Change Impacts Report Card and reviews. In summary, Caribbean fisheries are under threat from changes in ocean currents, sea temperatures, salinity, pH and storms. Fish distributions are changing, and important habitats, such as coral reefs, are being lost, causing declines in fish numbers. Hurricanes and storms are compromising safety at sea, and increasing the risk to fishing gear, boats, fishing infrastructure and markets, with some fishers taking a long time to return to fishing after the most damaging hurricanes. These impacts could reduce the fish available for local consumption and for export. Fewer fish would increase conflicts between fishers
(including recreational and industrial fishers), fishing communities, and States.
For the growing aquaculture industry, changes in temperature, rainfall patterns, salinity, acidification and storms will directly impact aquaculture facilities and production. Supply chains, including fishmeal and fish oil, may also be affected. In the short-term, rising temperatures could increase yields, although this benefit may be offset by increased feed costs. In the longer-term, as farmed species reach temperature limits, sites may become unsuitable for some species, especially if fish diseases become more prevalent. This card explores what can be done to adapt to climate change and build resilience in Caribbean fisheries and aquaculture.
Author: Townhill, B. Brichenough, S. Engelhard, G. Harrod, O. McHarg, E. Monnereau, I. Buckley, P
Year: 2021
Keywords: Climate Change Adaptation Caribbean Fisheries fisheries
---
Case Study On Shared Stocks Of The Shrimp And Groundfish Fishery Of The Guianas-Brazil Shelf. Regional training workshop on facilitation, Port of Spain, 11-15 July 2011. The training workshop was led by the Caribbean Natural Resources Institute (CANARI); it was attended by representatives from Brazil, Guyana, Suriname, Trinidad and Tobago, FAO, the Caribbean Regional Fisheries Mechanism (CRFM) and the Centre for Resource Management and Environmental Studies (CERMES). The workshop was designed to be participatory and interactive and to maximize opportunities for peer learning.
Author: FAO WECAFC
Year: 2011
Keywords:
---
This is the report of the national consultation organized by the Fisheries Division of the Ministry of Food Production of Trinidad and Tobago, in collaboration with FAO and the Caribbean Regional Fisheries Mechanism (CRFM), held in Chaguanas, Trinidad on 12 September 2012. The report contains a summary of the discussions held during the national consultation, the results of a scoping exercise that was carried out by the participants, as well as the baseline report that was discussed and agreed upon by the stakeholders.
Author: FAO WECAFC
Year: 2012
Keywords:
---
This document contains a Causal Chain Analysis (CCA) diagram illustrating causal links for pollution of the Continental Shelf Ecosystems, with examples of root causes and impacts.
Author: CERMES
Year: 2011
Keywords: pollution
---
FROM VISION TO STRATEGIC ACTION
FROM VISION TO STRATEGIC ACTION
The CLME+ Hub is an initiative of the Secretariat of the CLME+ Interim Coordination Mechanism (ICM), in collaboration with the members of the CLME+ ICM and CLME+ Project Executive Group (PEG) and (prospective) Partner Organizations. Development of the Hub has benefited from the financial support of the UNDP/GEF Project: "Catalysing Implementation of the Strategic Action Programme (SAP) for the Sustainable Management of shared Living Marine Resources in the Caribbean and North Brazil Shelf Large Marine Ecosystems" (CLME+ Project, 2015-2020). The CLME+ Project is executed by the United Nations Office for Project Services (UNOPS) in close collaboration with a large number of global, regional and national-level partners. For more information on the CLME+ Project click here
Copyright © 2021 CLME + HUB