Displaying 866 results.
The indirect estimation of polluting emissions into the marine environment through non-point sources of pollution can be carried out with the use of emission factors (EF), based on relevant data gathered and expertise.
An emission factor (EF), is an estimation of the amount of pollutants discharged as result of a specific activity. In most cases, the EF is just a number with a lineal relationship between the emission and the activity in a well-known targeted area. The EF can be seen as simple mathematical models with a direct relationship between an emission and a unique indicator. Each EF should be adapted to local conditions in each country
Author: UNEP CEP
Year:
Keywords: LBS SOCAR Working Group pollution
---
Author: UNEP CEP
Year:
Keywords: LBS SOCAR Working Group pollution
---
Author: UNEP CEP
Year:
Keywords: LBS SOCAR Working Group pollution
---
Author: UNEP CEP
Year:
Keywords: LBS SOCAR Working Group pollution
---
Según el enunciado de visión de la Estrategia de desarrollo de capacidades de la COI (2015-2021), aprobado por la Asamblea de la COI en su 28ª reunión
(París, del 18 al 25 de junio de 2015), mediante su resolución XXVIII-2, el desarrollo de capacidades es el principal catalizador que permitirá a la COI alcanzar sus cuatro objetivos de alto nivel definidos en la actual Estrategia a Plazo Medio de la COI (2014-2021).
Author: By the United Nations Educational, Scientific and Cultural Organization for the Intergovernmental Oceanographic Commission
Year: 2015
Keywords:
---
En el marco de los 25 años de su constitución, la CCAD reconoce la necesidad de formular una Estrategia Regional Ambiental Marco que responda a los desafíos actuales de la región y que aborde los nuevos problemas de la sostenibilidad desde el actual marco de crisis sistémica, impulsando una economía amigable con el ambiente, que permita la erradicación de la pobreza y las desigualdades sociales, promoviendo un crecimiento sostenido, inclusivo y equitativo.
Author: Alamilla, L., Martinez, M., Pohl, L., Galdámez, J., Argeñal, J. Gutiérrez, Edgar., Endara, M., and. Rojas, B.
Year: 2014
Keywords:
---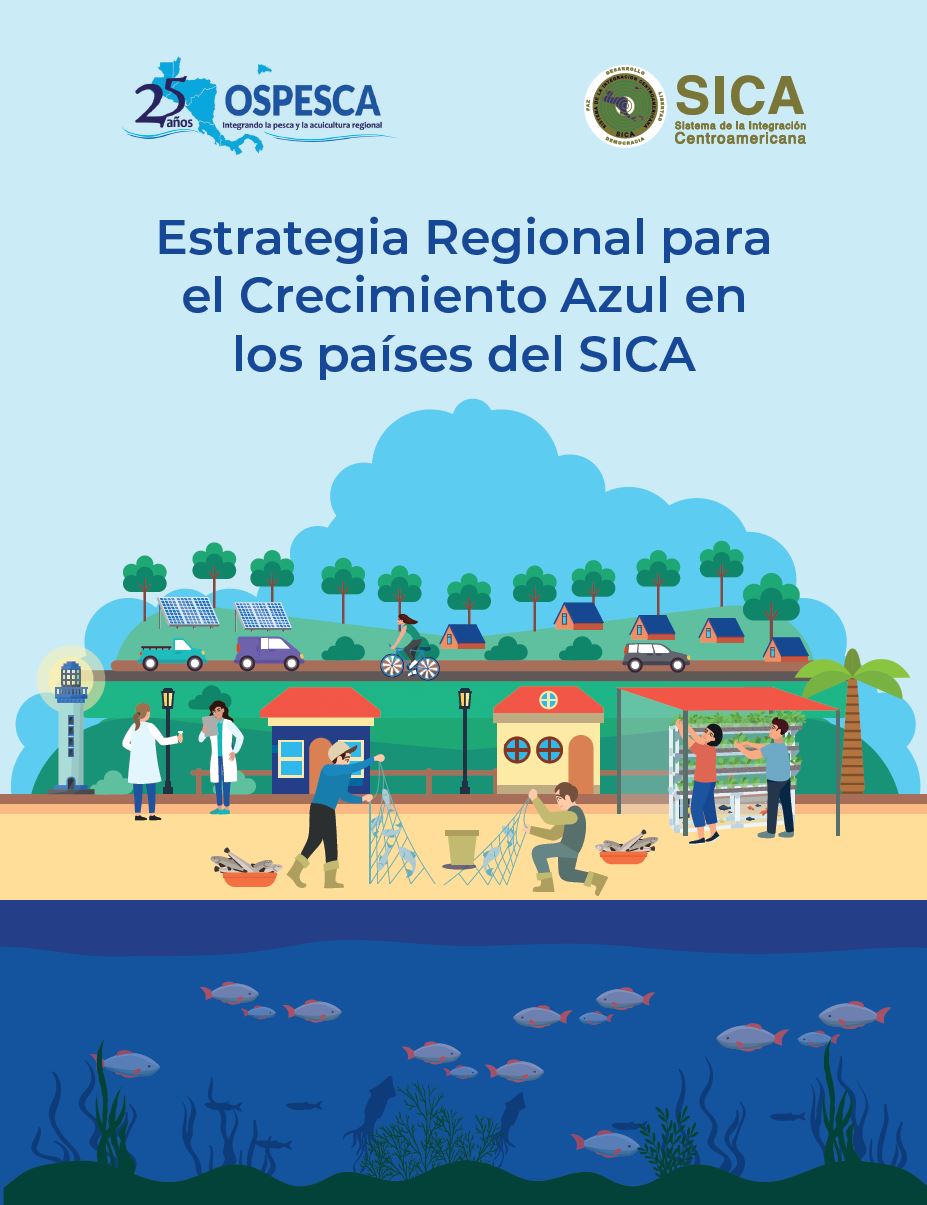 La Política de Pesca y Acuicultura 2015-2025 establece como centro de atención al ser humano y, sobre esa base, toma en cuenta el enfoque del crecimiento azul o economía azul, haciendo
hincapié en la protección y gestión sostenible, basada en la premisa de que los ecosistemas acuáticos saludables son más productivos y representan la única manera de garantizar economías sostenibles.
Ello en el contexto de la economía azul, esbozados en la Conferencia de Río+20, los Objetivos de Desarrollo Sostenible, la Cumbre de Roatán sobre Crecimiento Azul y la Visión Estratégica de la Secretaría General del SICA 2017-2021.
La Organización del Sector Pesquero y Acuícola del Istmo Centroamericano (OSPESCA), con el apoyo de la Unión Europea, así como la colaboración de la Secretaría General del SICA mediante el proyecto Asistencia Técnica para la Programación Estratégica en Centroamérica (ATEPECA), la asistencia técnica del Instituto para el Crecimiento Sostenible de la Empresa (ICSEM) y el concurso de las Secretarías e instancias especializadas del Sistema de la Integración Centroamericana (SICA), las autoridades nacionales, los sectores productivos de la pesca y acuicultura, turismo, la academia y la sociedad civil, elabora la presente Estrategia Regional para el Crecimiento Azul en los países del SICA (ERCA).
Author: Organización del Sector Pesquero y Acuícola del Istmo Centroamericano OSPESCA
Year: 2020
Keywords: Estrategia, Regional, Crecimiento, Azul, países, SICA. blue economy
---
El documento describe la estrategia implementada por el Subprograma de Áreas y Vida Silvestre Especialmente Protegidas (SPAW) del Programa de las Naciones Unidas para el Medio Ambiente (PNUMA) – Programa Ambiental del Caribe (PAC) para apoyar la conservación y el uso sostenible de los ecosistemas costeros y marinos en el Gran Caribe.
Author: CANARI
Year: 2020
Keywords: UNEP CEP RSAP SPAW CEP Restoration conservación restauración
---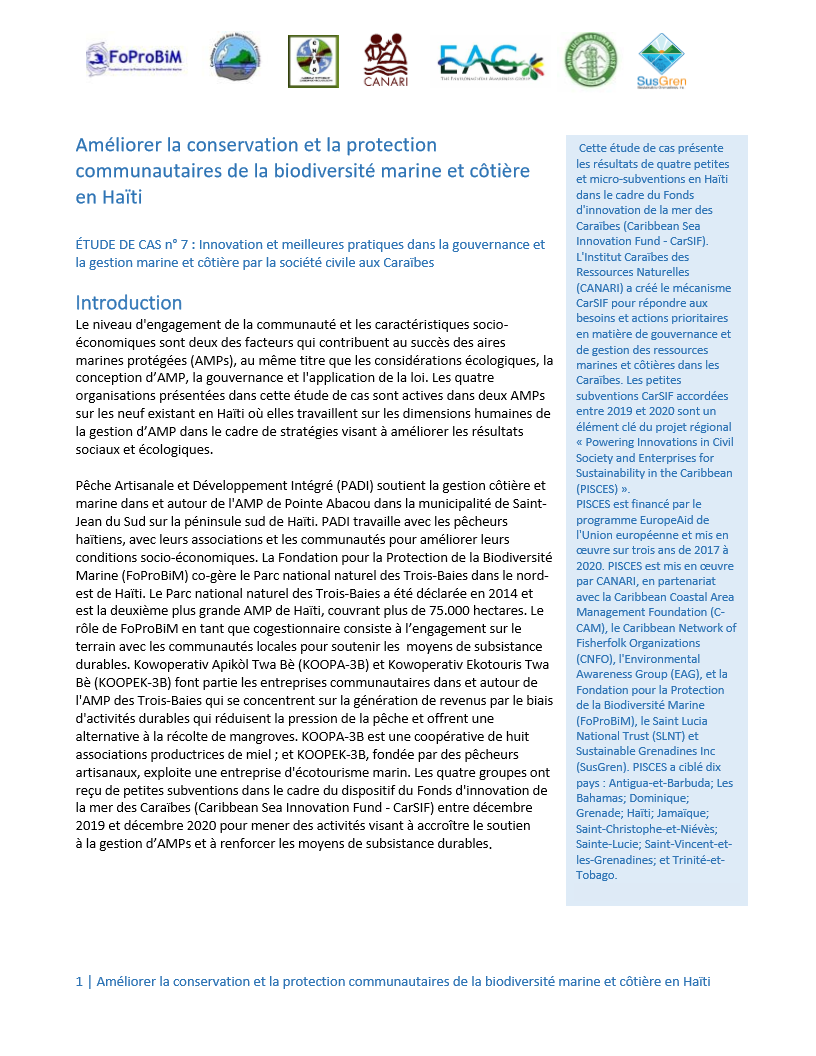 Le niveau d'engagement communautaire et les caractéristiques socio-économiques sont deux des facteurs qui contribuent au succès des aires marines protégées (AMP) avec les considérations écologiques, la conception, la gouvernance et l'application des AMP.
Les quatre organisations présentées dans cette étude de cas: Pêche Artisanale et Développement Intégré (PADI); Fondation pour la Protection de la Biodiversité Marine (FoProBiM); Kowoperativ Apikòl Twa Bè (KOOPA-3B); et Kowoperativ Ekotouris Twa Bè (KOOPEK-3B), contribuent tous à améliorer la conservation communautaire et la protection de la biodiversité marine et côtière en Haïti.
Ils sont actifs dans deux des neuf AMP d'Haïti: l'AMP de Pointe Abacou dans la municipalité de Saint Jean du Sud sur la péninsule sud d'Haïti; et l'AMP des Trois Baies dans le nord-est d'Haïti, où ils travaillent sur les dimensions humaines de la gestion des AMP dans le cadre de stratégies visant à améliorer les résultats sociaux et écologiques.
Cette étude de cas a été produite par le biais du projet de petites subventions du Fonds d'innovation de la mer des Caraïbes (CarSIF) de CANARI dans le cadre du projet régional " Dynamiser les innovations dans la société civile et les entreprises pour la durabilité dans les Caraïbes " (PISCES), qui a été financé par le programme de l'Union européenne par le Caribbean Natural Resources Institute (CANARI) de 2017 à 2021.
Author: CANARI
Year: –2021
Keywords: Haiti, Marine Protected Areas (MPAs), PADI, FoProBiM, KOOPA-3B, KOOPEK-3B
---
This ecosystem profile elaborated in a participatory approach with local and regional stakeholders offers a wide overview of the European Overseas territories in the Caribbean under the European BEST Initiative.  This regional ecosystem profile contains an analysis on the biological importance of the Caribbean region, a complete review on the current situation of the region's biodiversity, habitats and their threats based on the most recent scientific data and observation and presents them in the socio-economic and political context. To achieve these objective knowledge hubs were established in the 7 EU Overseas regions to identify key biodiversity areas (KBAs). Each ecosystem profile also includes an analysis of current conservation activities and relevant investments in the region.
Author: BEST Initiative
Year: 2016
Keywords:
---
FROM VISION TO STRATEGIC ACTION
FROM VISION TO STRATEGIC ACTION
The CLME+ Hub is an initiative of the Secretariat of the CLME+ Interim Coordination Mechanism (ICM), in collaboration with the members of the CLME+ ICM and CLME+ Project Executive Group (PEG) and (prospective) Partner Organizations. Development of the Hub has benefited from the financial support of the UNDP/GEF Project: "Catalysing Implementation of the Strategic Action Programme (SAP) for the Sustainable Management of shared Living Marine Resources in the Caribbean and North Brazil Shelf Large Marine Ecosystems" (CLME+ Project, 2015-2020). The CLME+ Project is executed by the United Nations Office for Project Services (UNOPS) in close collaboration with a large number of global, regional and national-level partners. For more information on the CLME+ Project click here
Copyright © 2021 CLME + HUB