Displaying 866 results.
Author: CLME+ PCU
Year: 2020
Keywords: Grandes Ecosistemas Marinos (GEMs) y la Área del Convenio de Cartagena
---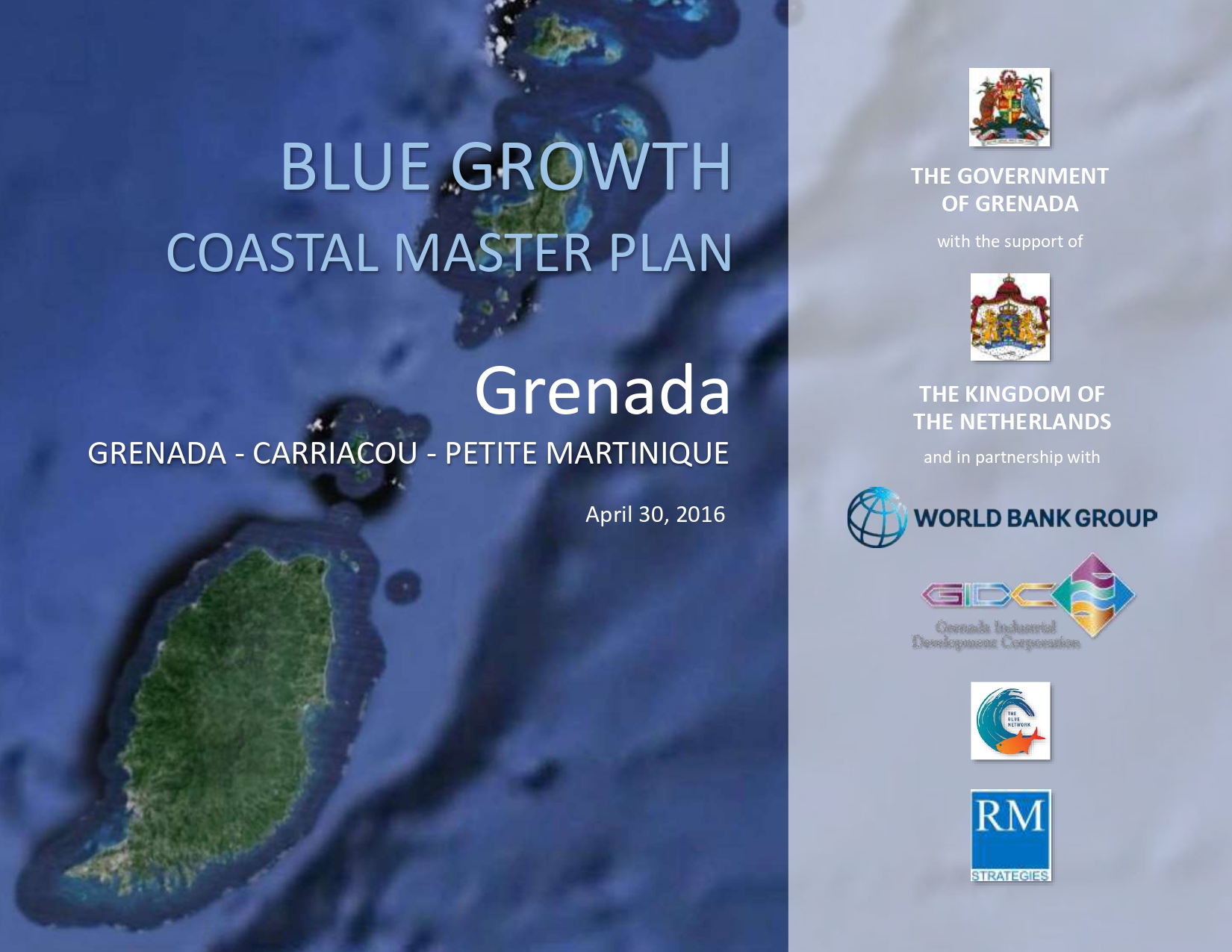 Blue Grenada Master plan is a draft integrated spatial plan for the marine and coastal environments and the economic activities they can support sustainably for the island of Grenada through  the Integrated coastal zone management (ICZM) that is a comprehensive approach to the management of the coastal zone that takes account of all of the activities that affect the coastal zone and its resources, dealing with economic and social issues as well as environmental and ecological concerns.
Grenada depends largely on tourism as a viable industry to support its economic activities and is one of the world's leading producers of spices also, ranks second worldwide in the nutmeg market, accounting for 20% of the global supply, and also exports mace, cinnamon and cloves. Over the last quarter- century it has developed a tourism-based service economy, and it now brands itself as "Pure Grenada: The Spice of the Caribbean" Moreover, the plan has the potential to place Grenada at the forefront of blue innovation.
Author: World Bank
Year:
Keywords:
---
Author: OSPESCA
Year: 2016
Keywords: ToR ospesca pesca en pequeña escala EBM, fisheries, governance
---
This publication constitutes a contribution from research to lay the conceptual and methodology for the development of REDD+ projects in mangrove forests as an alternative conservation. It indicates the step by step to develop such projects based on the experience gained, highlighting the advantages for environmental and financial sustainability in the MPAs. It is also an invaluable reference and practical guide for communities to entities or countries concerned replicate the proposed methodology to improve the management and conservation of mangrove forests, favouring the maintenance of livelihoods and generation of income by local communities.
Author: Invemar, Instituto de Investigaciones Marinas y Costeras José Benito Vives de Andréis.
Year: 2015
Keywords: Guía, Desarrollo, Proyectos, Ecosistema, Manglar. blue carbon, mangroves, marine habitats
---
Coastal ecosystems – in particular mangroves, tidal marshes and seagrasses – are globally important natural carbon sinks with rich carbon reservoirs. However, when these ecosystems are converted or degraded, they release this stored carbon into the atmosphere and oceans and become sources of greenhouse gas (GHG) emissions. The conservation, restoration and sustainable use of these systems can support climate change mitigation, as well as conserve many other benefits these ecosystems provide, such as fisheries support and coastal protection important for climate adaptation.
Author: Herr, D., Pidgeon, E.
Year: 2015
Keywords: Oceans, Carbon sequestration, ecosystem management, Coastal zones, Ecosystem services, Policy making blue carbon
---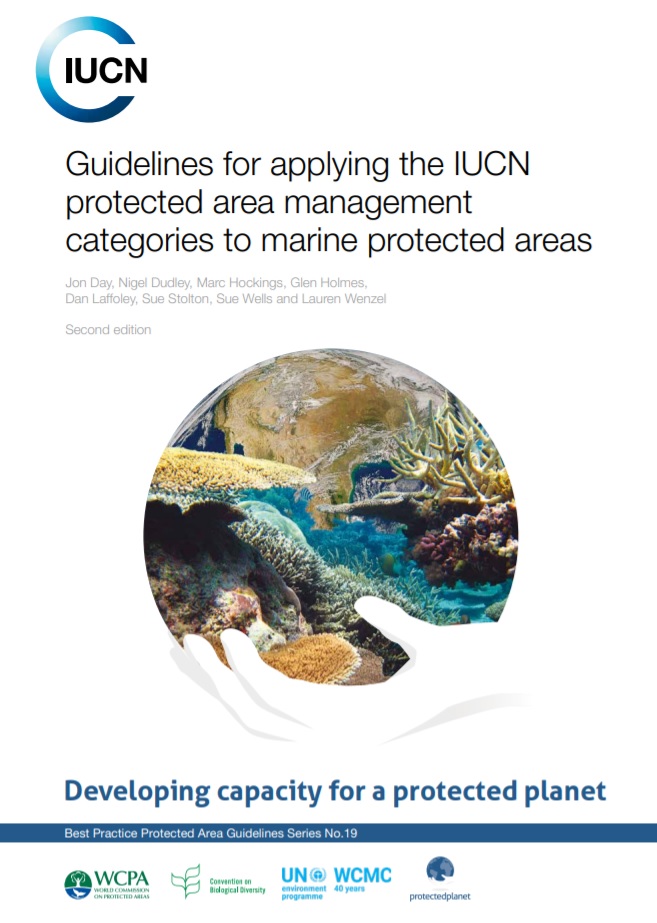 The development of this second edition of these guidelines was in part a response to evidence of the widespread incorrect application of the categories to marine protected areas (MPAs). Marine management and sustainable fisheries management are critical elements of good oceans management, but are not the same as protected areas management, where the primary focus is conservation of nature. The primary purpose of these supplementary guidelines is to increase the accuracy and consistency of assignment and reporting of the IUCN categories when applied to marine and coastal protected areas. These supplementary marine guidelines are aimed at ensuring that the IUCN categories can be effectively applied to all types of MPAs as well as to any marine components of adjoining terrestrial protected areas, provided a site meets the IUCN definition of a protected area.
Author: Day, J., Dudley, N., Hockings, M., Holmes, G., Laffoley, D., Stolton, S., Wells, S. and Wenzel, L.
Year: 2019
Keywords: fisheries, marine habitats
---
Author: UNEP CEP
Year: 2020
Keywords: Herbiers Marins - Un Poumon Vert Inestimable Pour La Planete Et L´humanité marine habitats, seagrass beds
---
This documents presents the Procurement Plan for Bank Executed Operations for the Unleashing New Avenues for Growth by Tackling Opportunities in the Blue Economy Consultancy.
Author: IDB
Year: 2018
Keywords: blue economy
---
This document contains details on the Unleashing New Avenues for Growth by Tackling Opportunities in the Blue Economy Technical Cooperation, whose objective is to support policy action conducive to broaden and accelerate economic growth and inclusive development in the Caribbean by enhancing the economic potential of the Blue Economy under a sustainable growth framework. It targets the effective implementation of policies in small island states in he Caribbean in an area in which new avenues for growth have been identified and have not yet been exploited to its full potential due to a series of bottlenecks to be further identified.
Author: IDB
Year: 2018
Keywords: blue economy
---
This documents contains the Result matrix for the Unleashing New Avenues for Growth by Tackling Opportunities in the Blue Economy Technical Cooperation, the matrix includes outcomes and and outputs expected.
Author: IDB
Year: 2018
Keywords: blue economy
---
FROM VISION TO STRATEGIC ACTION
FROM VISION TO STRATEGIC ACTION
The CLME+ Hub is an initiative of the Secretariat of the CLME+ Interim Coordination Mechanism (ICM), in collaboration with the members of the CLME+ ICM and CLME+ Project Executive Group (PEG) and (prospective) Partner Organizations. Development of the Hub has benefited from the financial support of the UNDP/GEF Project: "Catalysing Implementation of the Strategic Action Programme (SAP) for the Sustainable Management of shared Living Marine Resources in the Caribbean and North Brazil Shelf Large Marine Ecosystems" (CLME+ Project, 2015-2020). The CLME+ Project is executed by the United Nations Office for Project Services (UNOPS) in close collaboration with a large number of global, regional and national-level partners. For more information on the CLME+ Project click here
Copyright © 2021 CLME + HUB