Displaying 866 results.
El Informe Mundial sobre las Ciencias Oceánicas de la COIUNESCO tiene por objetivo informar sobre la situación de las ciencias oceánicas. Determina y cuantifica los elementos que impulsan la productividad y los resultados de las ciencias oceánicas, incluida la mano de obra, la infraestructura, los recursos, las redes y los productos. El Informe busca facilitar la cooperación y la colaboración internacionales en materia Ciencias oceánicas. Ayudará también a determinar carencias en la organización y la capacidad en ciencias y a formular propuestas para optimizar el uso de los recursos científicos y hacer avanzar las ciencias y la tecnología oceánicas mediante el intercambio de conocimientos técnicos e instalaciones, la promoción del fortalecimiento de capacidades y la transferencia de tecnología marina.
Author: Comisión Oceanográfica Intergubernamental
Year: 2017
Keywords:
---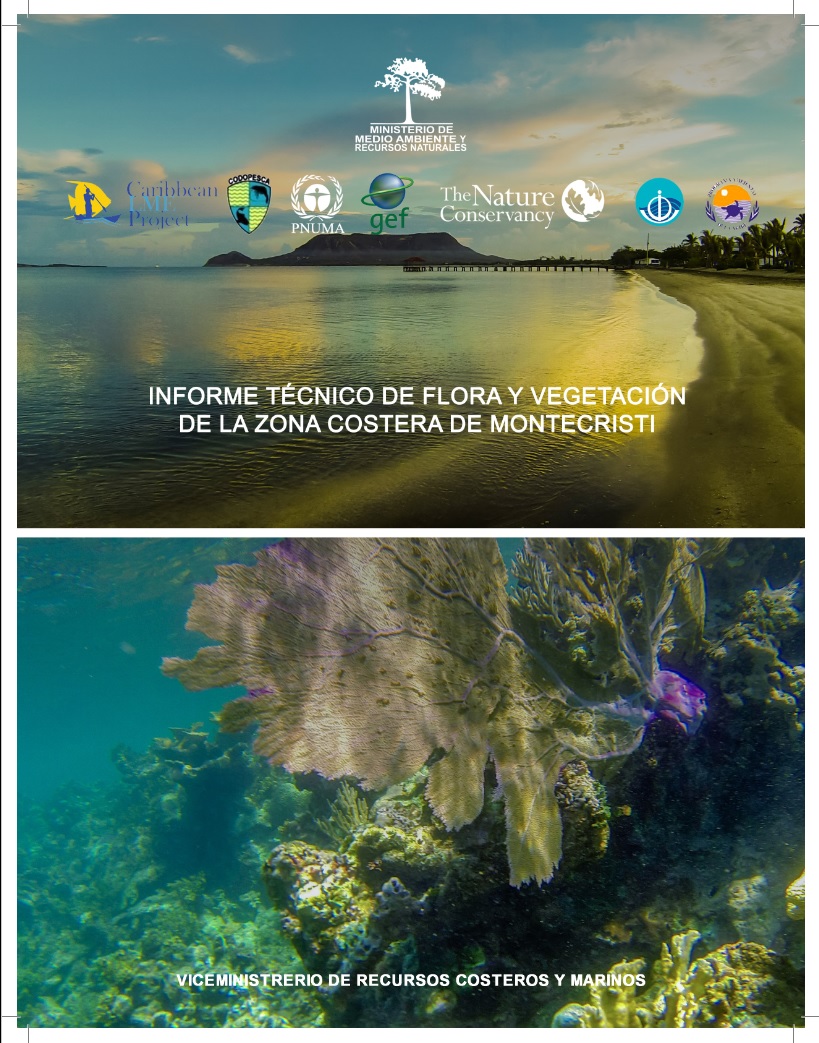 Este estudio forma parte del proyecto Piloto Manejo y Conservación de la Pesquería y Biodiversidad Arrecifal de la Provincia Montecristi, República Dominicana.  La provincia Montecristi, como toda provincia costera tiene interés científico y económico, debido a las características de sus costas, por la presencia de playas de arenas aún sin deterioro, lo cual atrae el interés de sectores de desarrollo, como el turismo. Otras actividades de interés en su costa lo constituyen la pesca y la producción de sal.
El presente documento contiene una evaluación de la vegetación y la flora en el entorno de la franja costera de la Provincia de Monte Cristi, en el tramo entre Manzanillo y Buen Hombre. Abarca las formaciones existentes desde el litoral hasta aproximadamente 200 metros hacia el interior. Se evaluan 12 lugares en las siguientes zonas: Área de Laguna Saladilla; Fondo de Manglares en Manzanillo; Bahía de Manzanillo, donde inician las dunas; Loma Atravesada; Playa Popa hacia Buen Hombre; entrada a la laguna costera cerrada; Punta Bucán, área de saladares; Playa Bucán, playita cercana a La Bomba; Playa La Granja; Costa Verde, Juan de Bolaños; desembocadura del Yaque del Norte; Caño Las Mujeres y acantilado.
Author: ViceMinisterio de Recursos Costeros y Marinos, Ministerio de Ambiente y Recursos Naturales, Republica Dominicana
Year: 2012
Keywords:
---
El Ministerio de Medio Ambiente y Recursos Naturales, a través del Viceministerio de Recursos Costeros y Marinos, está inmerso en la caracterización y actualización de la información existente de la zona costero-marina de la provincia de Montecristi, mediante una revisión bibliográfica de las informaciones disponibles, y su posterior verificación con viajes de campo y georeferenciación con coordenadas. Esto último fue precisamente el objetivo del presente trabajo, el cual contiene una  caracterización el litoral rocoso de la zona costera de la provincia de Montecristi, elaborado mediante viajes de campo, en el área comprendida entre El Morro y los límites políticos al Este de la provincia.
Author: ViceMinisterio de Recursos Costeros y Marinos, Ministerio de Ambiente y Recursos Naturales, Republica Dominicana
Year: 2012
Keywords:
---
The goal of this project is to strengthen the institutional framework for planning and executing, in a coordinated and coherent manner, activities for the protection and sustainable management of the land and water resources of the Amazon River Basin in the face of ongoing climatic changes being experienced in the Basin. The proposed project endeavors to realize a shared vision for the sustainable development of the region, based upon the protection and integrated management of transboundary water resources and adaptation to climatic changes. This specific project or PDF-B represents the preparatory phase, which will primarily build a common vision, formulate a framework TDA for the basin as a whole as well as a project brief for the next phase through a comprehensive public participation process.
Author: UNEP
Year: 2010
Keywords:
---
The purpose of this report is to inform future coral, seagrass, and mangrove restoration and pollution reduction efforts in the CLME+ region. Part I provides a methodology for prioritizing coastal habitat restoration sites in the CLME+ based on feasibility, need, threat, and a set of ecological and socio-economic criteria. Part II outlines strategies for developing investment plans for funding large-scale coastal habitat restoration and pollution reduction in the CLME+ region.
Author: UNEP CEP
Year: 2021
Keywords: Habitat Restoration, Pollution, CLME+ region, Baseline, Opportunites for Investment Habitat, pollution
---
The MAR2R project aims to create the enabling conditions necessary to bring the key regional, national and local actors along the ridge to reef continuum to collaborate and manage the freshwater, coastal and marine resources of the MAR. The project seeks to consolidate regional coordination and capacities for a harmonized approach to the management of the ecoregion via the strengthening of CCAD to lead and bring together the environmental authorities of the four MAR countries towards a common goal. The project goal is to contribute to the conservation and sustainable use of shared freshwater, coastal and marine resources of the transboundary MAR ecoregion by implementing the ridge to reef approach and hence securing sustainable economic benefits and livelihoods for the countries and their communities
Author: CCAD
Year: 2016
Keywords:
---
In this report, the World Bank and World Resources Institute show how the next generation of infrastructure projects can tap natural systems and, where appropriate, integrate green and gray infrastructure. This call for the next generation of infrastructure—both green and gray—echoes the World Bank's Changing Wealth of Nations 2018 report, which showed that natural capital can be leveraged rather than liquidated through the development process.
Author: Browder, G., Ozment, S., Rehberger, I., Gartner, T., and. Lange, G.
Year: 2018
Keywords:
---
The objective of the project is to assist participating countries of the Caribbean Region in improving watershed and coastal zone management practices in support of sustainable development. Areas of foci in the project include coastal area management and biodiversity, tourism development protection of water supplies and control of land based sources of pollution.
Author: Brewster L., and. Mwansa J.
Year: 2001
Keywords:
---
The Integrating Water, Land and Ecosystems Management in Caribbean Small Island Developing States (GEF-IWEco Project) applies a "Ridge to Reef" approach integrating watershed and coastal areas management in small islands for addressing the multiple challenges of sustainable water, land (including forests) and biodiversity management and conservation within the spatial framework of the watershed unit. The project supports policy, institutional and legislative reforms, contributes to the implementation of effective appropriate technologies to accelerate contribution to global targets on access to safe and reliable water supplies and improved sanitation, and helps to improved ecosystem functioning in the Caribbean.
Author: UNEP
Year: 2014
Keywords:
---
Author: FAO
Year: 2011
Keywords: Inter- Agency Agreement FAO-UNOPS shrimp and groundfish fisheries of the Guiana Brasil Shelf case study
---
FROM VISION TO STRATEGIC ACTION
FROM VISION TO STRATEGIC ACTION
The CLME+ Hub is an initiative of the Secretariat of the CLME+ Interim Coordination Mechanism (ICM), in collaboration with the members of the CLME+ ICM and CLME+ Project Executive Group (PEG) and (prospective) Partner Organizations. Development of the Hub has benefited from the financial support of the UNDP/GEF Project: "Catalysing Implementation of the Strategic Action Programme (SAP) for the Sustainable Management of shared Living Marine Resources in the Caribbean and North Brazil Shelf Large Marine Ecosystems" (CLME+ Project, 2015-2020). The CLME+ Project is executed by the United Nations Office for Project Services (UNOPS) in close collaboration with a large number of global, regional and national-level partners. For more information on the CLME+ Project click here
Copyright © 2021 CLME + HUB