Displaying 866 results.
Author: Wilderness Markets/CI/FAO
Year: 2019
Keywords: Business Case Guyana Finfish Business Case, Finfish
---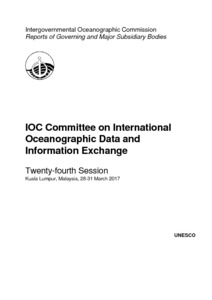 The IOC Committee on International Oceanographic Data and Information Exchange held its Twenty-fourth Session (IODE-XXIV) at the Renaissance Hotel Kuala Lumpur, Kuala Lumpur, Malaysia between 28 and 31 March 2018. The Session was preceded by a 1-day scientific workshop on 27 March 2017. The IODE Session was attended by 67 participants from 31 IOC Member States and 5 Organizations. The Session adopted 4 decisions (+ 2 draft decisions for the IOC Assembly) and 6 recommendations. The decisions concerned (i) the establishment of a new IODE management structure (replacing the IODE officers; (ii) project and activity performance evaluation procedures; (iii) the establishment of an inter-sessional working group to finalize a concept paper on the IOC data and information system (ODIS); and (iv) revision of the terms of reference for the IODE QMF to accommodate the ADUs. In addition, draft decisions were prepared for the IOC-XXIX regarding the IOC strategic plan for data and information managem.
Author: IOC Project Office for IODE
Year: 2017
Keywords:
---
IOC Sub-Commission for the Caribbean and Adjacent Regions (IOCARIBE) – Tenth Session, Puerto La Cruz, Bolivarian Republic of Venezuela, 22–25 October 2008
Author: IOCARIBE-IOC
Year: 2009
Keywords:
---
The Eighth Intergovernmental Session of the IOC-Sub-Commission for the Caribbean and Adjacent Regions (IOCARIBE) took place in April 2004, two years after the previous IOCARIBE Session held in Mexico in February 2002, when Brazil's motion to host this Session was accepted by participating delegates and the Intergovernmental Oceanographic Commission (IOC) of the United Nations Educational, Scientific and Cultural Organization (UNESCO).
Author: IOCARIBE
Year: 2005
Keywords:
---
The ad hoc Consultative Meeting on Large Marine Ecosystems (LME) was held on 15-l 6 March 1998. The consultation was convened by The Intergovernmental Oceanographic Commission (IOC), the US Department of Commerce's National Oceanic and Atmospheric Administration (NOAA) and The World Conservation Union (IUCN). It was sponsored by IUCN and hosted by IOC at UNESCO headquarters, Paris, France. The meeting was co-chaired by Mr. Ole Henrik Haslund (IOC) and Dr. Kenneth Sherman (NOAA).
Author: IOC-IUCN-NOAA
Year: 1998
Keywords: LME
---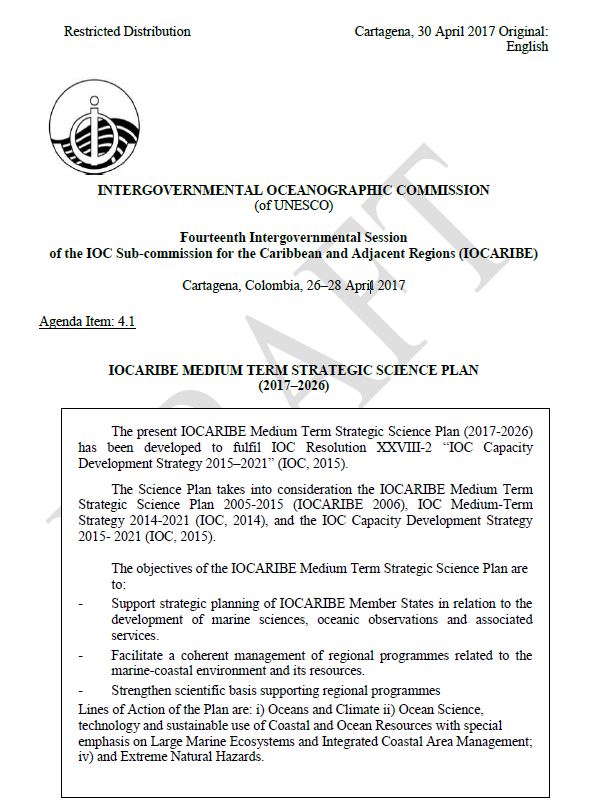 The present IOCARIBE Medium Term Strategic Science Plan (2017-2026) has been developed to fulfil IOC Resolution XXVIII-2 "IOC Capacity Development Strategy 2015–2021" (IOC, 2015).
The Science Plan takes into consideration the IOCARIBE Medium Term Strategic Science Plan 2005-2015 (IOCARIBE 2006), IOC Medium-Term Strategy 2014-2021 (IOC, 2014), and the IOC Capacity Development Strategy 2015- 2021 (IOC, 2015).
The objectives of the IOCARIBE Medium Term Strategic Science Plan are to:
– Support strategic planning of IOCARIBE Member States in relation to the development of marine sciences, oceanic observations and associated services.
– Facilitate a coherent management of regional programmes related to the marine-coastal environment and its resources.
– Strengthen scientific basis supporting regional programmes
Lines of Action of the Plan are: i) Oceans and Climate ii) Ocean Science, technology and sustainable use of Coastal and Ocean Resources with special emphasis on Large Marine Ecosystems and Integrated Coastal Area Management; iv) and Extreme Natural Hazards.
Author: IOC Sub-commission for the Caribbean and Adjacent Regions (IOCARIBE)
Year: 2017
Keywords: Large Marine Ecosystems, Monitoring & Evaluation, SDGs, biodiversity, blue carbon, coral reefs, governance, international agreements, marine habitats
---
Author: CLME+ PCU
Year: 2019
Keywords: IOCARIBE Member Countries and Marine Areas as of 2019
---
Small Island Developing States (SIDS) face extraordinary and unique sustainable development challenges as a result of their small size, remoteness, narrow resource and export base, and high dependency  on imported fossil fuel. At the same time, SIDS are extraordinarily dependent on healthy ecosystems and a stable climate. Nature-based activities account for a large share of economic activity and job opportunities in SIDS.
This publication, 'Island Innovations – UNDP and GEF: Leveraging the Environment for the Sustainable Development of SIDS', demonstrates that far from succumbing to these challenges, SIDS have time and  again risen to the task of managing their fragile environments to meet their sustainable development goals.
Author: Stock, P.
Year: 2014
Keywords:
---
In this report, the recently completed workshop on the International Union for the Conservation of Nature (IUCN) Red Listing of Ecosystems methodology is described. The aim of this workshop was to build capacity from partners that are involved in Integrated Coastal Management (ICM) to better understand the use of the methodology. The workshop was facilitated by members of the IUCN Provita and IUCN Commission on Ecosystem Management (CEM).
Author: Conservation International
Year: 2018
Keywords: mangroves
---
A prototype multi-purpose index is proposed for use in the evaluation of practices for adaptation to climate variability and change. The Index of Usefulness of Practices for Adaptation (IUPA) allows the user to assign weights and scores to a set of user-defined evaluation criteria. Individual criterion scores are aggregated into a final index value. Both the final value and the individual parameter scores provide useful information for improved decision making in the context of climate change.
Author: Debels, P., Szlafsztein, C., Aldunce, P., Neri, C., Carvajal, Y., Quintero - Angel, M., Celis, A., Bezanilla, A., and. Martínez, D.
Year: 2008
Keywords:
---
FROM VISION TO STRATEGIC ACTION
FROM VISION TO STRATEGIC ACTION
The CLME+ Hub is an initiative of the Secretariat of the CLME+ Interim Coordination Mechanism (ICM), in collaboration with the members of the CLME+ ICM and CLME+ Project Executive Group (PEG) and (prospective) Partner Organizations. Development of the Hub has benefited from the financial support of the UNDP/GEF Project: "Catalysing Implementation of the Strategic Action Programme (SAP) for the Sustainable Management of shared Living Marine Resources in the Caribbean and North Brazil Shelf Large Marine Ecosystems" (CLME+ Project, 2015-2020). The CLME+ Project is executed by the United Nations Office for Project Services (UNOPS) in close collaboration with a large number of global, regional and national-level partners. For more information on the CLME+ Project click here
Copyright © 2021 CLME + HUB