Displaying 853 results.
Author: CLME+ PCU
Year: 2020
Keywords: Las Áreas del Convenio de Cartagena, la FAO-COPACP y IOCARIBE y los GEMs
---
This brief identifies five major climate-fragility risks, i.e. five pathways by which climate impacts undermine security; damage to key infrastructure, especially energy infrastructure, higher tensions around mining and fossil fuel extraction; the encouragement of environmental crime; the destruction of livelihoods, which pushes people to migrate or commit crimes in crowded cities; and higher incidences of disease.
Author: Erthal, A., Rüttinger, L., Adelphi and Igarapé Institute
Year: 2020
Keywords: Climate-Fragility Risk Brief: Latin America and the Caribbean marine habitats
---
Climate change will have different impacts across Latin America and the Caribbean (LAC), a region encompassing ecological systems as varied as the islands of Central America, the Amazon Basin, the Andes and the cerrado. Although much of the region has been free from war for decades, conflict and violence are still present in many countries in LAC. State fragility, often related to the expansion of organized crime and widespread human rights violations by the state, has contributed towards elevated rates of violence, while high inequality is shaping how climate affects security in LAC and raising new issues about climate justice and climate-related migration. In short, climate change acts as a risk multiplier in LAC, exacerbating existing conflict and fragility dynamics.
Author: Erthal, A., Igarapé Institute., Climate Security Expert Network., Rüttinger, L., and Adelphi
Year: 2020
Keywords: CLIMATE-FRAGILITY RISK FACTSHEET LATIN AMERICA & THE CARIBBEAN Habitat, marine habitats
---
Author: CLME+ PCU
Year: 2020
Keywords: LBS Protocol Ratification within the cartagena convention Terrestrial Drainage Area
---
Author: CLME+ PCU
Year: 2019
Keywords: LBS Protocol Status as of 2019
---
Author: CLME+ PCU
Year: 2019
Keywords: LBS Protocol Status in the Eastern Caribbean as of 2019
---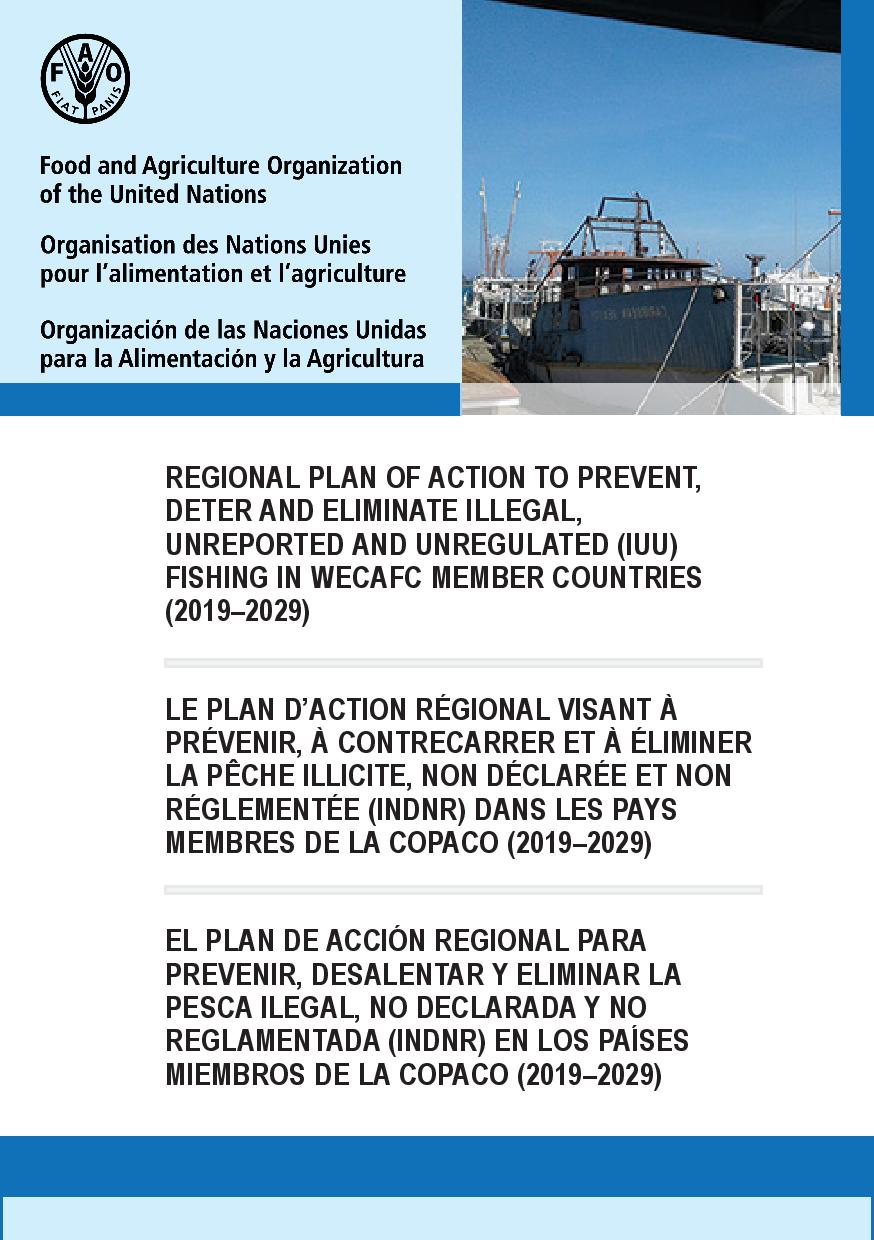 Le présent Plan d'action régional visant à prévenir, à contrecarrer et à éliminer la pêche illicite, non déclarée et non réglementée (PAR-INDNR) reconnaît les effets préjudiciables de la pêche INDNR sur le milieu marin, le développement économique et le bien-être social des communautés côtières dans la zone de compétence de la COPACO. Il a pour objectif de prévenir, contrecarrer et éliminer la pêche INDNR dans la zone de compétence de la Commission des pêches pour l'Atlantique Centre-Ouest (COPACO) grâce a une coopération régionale efficace entre ses 34 États Membres et d'autres organisations sous-régionales. Il contribue en outre à la réalisation de l'objectif général de la Commission qui est de promouvoir la conservation, la gestion et le développement efficaces des ressources biologiques marines présentes dans la zone COPACO, conformément au Code de conduite de la FAO pour une pêche responsable, et de traiter les problèmes communs de gestion et de développement des pêches auxquels sont confrontés les Membres de la Commission.
Author: FAO
Year: 2020
Keywords:
---
This Document Provides a Resume using Facts and Figures of the main topics of the United Nations World Water Development Report 2019, those are:
Water availability and demand
Water quality
Floods and droughts
Water supply and sanitation services
Population growth and human settlements
Poverty, health and nutrition
Drivers of inequality, discrimination and vulnerability
Author: Koncagul, E., Tran, M., Connor, R., and. Uhlenbrook, S.
Year: 2019
Keywords:
---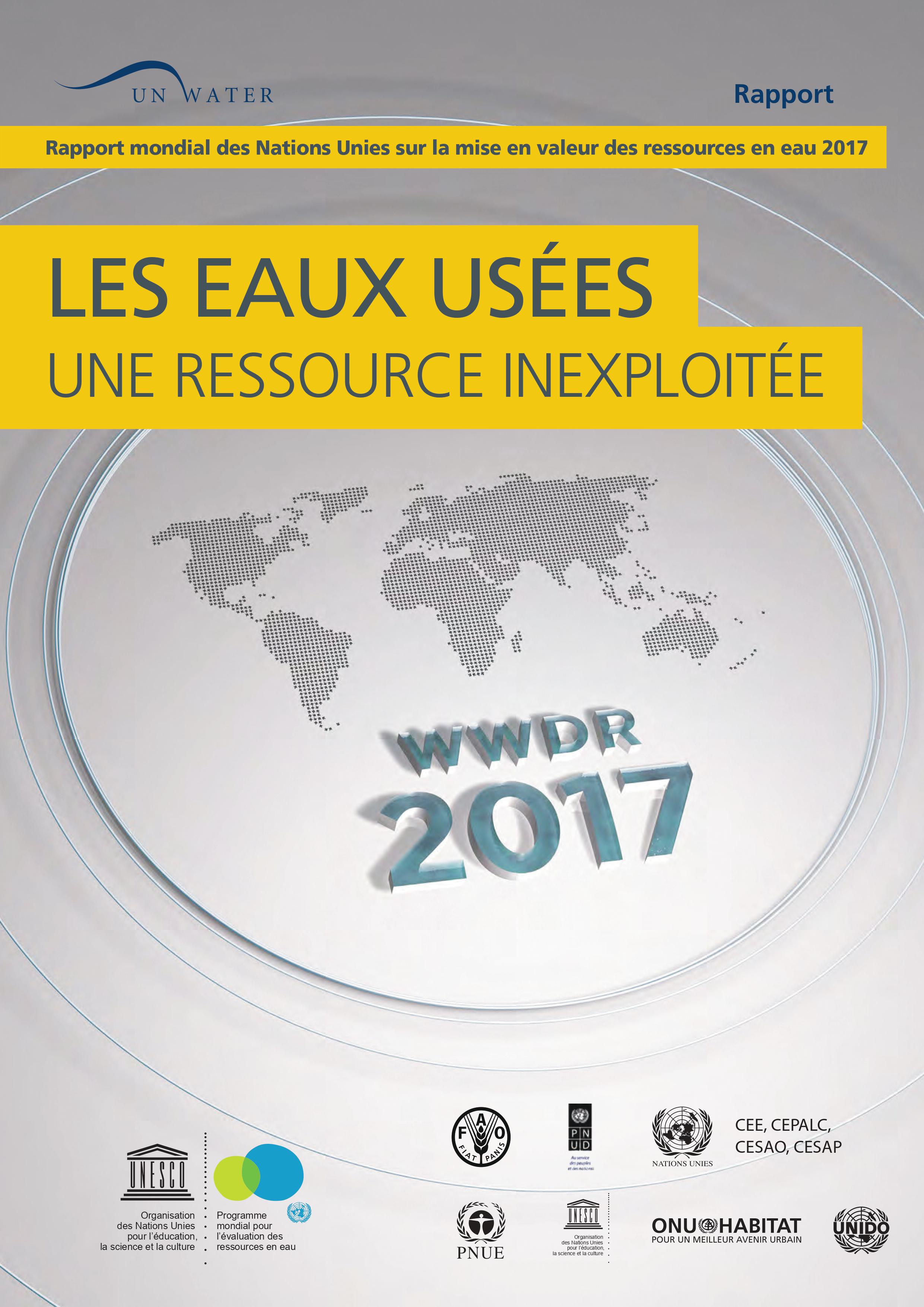 L'édition 2017 du Rapport mondial des Nations Unies sur la mise en valeur des ressources en eau examine la question des eaux usées et de leur potentiel en tant que ressource durable.
La question des eaux usées n'est pas une simple question de gestion des ressources en eau. Elle affecte l'environnement et tous les êtres vivants, et peut avoir des impacts directs sur les économies, aussi bien matures qu'émergentes. Par ailleurs, les flux d'eaux usées contiennent un certain nombre de matières utiles, telles que des nutriments, des métaux et des matières organiques qui, tout comme l'eau elle-même, peuvent être extraites et utilisées à d'autres fins  productives. À ce titre, les eaux usées constituent une précieuse ressource qui, si elle est gérée de façon durable, peut devenir un pilier essentiel de l'économie circulaire. Les retombées de l'amélioration de la façon dont nous gérons les eaux sont énormes, avec des avantages partagés pour les sociétés et l'environnement.
Author: UNESCO
Year: 2017
Keywords:
---
This paper proposes seven intervention approaches that lead with reducing plastic inputs to the ocean but
also seek to maximise the reduction of other pollutants as co-benefits. Four types of actions were considered:
innovation, infrastructure, policy and mindset. Specific actions of each type were identified across the sectors and pollutants described in the report. These actions were then bundled into the following seven holistic opportunities for action (not in ranked order):
1. Improve wastewater management
2. Improve stormwater management
3. Adopt green chemistry practices and new materials
4. Implement coastal zone improvements
5. Practice radical resource efficiency
6. Recover and recycle the materials we use
7. Build local systems for safe food and water
Author: Jambeck, J., Moss, E., and Dubey, B.
Year: 2020
Keywords: the High Level Panel for a Sustainable Ocean Economy (HLP) pollution
---
FROM VISION TO STRATEGIC ACTION
The CLME+ Hub is an initiative of the Secretariat of the CLME+ Interim Coordination Mechanism (ICM), in collaboration with the members of the CLME+ ICM and CLME+ Project Executive Group (PEG) and (prospective) Partner Organizations. Development of the Hub has benefited from the financial support of the UNDP/GEF Project: "Catalysing Implementation of the Strategic Action Programme (SAP) for the Sustainable Management of shared Living Marine Resources in the Caribbean and North Brazil Shelf Large Marine Ecosystems" (CLME+ Project, 2015-2020). The CLME+ Project is executed by the United Nations Office for Project Services (UNOPS) in close collaboration with a large number of global, regional and national-level partners. For more information on the CLME+ Project click here
Copyright © 2021 CLME + HUB
SOMEE content is still under development and is therefore not yet available online. However, you can already check for sample text and materials under the sections in blue text