Displaying 866 results.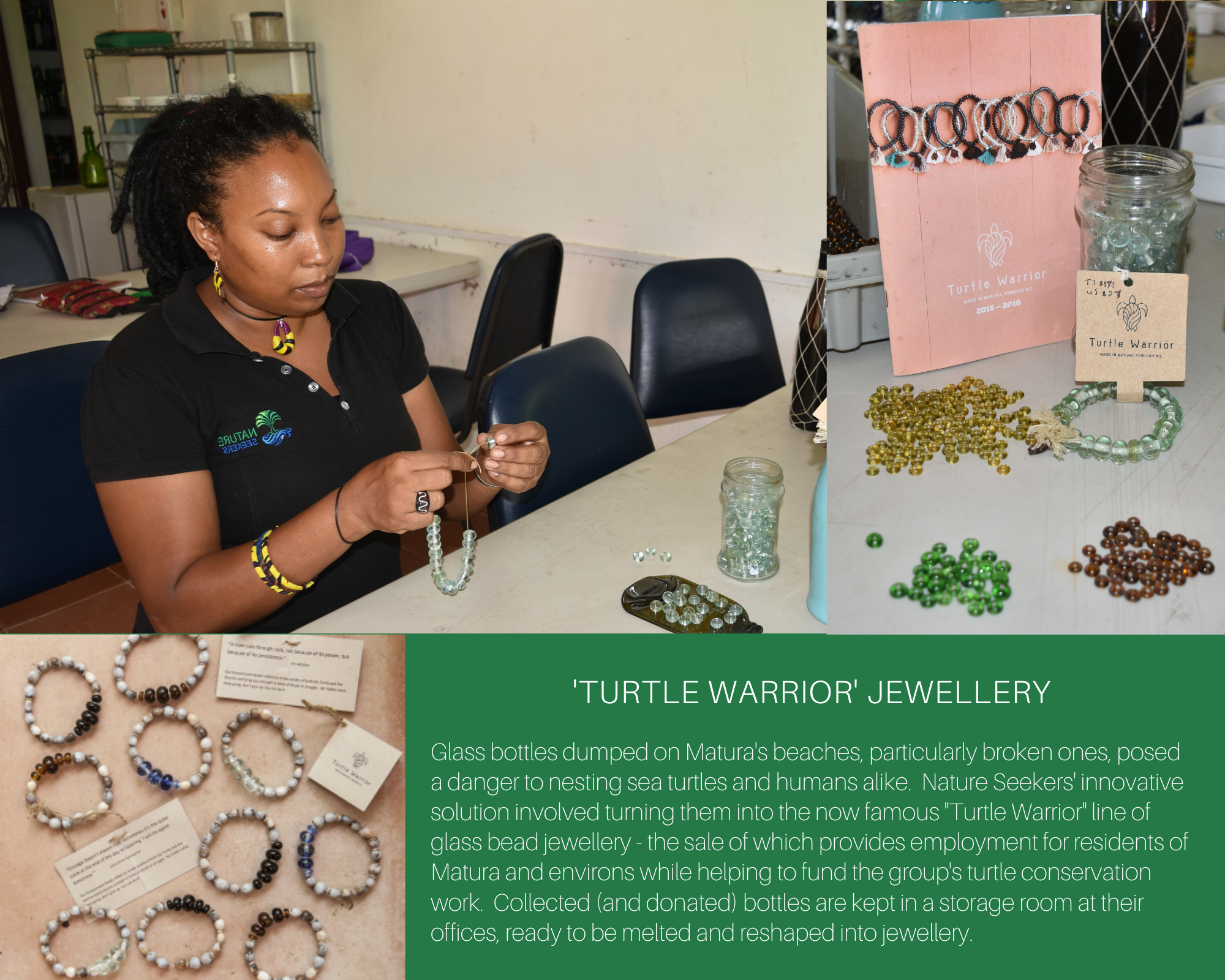 Nature Seekers is a non-governmental organisation focused on turtle conservation based in Matura, Trinidad and Tobago. It has created a cluster of community enterprises which generate jobs and multiple income streams to support turtle and ecosystem conservation. This photo case study examines Nature Seekers' jewellery and tourism clusters, which contribute to SDG 11 Sustainable Cities and Communities, SDG 14 Life Below Water, SDG 15 Life on Land and SDG 12 Responsible Consumption and Production.
Nature Seekers used the Local Green-Blue Enterprise (LGE) Radar; developed and piloted by the Caribbean Natural Resources Institute (CANARI), to examine their clusters in May 2019.
Healthy leatherback turtle populations are key to the eco-tourism services offered by Nature Seekers rural Enterprise cluster. The enterprise offers Turtle Watching tours, which gives visitors an up-close experience with "one of the world's oldest pre-historic animals", the Leatherback Sea Turtle. Tours are available nightly during turtle nesting season – March to August. Recognising the unique value of turtle preservation to the entire enterprise cluster, the group only grants access to tour groups who use Nature Seekers' official community guides, whose work alsoincludes protecting nesting sites from poachers, and bottle collection.
Author: CANARI
Year: 2020
Keywords:
---
More than 2 billion people lack access to safe drinking water and more than double that number lack access to safe sanitation. With a rapidly growing global population, demand for water is expected to increase by nearly one-third by 2050. In the face of accelerated consumption, increasing environmental degradation and the multi-faceted impacts of climate change, we clearly need new ways to manage competing demands on our precious freshwater resources.
The 2018 edition of the UN World Water Development Report (WWDR2018) suggests that solutions may be closer than we think.
The WWDR2018 illustrates that working with nature, rather than against it, would enhance natural capital and support a resource-efficient and competitive circular economy. NBS can be cost-effective, and simultaneously provide environmental, social and economic benefits. These interwoven benefits, which are the essence of sustainable development, are central to achieving Agenda 2030.
Author: UNESCO
Year: 2018
Keywords:
---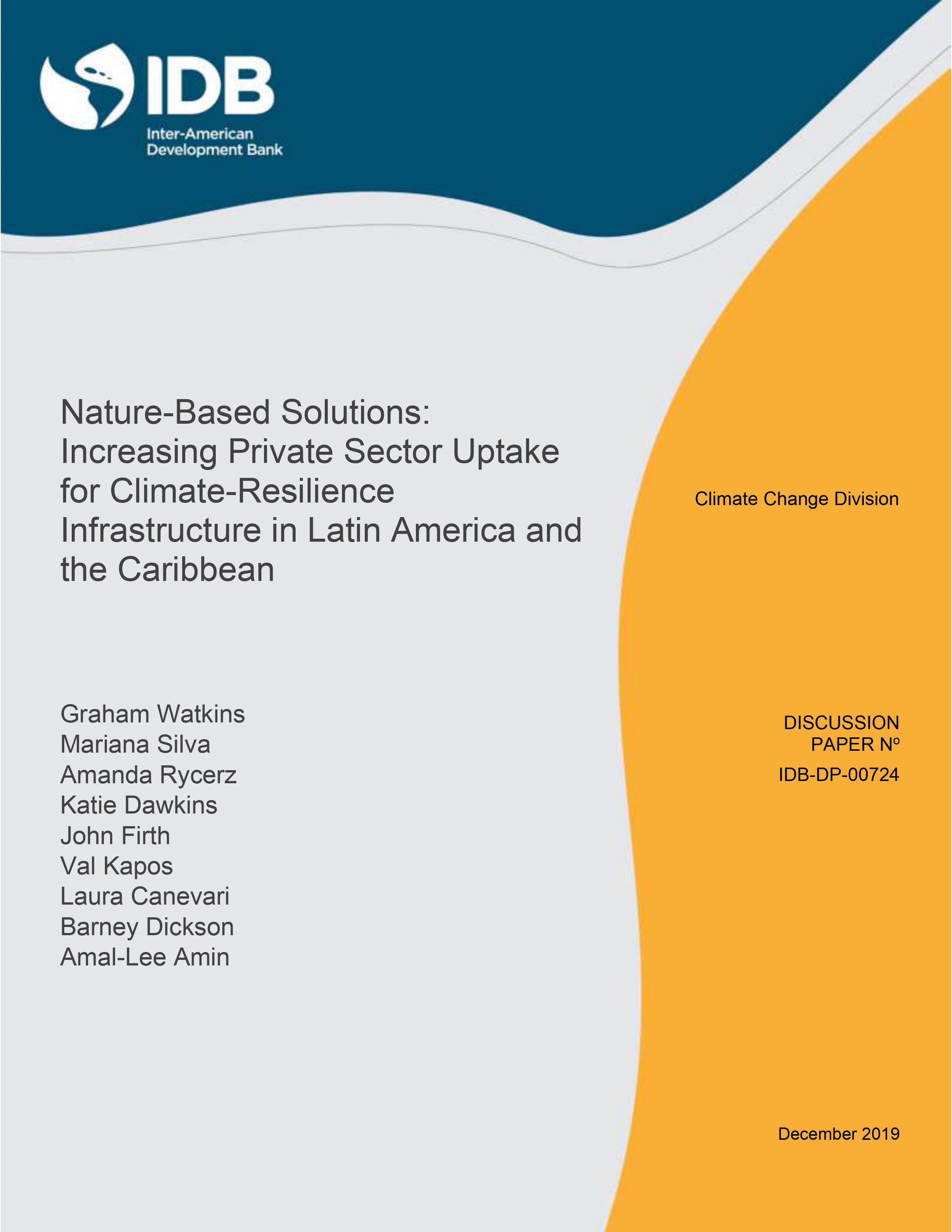 Nature-based Solutions (NbS) can be used as a cost effective way to build infrastructure resilience in response to a changing climate, while also delivering a range of other societal benefits. Yet, many business aren't aware of these benefits, and implementation of NbS by the private sector (including businesses that plan, design, construct and fund infrastructure) has been limited in Latin American and the Caribbean (LAC). As a region where infrastructure investments are required due to economic and population growth, and where climate impacts are acute, LAC is an ideal setting for multifunctional solutions like NbS to help build climate-resilient infrastructure.
Through a collaborative project, the Inter-American Development Bank (IDB), UN Environment Programme (UNEP), Acclimatise, and the UN Environment Programme World Conservation Monitoring Centre (UNEP-WCMC) are exploring the barriers to, and opportunities for, increasing private-sector uptake of NbS in the infrastructure sector in LAC.
This document outlines emerging findings from the work and provides initial recommendations for infrastructure project developers, financial institutions, and policy makers, to create a more enabling environment for NbS.
Author: Watkins, G., Silva, M., Rycerz, A., Dawkins, K., Firth, J., Kapos, V., Canevari, L., Dickson, B., and Amin, A.
Year: 2019
Keywords:
---
This report provides a strategic assessment of financing mechanisms potentially available to a Conservation International ("CI") project to protect mangroves in the North Brazilian Shelf Large Marine Ecosystem ("NBS-LME"). While the protection and sustainable management of mangroves provides co-benefits for various stakeholders throughout the NBS-LME and across the planet by providing a range of ecosystem services (e.g., carbon sequestration combating global climate change), CI's initial focus for the project is identifying a financial strategy for the conservation and restoration of mangroves to improve coastal resilience in Guyana and Suriname through the development of symbiotic green-grey infrastructure.
Author: Caso, A., Dahan, E., de Niese, A., Landgreen, I., Navarro, M., Valdez, Y.
Year: 2019
Keywords: mangroves
---
This analysis seeks to evaluate the size and distribution of the services the mangrove ecosystem is providing to local communities in Suriname and Guyana. The study involves three components: (i) the description, from the scientific and grey literatures, of the mangrove ecosystem services specific to local communities in Guyana and Suriname; (ii) identification of methods that could be used to estimate the economic values of these services, and estimation of the economic values for mangrove forests' fisheries support ecosystem service; and (iii) identification of local beneficiaries of these services.
Author: Bollini, C., Millar, E., Vegh, T., and Virdin, J.
Year: 2019
Keywords: mangroves
---
This report provides more information regarding the standard operating procedures used to developed the Implementation Report for the NBS Mangrove Project Cover Analysis of Guyana in order to produce the Mangrove Cover Extent Map. Earth and Marine Environmental Consultants (EAME) was commissioned to undertake Mangrove Cover analysis across Guyana's coastline on behalf of the North Brazil Shelf Mangrove Project.
Author: Conservation International
Year: 2019
Keywords: mangroves
---
This report is the Implementation Report providing supporting discussion for the data acquisition and processing utilized in order to produce the Mangrove Cover Extent Map. The objectives of the work were as follows: ▪ Production of an up-to-date Mangrove Cover and Extent map utilising the most recently available spatial data along Guyana's Coastline; ▪ Preparation and delivery of a mangrove monitoring operating procedure to monitor the change in mangrove forest cover extent; and ▪ Creation of relevant knowledge transfer training documents and resources to be used within training exercises/ workshops.
Author: Conservation International
Year: 2019
Keywords: mangroves
---
The Policy Analysis was aimed at providing a comprehensive understanding of the existing public policy tools, institutions, relationships, and legal instruments that support the conservation of mangroves, particularly in Guyana. It was intended to assist in addressing legislative and policy issues relevant to the sustainability of mangroves and ecosystem services associated with "blue forests", support the development of concrete and concerted actions to strengthen mangrove governance mechanisms, and promote the healthy state of mangroves to secure the benefits they provide to Guyana and the wider society of the NBS-LME.
Author: Bhola-Johnson, L.
Year: 2019
Keywords: mangroves
---
The Project Setting the foundations for zero net loss of the mangroves that underpin human wellbeing in the North Brazil Shelf LME aims to establish a multi-sectoral consensus and knowledge foundation for the development of an Integrated Coastal Management (ICM) Plan for Mangroves, and to create the multi-disciplinary information base, regional coordination mechanism and multi-sectoral consensus required to implement elements of the CLME+ Strategic Action Plan pertaining to the mangroves that most directly underpin human wellbeing in the North Brazil Shelf LME. To accomplish this, the project will be filling critical knowledge gabs pertaining to mangroves and coastal management.
This report is one of the first outputs of the project, which gives a summary overview on the state of mangroves in Suriname.
Author: Tjitrodipo, K., Eunike, A.
Year: 2019
Keywords: mangroves
---
This report evaluates the potential of Guyana and Suriname's mangrove ecosystems to contribute to climate change mitigation by exploiting their ability to sequester carbon and their role as important national carbon sinks. It also provides a review of NBS mangrove ecological structure, function, and key environmental factors regarding carbon sequestration and storage potential; dimensioning NBS mangrove potential as carbon sinks and mangrove carbon value.
Author: CONSERVATION INTERNATIONAL
Year: 2019
Keywords: blue carbon, mangroves
---
FROM VISION TO STRATEGIC ACTION
FROM VISION TO STRATEGIC ACTION
The CLME+ Hub is an initiative of the Secretariat of the CLME+ Interim Coordination Mechanism (ICM), in collaboration with the members of the CLME+ ICM and CLME+ Project Executive Group (PEG) and (prospective) Partner Organizations. Development of the Hub has benefited from the financial support of the UNDP/GEF Project: "Catalysing Implementation of the Strategic Action Programme (SAP) for the Sustainable Management of shared Living Marine Resources in the Caribbean and North Brazil Shelf Large Marine Ecosystems" (CLME+ Project, 2015-2020). The CLME+ Project is executed by the United Nations Office for Project Services (UNOPS) in close collaboration with a large number of global, regional and national-level partners. For more information on the CLME+ Project click here
Copyright © 2021 CLME + HUB