Displaying 853 results.
The Caribbean Regional Fund for Wastewater Management (CReW) Project aims to address some of the critical issues that Caribbean countries face in managing wastewater treatment systems. CReW has funded pilot projects in four of the nine participating Caribbean countries. An objective of these pilot projects is to determine an appropriate strategy for helping participating countries improve the management of wastewater treatment systems. The resulting strategy could be applied to the remaining participating countries, as part of a possible second phase of the CReW Project.
Author: Janson, N
Year: 2014
Keywords:
---
This document contains the revised and approved statues of the Western Central Atlantic Fishery Commission (WECAFC). The FAO Council approves its general objective principals, area of competence, species, membership, functions, institutions, reporting protocols, observers, rules f procedures and cooperation with international organization.
Author: FAO WECAFC
Year: 2006
Keywords:
---
Este Informe técnico realizado por Peter Whalley muestra una Revisión rápida de los logros alcanzados por los mecanismos interinos de coordinación del proyecto "Catalizando la Implementacion del Programa de Acciones Estratégicas (PAE) para el Manejo sostenible de los Recursos Marinos Vivos compartidos en los Grandes Ecosistemas Marinos del Caribe y de la Plataforma del Norte de Brasil" CLME+.
Author: Whalley, P.
Year: 2019
Keywords: Logros alcanzados por los mecanismos interinos de coordinación CLME+ Peter Walley
---
This document describes the roadmap for operationalization of the CLME+ Small Grant Coordination Mechanism to support implementation of People Managing Oceans – the Civil Society Action Programme for Sustainable Management of the Shared Living Marine Resources of the Caribbean and North Brazil Shelf Large Marine Ecosystems (CLME+ C-SAP)
Author: CANARI
Year: 2020
Keywords: C-SAP SGCM Civil Society Action Programme Roadmap People Managing Oceans C-SAP, Small Grants Coordination Mechanism
---
Author: Tietze, U. and Singh, S.
Year: 2012
Keywords: CRFM Technical & Advisory Document Series Number 2012 / 15 STRATEGIC ACTION PROGRAMME LARGE PELAGIC FISHERIES IN THE CARIBBEAN LARGE MARINE ECOSYSTEM Habitat, LME, Large Marine Ecosystems, fisheries
---
Author: CLME+ PCU
Year: 2020
Keywords: Sargasso Sea Commission Area of Collaboration
---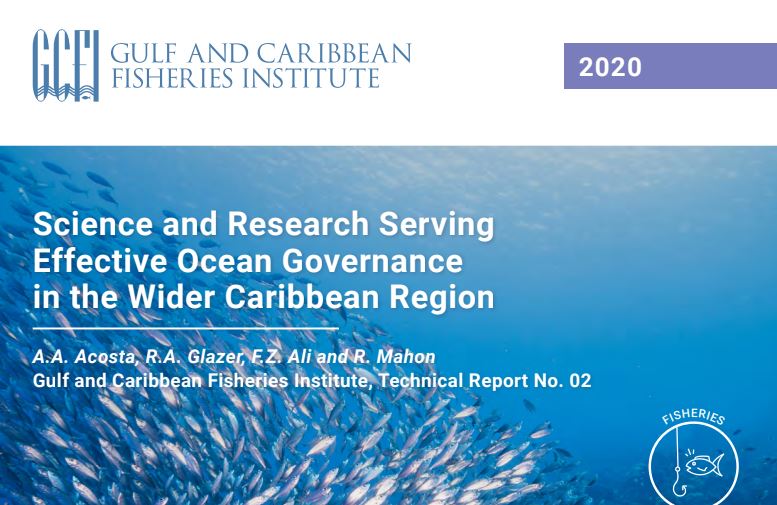 This report is intended to identify priority research topics and information gaps from the perspective of decisionmakers. Ultimately, the goal is that this information will be useful for identifying those areas of research that provides the greatest value in developing effective and implementable policy. A hierarchical approach was employed to develop research topics. First, specific themes were identified that encompass a wide range of activities. These themes go beyond the focus of many research agendas in that they do not deal solely with the natural sciences; other themes were considered that are needed for effective policy development and implementation (e.g., communications, governance, economics). The themes are further subdivided into goals. The research topics fall within the goals. This provided a holistic approach that addresses the gaps in information from the wide range of activities that decision-makers must consider. The final version will be uploaded accordingly.
Author: GCFI
Year: 2020
Keywords: Science and Research Serving Effective Ocean Governance in the Wider Caribbean Region (GCFI) Habitat, Science and Research, fisheries, governance, pollution
---
Author: CLME+ PCU
Year: 2017
Keywords: Seagrass in the Eastern Caribbean
---
Author: CLME+ PCU
Year: 2017
Keywords: Seagrass in the Wider Caribbean Region marine habitats, seagrass beds
---
This document explains the importance of the cultivation of seamoss in the west indies, as well as its economic importance.
Author: Smith, A.
Year: 1997
Keywords:
---
FROM VISION TO STRATEGIC ACTION
The CLME+ Hub is an initiative of the Secretariat of the CLME+ Interim Coordination Mechanism (ICM), in collaboration with the members of the CLME+ ICM and CLME+ Project Executive Group (PEG) and (prospective) Partner Organizations. Development of the Hub has benefited from the financial support of the UNDP/GEF Project: "Catalysing Implementation of the Strategic Action Programme (SAP) for the Sustainable Management of shared Living Marine Resources in the Caribbean and North Brazil Shelf Large Marine Ecosystems" (CLME+ Project, 2015-2020). The CLME+ Project is executed by the United Nations Office for Project Services (UNOPS) in close collaboration with a large number of global, regional and national-level partners. For more information on the CLME+ Project click here
Copyright © 2021 CLME + HUB
SOMEE content is still under development and is therefore not yet available online. However, you can already check for sample text and materials under the sections in blue text