Displaying 853 results.
Author: CLME+ PCU
Year: 2020
Keywords: Caribbean Biodiversity Fund (CBF) Partnership Agreements as of 2020
---
Author: CLME+ PCU
Year: 2020
Keywords: Caribbean Development Bank Borrowing Members as of 2020
---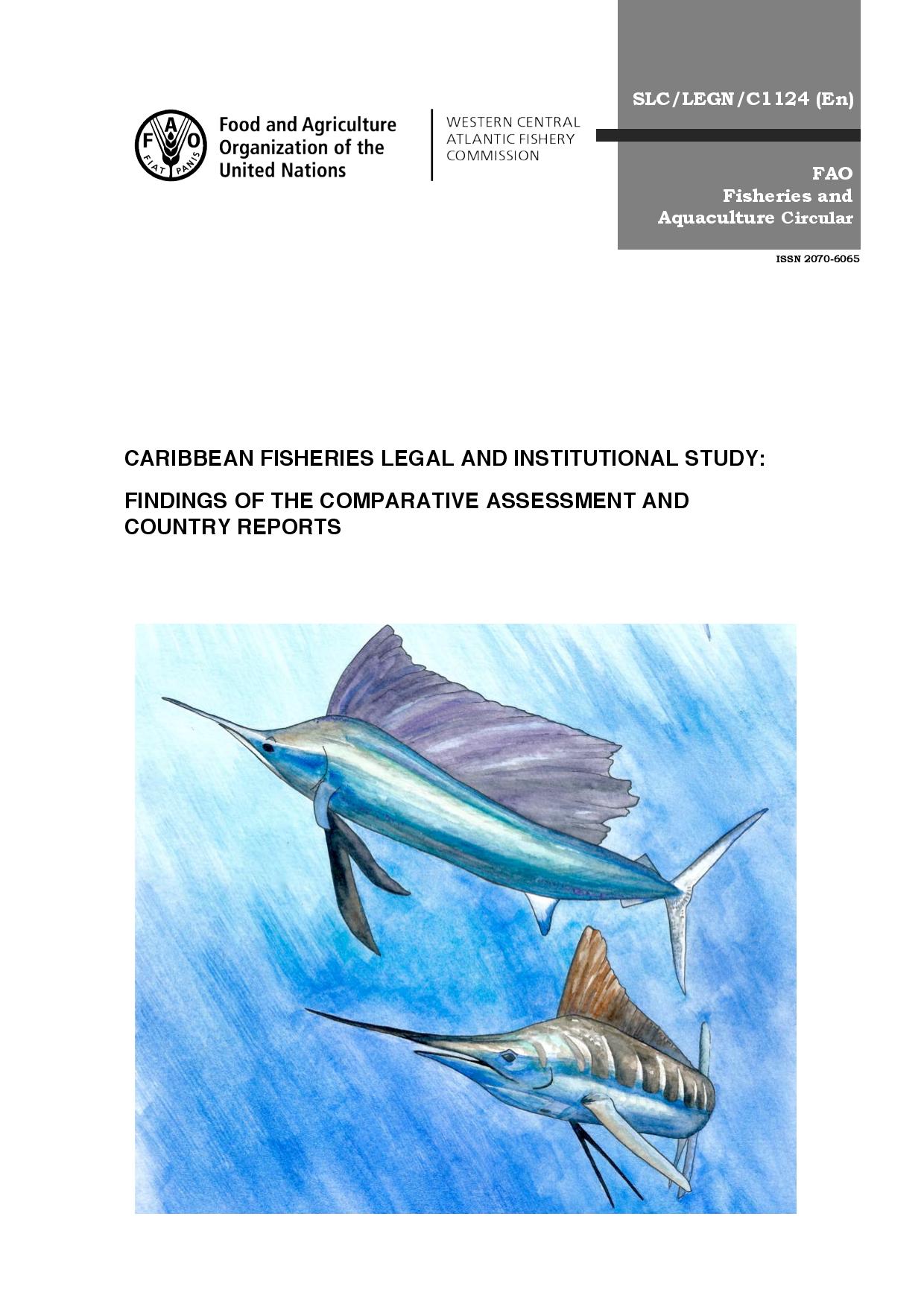 The study carried out an analysis of the legal and institutional framework of the Caribbean fisheries based on a survey and questionnaire sent to the WECAFC countries. As the region is a complex patchwork of countries the methods of drafting and adopting legislation may vary considerably from one country to another. Legislation exists in all countries for the
management of marine capture fisheries at the national level, which included both legal and administrative frameworks, but the legal framework often does not specify a formal management process with identified roles, responsibilities, information needs, and time frames for activity completion and evaluation.
This study assessed basic fisheries legislation and institutional frameworks of member countries of the Western Central Atlantic Fishery Commission (WECAFC). Its objective was to provide a baseline comparison of national legal and institutional frameworks for fisheries management and to identify the extent to which national legal and institutional frameworks provide a suitable foundation for the regulation of commercial and recreational/sport fishing and the conservation of billfish resources in the region, including through the use of rightsbased approaches.
Author: Leria, C.
Year: 2016
Keywords: Caribbean Billfish Project FAO WECAFC Caribbean Fisheries Legal And Institutional Study
---
The main purpose of the CLME Project Concept/TDA Synthesis Technical Workshop was to develop the technical components of the draft Full-Sized Project (FSP) document for review and endorsement by the CLME Steering Committee and other project partners and the subsequent submission to the GEF.
Author: CLME PCU
Year: 2007
Keywords: LME, Large Marine Ecosystems
---
Author: CLME PCU
Year: 2006
Keywords: TDA/SAP TRAINING WORKSHOP
---
This paper has been prepared to provide stakeholders and potential partners with an overview of how the CLME Project is developing. It aims to inform them so that they can best determine how to interact with the project to enhance its effectiveness and to benefit from it by making best use of what it offers for achieving their own aims.
Author: CLME PCU/ CERMES
Year:
Keywords: GOVERNANCE FRAMEWORK AND THE STRUCTURE OF THE CLME PROJECT
---
Transboundary Diagnostic Analysis (TDA):
– Is a scientific and technical fact-finding analysis
– It should be an objective assessment and not a negotiated document
– It acts as a diagnostic tool for measuring the effectiveness of SAP implementation
Author: Fanning, L., Mahon, R., Simmons, B., and McConney, P.
Year:
Keywords: Transboundary Diagnostic Analysis (TDA) TDA SAP Strategic Action Programme CLME
---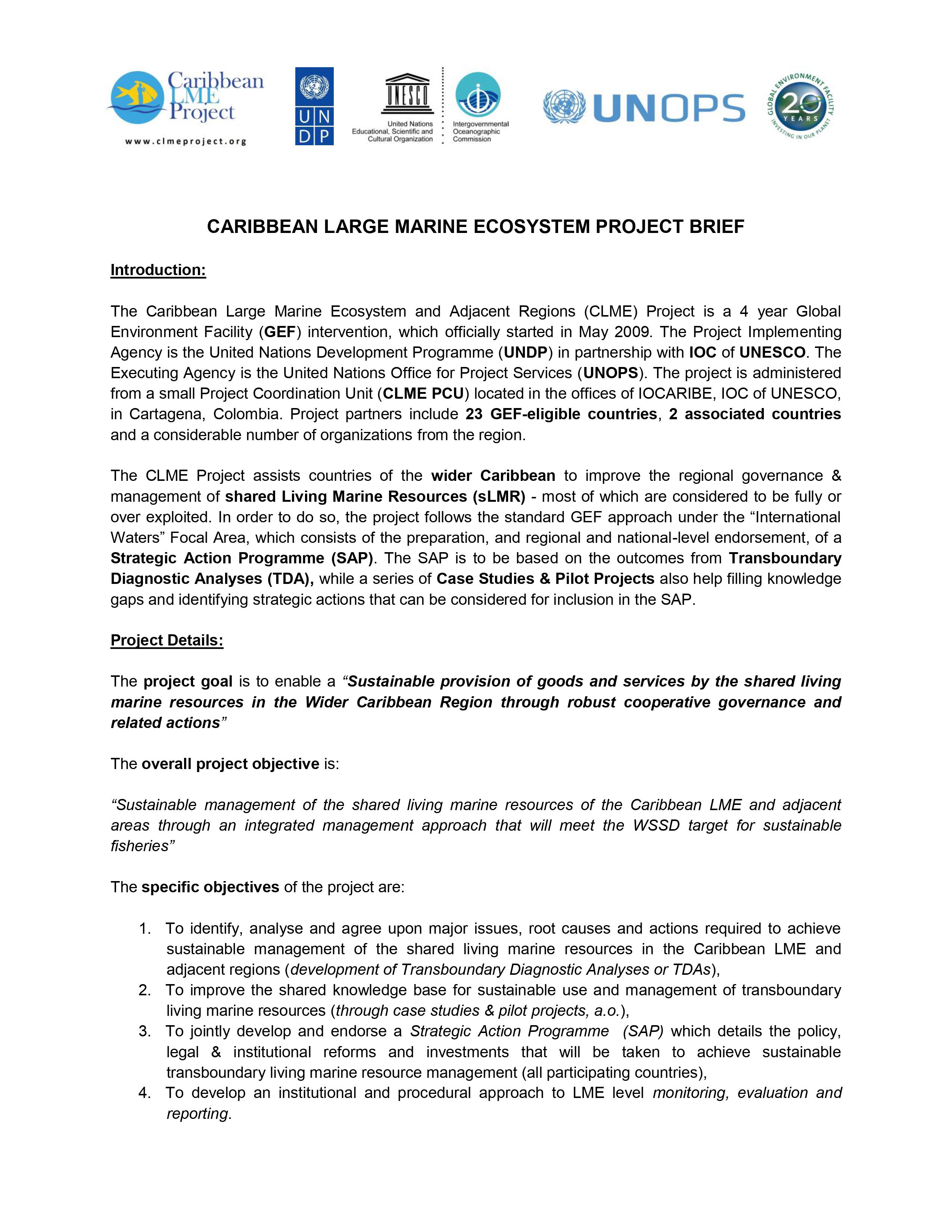 This Document is makes a brief description of The Caribbean Large Marine Ecosystem and Adjacent Regions (CLME). This is Project is a 4 year Global Environment Facility (GEF) intervention, which officially started in May 2009. The Project Implementing Agency is the United Nations Development Programme (UNDP) in partnership with IOC of UNESCO. The Executing Agency is the United Nations Office for Project Services (UNOPS). The project is administered from a small Project Coordination Unit (CLME PCU) located in the offices of IOCARIBE, IOC of UNESCO, in Cartagena, Colombia. Project partners include 23 GEF-eligible countries, 2 associated countries and a considerable number of organizations from the region. The CLME Project assists countries of the wider Caribbean to improve the regional governance & management of shared Living Marine Resources (sLMR) – most of which are considered to be fully or over exploited. In order to do so, the project follows the standard GEF approach under the "International
Waters" Focal Area, which consists of the preparation, and regional and national-level endorsement, of a Strategic Action Programme (SAP).
Author: CLME PCU
Year:
Keywords:
---
Author: CLME+ PCU
Year: 2020
Keywords: Caribbean Marine Atlas Project Phase 2
---
Author: CLME+ PCU
Year: 2020
Keywords: Caribbean Network of Fisherfolk Organizations (CNFO)
---
FROM VISION TO STRATEGIC ACTION
The CLME+ Hub is an initiative of the Secretariat of the CLME+ Interim Coordination Mechanism (ICM), in collaboration with the members of the CLME+ ICM and CLME+ Project Executive Group (PEG) and (prospective) Partner Organizations. Development of the Hub has benefited from the financial support of the UNDP/GEF Project: "Catalysing Implementation of the Strategic Action Programme (SAP) for the Sustainable Management of shared Living Marine Resources in the Caribbean and North Brazil Shelf Large Marine Ecosystems" (CLME+ Project, 2015-2020). The CLME+ Project is executed by the United Nations Office for Project Services (UNOPS) in close collaboration with a large number of global, regional and national-level partners. For more information on the CLME+ Project click here
Copyright © 2021 CLME + HUB
SOMEE content is still under development and is therefore not yet available online. However, you can already check for sample text and materials under the sections in blue text