Displaying 866 results.
Author: FAO WECAFC
Year:
Keywords: Spawning Aggregation Working Group Spawning aggregation
---
Author: UNEP CEP
Year: 2019
Keywords: fisheries, marine habitats
---
Author: UNEP CEP
Year: 2020
Keywords:
---
Spiny lobster distribution, major fishing areas and schematic representation of the limits of the spiny lobster stocks: northern, central, and southwest Caribbean stocks, and southern stock (Brazil).
Author: CLME+ PCU
Year: 2019
Keywords: spiny lobster
---
This maps shows the habitat suitability for the spiny lobster on the Wider Caribbean.
Author: CLME+ PCU
Year: 2021
Keywords: Spiny Lobster Habitat Suitability, 100m Shelf and Main Fishing Areas spiny lobster
---
This documentary is presented to you by, the UNDP/GEF CLME+ Project, the Caribbean Natural Resources Institute (CANARI), the Caribbean Regional Fisheries Mechanism (CRFM), and Centre for Resource Management and Environmental Studies of the University of the West Indies (UWI-CERMES).
Author: CANARI, CRFM, CERMES
Year: 2018
Keywords: Flyingfish, fisheries
---
This document contains a stakeholder inventory & Involvement plan of the CLME+ project.
Author: CANARI
Year: 2015
Keywords: Stakeholder, inventory, involvement, plan, Caribbean, North Brazil, Shelf, Large Marine Ecosystems, Project, CLME+
---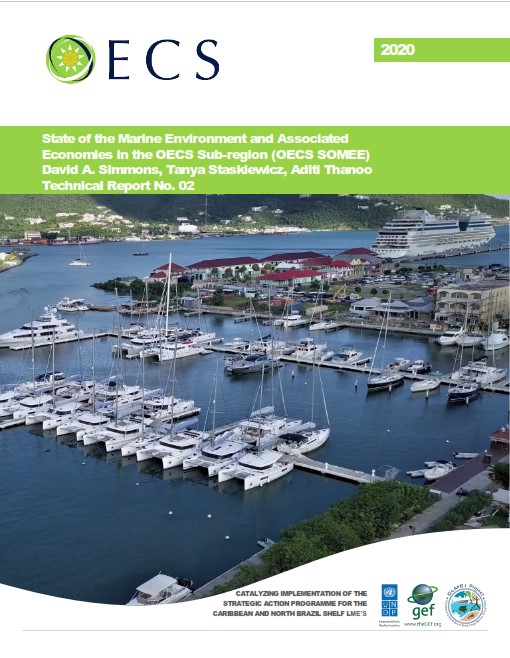 The implementation of the Caribbean and North Brazil Shelf Large Marine Ecosystems (CLME+) Strategic Action Plan (SAP) throughout the Wider Caribbean Region (WCR), including the Organisation of Eastern Caribbean States (OECS), has as part of its mandate, the development of an integrated reporting mechanism on the State of the Marine Environment and Associated Economies (SOMEE). In this
regard, the OECS through this consultancy – Preparation of Inputs to CLME+ State of the Marine Environment and associated Economies (SOMEE) Report and the Implementation of the CLME+ Strategic Action – has developed an OECS SOMEE for its Member States utilizing
the Driver (D) – Pressure (P) – State (S) – Impact (I) – Response (R) (DPSIR) Analytical Framework to describe the status of coastal and marine habitats and fish stocks, effects of marine pollution and other drivers and pressures such as climate change, and matters relating to socioeconomic, management processes and principles, international commitments, and governance.
Author: Simmons, D., Staskiewicz, T., Thanoo A.
Year: 2020
Keywords:
---
Author: Arocha, F.
Year: 2019
Keywords: AROCHA General State of Selected Marine Fish and Shellfish Status and Associated Economies Shellfish, fisheries
---
This booklet introduces a unique and first ever regional mechanism for assessment and reporting on the state of the marine environment and how the marine environment contributes to socio-economic development and human wellbeing. This mechanism, the main outputs of which will be an integrated report and interactive online platform, has been called for by the countries and by Intergovernmental Organizations with a mandate for ocean governance in the region. The aim of this booklet is to raise awareness about and increase stakeholder buy-in for the SOMEE mechanism. A description of the building blocks for the SOMEE mechanism, the assessment approach, and report outline is followed by examples of the kind of contents to be expected in the SOMEE report.
Author: CLME+ PCU
Year: 2019
Keywords:
---
FROM VISION TO STRATEGIC ACTION
FROM VISION TO STRATEGIC ACTION
The CLME+ Hub is an initiative of the Secretariat of the CLME+ Interim Coordination Mechanism (ICM), in collaboration with the members of the CLME+ ICM and CLME+ Project Executive Group (PEG) and (prospective) Partner Organizations. Development of the Hub has benefited from the financial support of the UNDP/GEF Project: "Catalysing Implementation of the Strategic Action Programme (SAP) for the Sustainable Management of shared Living Marine Resources in the Caribbean and North Brazil Shelf Large Marine Ecosystems" (CLME+ Project, 2015-2020). The CLME+ Project is executed by the United Nations Office for Project Services (UNOPS) in close collaboration with a large number of global, regional and national-level partners. For more information on the CLME+ Project click here
Copyright © 2021 CLME + HUB