Displaying 853 results.
Author: CLME+ PCU
Year: 2019
Keywords: Status of Marine Spatial Planning (MSP) by Effort in the Wider Caribbean
---
This map illustrates the status of Marine Spatial Planning (MSP) in the Wider Caribbean as of December 2019. The map shows the areas where MSP is in the pre-planning phase; in the analysis phase for planning; with the management plan completed; with the management plan implemented or where status is unknown.
Author: IOCARIBE
Year: 2019
Keywords:
---
Author: CLME+ PCU
Year: 2020
Keywords: Status of National Intersectoral Coordination Mechanisms (NICs)
---
Author: CLME+ PCU
Year:
Keywords: Status of National Intersectoral Coordination Mechanisms (NICs)
---
This map illustrates the status of the National Intersectoral Mechanism in the Wider Caribbean Region as of July 2019. A National Intersectoral Mechanism is a mechanisms that involves stakeholders comprehensively: State actors – government agencies, parastatal bodies; Non-state actors – NGOs, CBOs and academia; Private sector – from small to large enterprise. It's also a mechanism for regular review, evaluation, learning and adaptation (for efficiency, effectiveness  and responsiveness); and serves to integrate  sectors and actors involved in marine affairs   at the national   level.
Author: CERMES
Year: 2019
Keywords:
---
Author: WECAFC
Year:
Keywords: Fisheries Data and Statistics Working Group
---
The IOC's Regional Subsidiary Bodies play an important role in the implementation of the Commission's programmes in the regions. These efforts are complemented by other IOC decentralized offices, and regional networks established by the IOC's global programmes. The report provides an overview of the status of IOC Regional Activities.
Author: IOC
Year: 2011
Keywords: coordination mechanism
---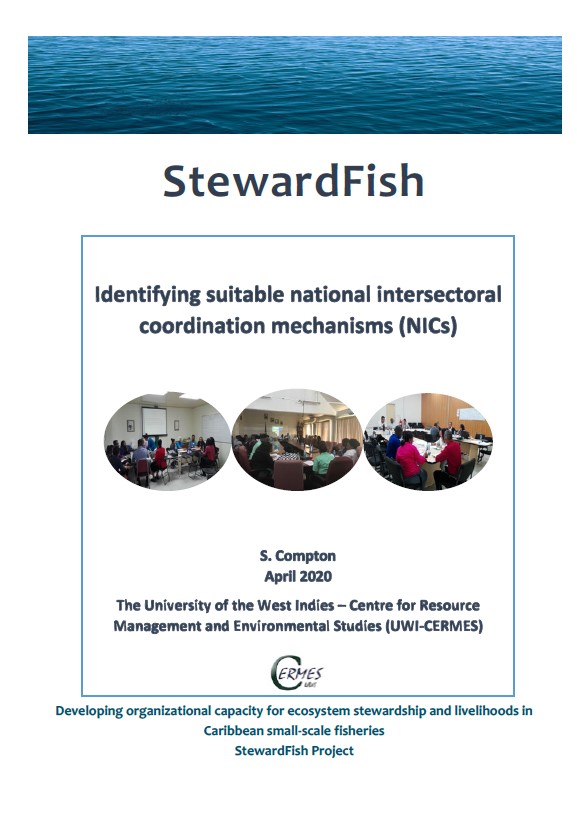 The Strategic Action Programme for the Sustainable Management of the Shared Living Marine Resources of the Caribbean and North Brazil Shelf Large Marine Ecosystem (CLME+ SAP) proposes to achieve a regionally adopted long-term vision for a healthy marine environment that can sustain and provide benefits for human well-being and livelihoods. Through the CLME+ SAP, intersectoral governance arrangements such as National Intersectoral Coordination Mechanisms (NICs) have been identified as critical for ecosystem-based management (EBM) and ecosystem approach to fisheries. The StewardFish project aims to empower fisherfolk throughout fisheries value chains to engage in resource management, decision-making processes and sustainable livelihoods with strengthened institutional support at all levels. StewardFish is being implemented within seven Caribbean Regional Fisheries Mechanism (CFRM) Member States: Antigua and Barbuda, Barbados, Belize, Guyana, Jamaica, Saint Lucia and St. Vincent and the Grenadines. NICs within this context of StewardFish can be thesupporting mechanisms for fisherfolk engagement and good governance. Component 4 of the project is focused on good governance and learning for adaptation institutionalized among fisherfolk organisations. Activities under this component call for the identification of suitable NICs for the implementation of StewardFish. A multi-method approach utilizing primary and secondary sources was used to help in the identification of NICs in the seven countries. Information on NICs is still limited. Nevertheless, the most suitable arrangements for StewardFish was selected based on how much information was made available at time of this report. Although NICs or the closest similar arrangements have been identified for each country it is further recommended that, where and when possible, other governance arrangements, especially in the coastal and ocean marine sectors, be engaged.
Author: CERMES
Year: 2020
Keywords: StewardFish, NICs, EBM, EAF EAF, EBM, Ecosystem Based Management, governance
---
The seven countries participating in the Developing Organizational Capacity for Ecosystem Stewardship and Livelihoods in Caribbean Small-Scale Fisheries(StewardFish) project – Antigua and Barbuda, Barbados, Belize, Guyana, Jamaica, Saint Lucia, St. Vincent and the Grenadines have a high dependence on fisheries resources, whether for income generation, nutrition and food security. Fisheries degradation and over-exploitation are causes of major concern within the region. Due to the high dependence in the Caribbean on marine resources, the high vulnerability of fisherfolk, the concentration of fisheries infrastructure in the coastal zone, plus increasing intensity of extreme-weather events, effective adaptation measures for the fisheries sector are critical for sustainable livelihoods, improved food security and conservation of marine resources.
Author: FAO
Year:
Keywords: LME, Large Marine Ecosystems
---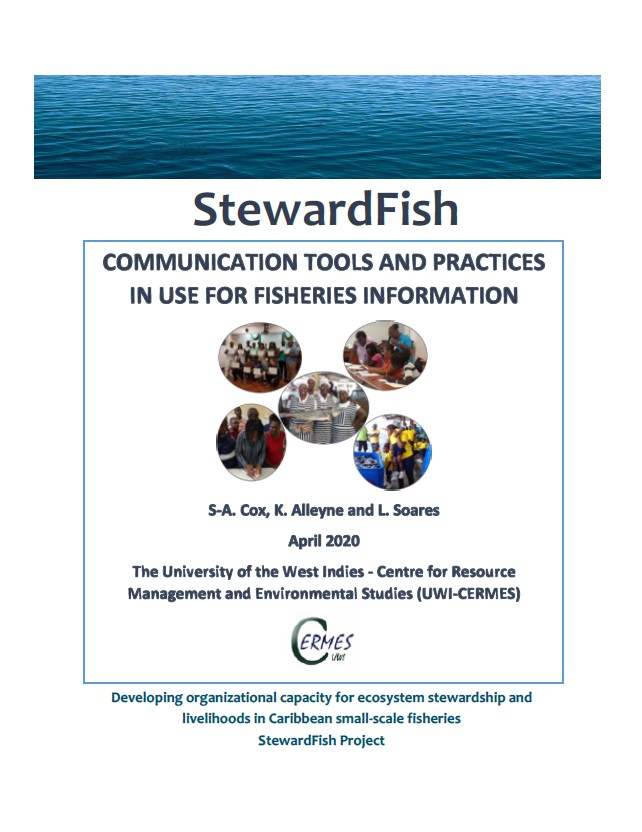 The provision of timely and salient fisheries information tailored for fisherfolk use is critical in promoting
ecosystem stewardship for fisheries sustainability. Fisheries information in the Caribbean is communicated in several ways using different communication tools and platforms. However, the
information is generally not packaged or tailored for fisherfolk, the intended end users. This may limit their awareness of new concepts, guidelines and policies that have implications for their day-to-day
operations, and exclude them from making valuable input into fisheries policies, plans and practices. This report provides a summary of an investigation of the communication tools and practices in use for
fisheries information in the 17 CRFM member states. This exercise provided valuable insight to the tools
used by end users and their practices for accessing information. We found that WhatsApp and word of
mouth (used daily in many cases) were the preferred means of communication for fisheries information. This exercise also revealed that potential tools such as Email and Facebook can be explored. The extent to which fisheries information providers in the region are using WhatsApp to communicate with fisherfolk needs to be determined, as well as their capacity to use the platform effectively. We recommend that the CRFM leads an assessment of the capacities of fisheries information providers/producers in the Caribbean to effectively employ the communication tools used by fisherfolk to receive fisheries information. We anticipate that this assessment will help to inform interventions at regional and national levels to improve communication and promote ecosystem stewardship for fisheries sustainability.
Author: CERMES
Year: 2020
Keywords: StewardFish; Fisheries; Communication Communication Strategy, fisheries
---
FROM VISION TO STRATEGIC ACTION
The CLME+ Hub is an initiative of the Secretariat of the CLME+ Interim Coordination Mechanism (ICM), in collaboration with the members of the CLME+ ICM and CLME+ Project Executive Group (PEG) and (prospective) Partner Organizations. Development of the Hub has benefited from the financial support of the UNDP/GEF Project: "Catalysing Implementation of the Strategic Action Programme (SAP) for the Sustainable Management of shared Living Marine Resources in the Caribbean and North Brazil Shelf Large Marine Ecosystems" (CLME+ Project, 2015-2020). The CLME+ Project is executed by the United Nations Office for Project Services (UNOPS) in close collaboration with a large number of global, regional and national-level partners. For more information on the CLME+ Project click here
Copyright © 2021 CLME + HUB
SOMEE content is still under development and is therefore not yet available online. However, you can already check for sample text and materials under the sections in blue text