Displaying 866 results.
Author: Phillips, T.
Year: 2007
Keywords:
---
Author: Heileman, S.
Year: 2007
Keywords:
---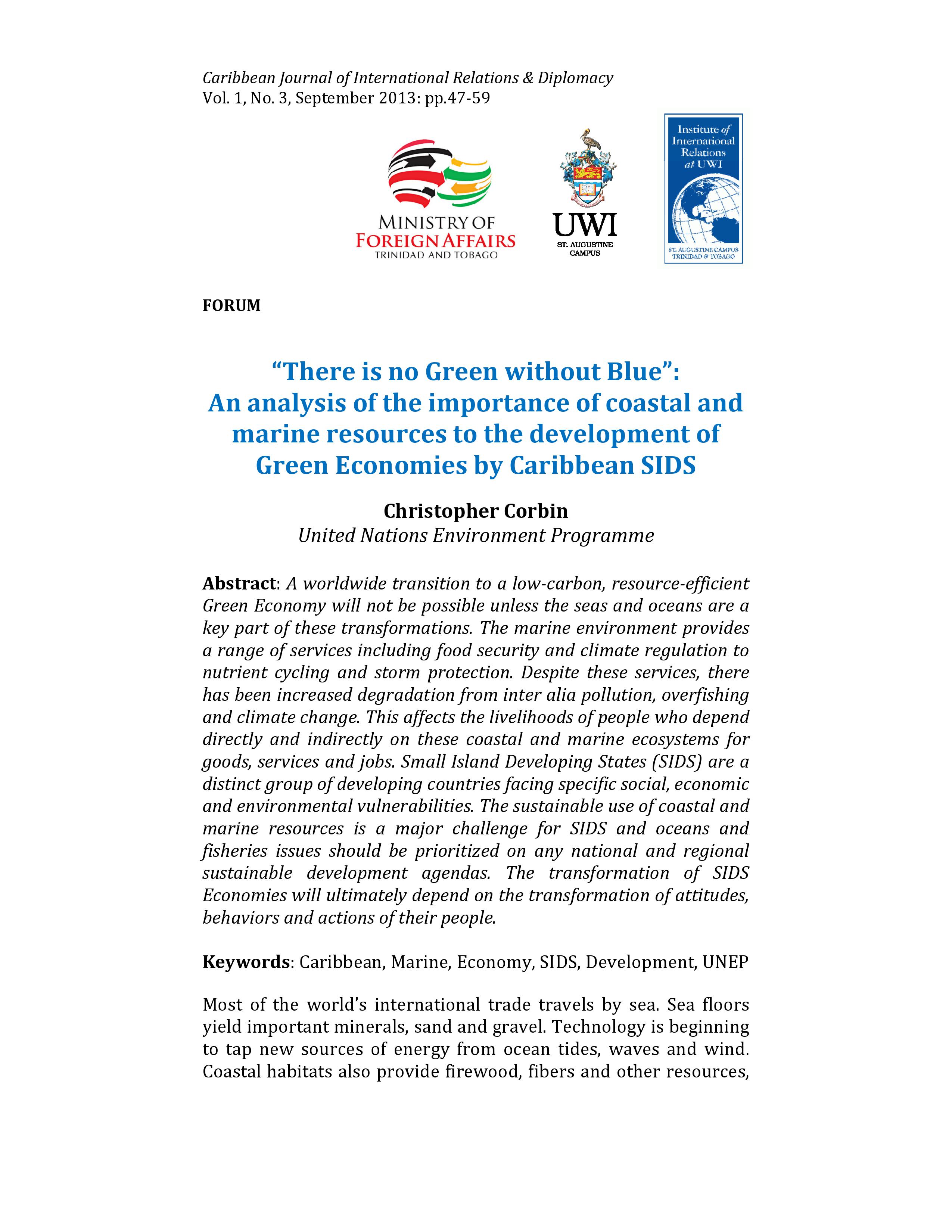 A worldwide transition to a low-carbon, resource-efficient Green Economy will not be possible unless the seas and oceans are a key part of these transformations. The marine environment provides a range of services including food security and climate regulation to nutrient cycling and storm protection. Despite these services, there has been increased degradation from inter alia pollution, overfishing and climate change. This affects the livelihoods of people who depend directly and indirectly on these coastal and marine ecosystems for goods, services and jobs. Small Island Developing States (SIDS) are a distinct group of developing countries facing specific social, economic and environmental vulnerabilities. The sustainable use of coastal and marine resources is a major challenge for SIDS and oceans and fisheries issues should be prioritized on any national and regional sustainable development agendas. The transformation of attitudes, behaviors and actions of their people.
Author: Corbin, C.
Year: 2013
Keywords: marine habitats
---
Author: UNEP
Year: 2016
Keywords: Third meeting Land based source pollution STAC LBS LBS SOCAR, pollution
---
Anexo 2 del PAE del CLME+ presenta en forma tabular las 6 Estrategias, 4 Sub-Estrategias y 76 Acciones Prioritarias, junto con sus plazos de implementacion (corto y mediano plazo).
Author: CLME Project
Year: 2013
Keywords:
---
Author: FAO WECAFC
Year:
Keywords: Deep Sea Fisheries Working Group Deep Sea Fisheries
---
Author: FAO WECAFC
Year:
Keywords: Flyingfish working group Flyingfish
---
Author: FAO WECAFC
Year: 2018
Keywords: IUU Working Group IUU fishing
---
Author: FAO WECAFC
Year: 2017
Keywords: Recreational Fisheries Working Group Recreational Fisheries
---
Author: FAO WECAFC
Year:
Keywords: Spiny lobster working group grupo de trabajo de la langosta Espinosa Working Group, spiny lobster
---
FROM VISION TO STRATEGIC ACTION
FROM VISION TO STRATEGIC ACTION
The CLME+ Hub is an initiative of the Secretariat of the CLME+ Interim Coordination Mechanism (ICM), in collaboration with the members of the CLME+ ICM and CLME+ Project Executive Group (PEG) and (prospective) Partner Organizations. Development of the Hub has benefited from the financial support of the UNDP/GEF Project: "Catalysing Implementation of the Strategic Action Programme (SAP) for the Sustainable Management of shared Living Marine Resources in the Caribbean and North Brazil Shelf Large Marine Ecosystems" (CLME+ Project, 2015-2020). The CLME+ Project is executed by the United Nations Office for Project Services (UNOPS) in close collaboration with a large number of global, regional and national-level partners. For more information on the CLME+ Project click here
Copyright © 2021 CLME + HUB