Displaying
1-10

of 9 results
Informe Final del Sub-proyecto: "Enfoque Ecosistémico para la Pesca (EEP) de la Langosta Espinosa del Caribe"
La langosta del Caribe (Panulirus argus), es uno de los principales recursos pesqueros de la región, alcanzando en el 2017, 40,000 toneladas extraídas, con un valor de un billón de dólares de los Estados Unidos de América.El objetivo primordial, al que contribuyó el Sub-proyecto de la Langosta Espinosa del Caribe, fue el de maximizar de una forma sostenible las contribuciones de la langosta espinosa al bienestar de las personas y el desarrollo socioeconómico en la región CLME+, conservando la estructura, diversidad y el funcionamiento de los ecosistemas que albergan esta especie.
Year: 2020
Author: CLME+ Project /OSPESCA
Keywords: spiny lobster

4



Report issue
---
Management Performance Review of the Bahamas Lobster Fishery 2016, Fishery Progress Organization
The fishery is currently part of a Fisheries Improvement Project (FIP) and management performance is measured against the Marine Stewardship Council's Standard. This document was created to fulfill management performance review requirements and has undergone an external review, a review by the Bahamas Spiny Lobster Working Group and the Department of Marine Resources. The Department of Marine Resources is ultimately responsible for the contents of this document.
Year: 2016
Author: FisheryProgress.org
Keywords: fisheries, spiny lobster, Working Group




Report issue
---
Recommendation WECAFC/XVII/2019/9 "ON THE MANAGEMENT OF CARIBBEAN SPINY LOBSTER IN THE WECAFC AREA"
Series of recommendation on the management of Caribbean spiny lobster in the WECAFC Area. This recommendation recalls that most WECAFC members have endorsed the Caribbean and North Brazil Shelf Large Marine Ecosystem (CLME+) Strategic Action Programme (SAP), including SAP Sub-Strategy 4A, which aims at facilitating the adoption and implementation of an ecosystem approach to the Caribbean spiny lobster fisheries, and RECALLING the inclusion under the UNDP/GEF CLME+Project of dedicated financing to support the implementation of the aforementioned SAP Sub-Strategy
Year: 2019
Author: WECAFC
Keywords: spiny lobster

1



Report issue
---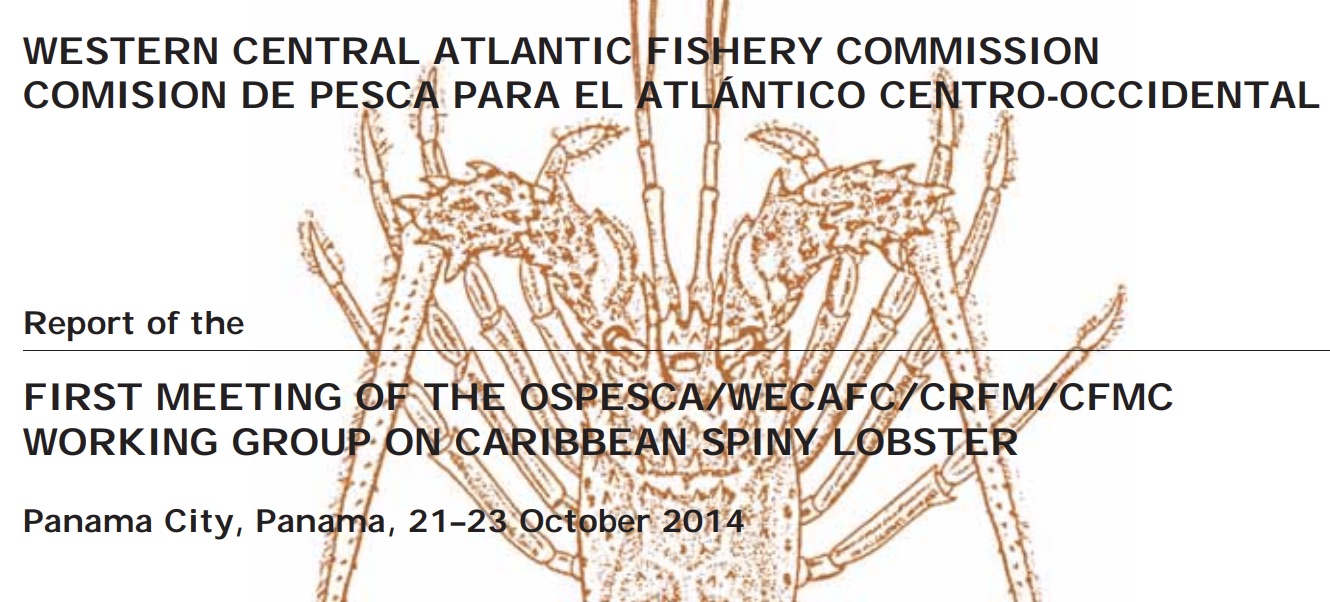 Report of the First Meeting Of The OSPESCA/WECAFC/CRFM/CFMC Working Group On Caribbean Spiny Lobster Panama City, Panama, 21–23 October 2014
This is the report of the first meeting of the OSPESCA/WECAFC/CRFM/CFMC Working Group on Caribbean Spiny Lobster, which was held in Panama City, Panama, on 21–23 October 2014. The meeting was co-organized with the Aquatic Resources Authority of Panama (ARAP). The following countries and regional partner organizations participated: Anguilla, Antigua and Barbuda, the Bahamas, Belize, Brazil, Cuba, the Dominican Republic, France, Haiti, Honduras, Mexico, the Netherlands, Nicaragua, Panama, and the United States of America, the Western Central Atlantic Fishery Commission (WECAFC), Caribbean Regional Fishery Mechanism (CRFM), the Caribbean Fisheries Management Council (CFMC), and the Central American Fisheries and Aquaculture Organization (OSPESCA). Resource persons from other organizations and institutions also contributed.
Year:
Author: FAO WECAFC
Keywords: spiny lobster




Report issue
---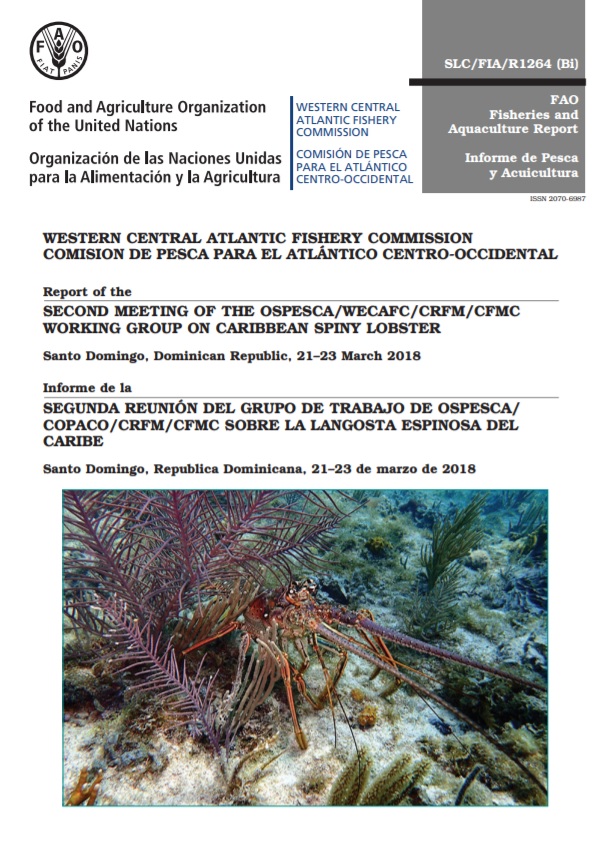 Report of the second meeting of the OSPESCA/WECAFC/CRFM/CFMC Spiny Lobster Working Group
The second meeting of the OSPESCA/WECAFC/CRFM/CFMC working group on Caribbean Spiny Lobster took place in Santo Domingo, Dominican Republic, from 21 to 23 March 2018. The status of the Caribbean spiny lobster fishery was presented in the subregions of OSPESCA and the CRFM, as well as in Brazil, Cuba, the United States and Mexico. Delegates also learned about the progress in the implementation and definition of indicators of subcomponent 4A related to spiny lobster in the CLME + Strategic Action Plan and the preparation and contents of the SOMEE Report. A new expanded and updated proposal of a regional plan for the management of Caribbean lobster prepared in the context of the Ecolobster + sub-project of the CLME + project was also presented. In the same context, a harmonized system of data collection and evaluation of lobster stocks that allows for minimum common elements among countries for purposes of comparing results and estimating the spiny lobster stock status was presented. Additionally, advances in the design and implementation of a proposed regional standard for traceability of fishery products, with emphasis on the Caribbean lobster fishery, were shown. Terms of Reference of the working group were discussed and updated, and the 2016–2018 work plan was adopted. The working group also adopted a new definition in the identification and distribution of spiny lobster stocks in the Greater Caribbean.
Year: 2019
Author: FAO WECAFC
Keywords: spiny lobster

8



Report issue
---

Report of the Second Workshop on the Management of Caribbean Spiny Lobster Fisheries in the Wecafc Area Havana, Cuba, 30 September – 4 October 2002
Este documento presenta la continuación del trabajo efectuado en el primer taller sobre manejo como fue reportado en el FAO Informe de Pesca No. 643. El segundo taller consistió de un Taller Científico (30 septiembre - 3 octubre) y una Reunión de Tomadores de Decisiones (4 octubre). La parte I contiene los informes de las dos reuniones, incluyendo secciones sobre «Mejoramiento de la efectividad del manejo nacional de la langosta y del Grupo de Trabajo ad hoc» y «El trabajo futuro del Grupo de Trabajo ad hoc de la COPACO sobre la langosta espinosa del Caribe». Los Apéndices de A hasta I presentan más informaciones sobre el Taller, incluyendo la lista de requerimientos de datos sobre las consideraciones para el manejo responsable de las pesquerías de langosta espinosa; los informes subregionales sobre el estado actual de los recursos de langosta, investigación y manejo; una presentación de «Algunas consideraciones para la ordenación responsable de pesquerías de langosta espinosa en la región de la COPACO»; las declaraciones efectuadas por los Tomadores de Decisiones en el lenguaje original; y un resumen de las recomendaciones del taller
Year: 2002
Author: FAO WECAFC
Keywords: fisheries, spiny lobster, Working Group




Report issue
---
The Regional Caribbean Spiny Lobster (Panulirus argus) fishery management plan
This document presents the Caribbean Spiny Lobster Fishery Regional Management Plan (MARPLESCA plan) prepared under the "Ecosystem Approach for the Caribbean Spiny Lobster Fisheries subproject (aka ECOLANGOSTA +)", which is executed in the framework of the " Shared Living Marine Resources of the Caribbean and North Brazil Shelf Large Marine Ecosystems (CLME +)" and the implementation of the Strategic Action Program 2015-2025 of the CLME region.
Year: 2018
Author: FAO WECAFC
Keywords: marine habitats, spiny lobster

1



Report issue
---
ToR WORKING GROUP ON CARIBBEAN SPINY LOBSTER (2019)
To date no abstract has been uploaded for this document
Year:
Author: FAO WECAFC
Keywords: spiny lobster, Working Group

2



Report issue
---
WECAFC – Workshop on Management of the Caribbean Spiny Lobster (Panulirus argus) Fisheries in the Area of the Western Central Atlantic Fishery Commission. Merida, Mexico
To date no abstract has been uploaded for this document
Year: 2000
Author: FAO WECAFC
Keywords: fisheries, spiny lobster, Working Group




Report issue
---