Displaying 860 results.
The Regional Governance Framework (RGF) proposed in this report has evolved over the duration of the CLME Project, through interaction with regional stakeholder organizations. Much of the conceptual basis for the framework was developed and accepted by the countries and regional organizational that stage.  What is presented here takes the concepts to the next stage of an actual framework addressing actual issues and identifying organizations and the roles that they would play in the framework. What is presented here is based on assessment and consultation with key partner organizations and is viewed as a consensus to be proposed to the countries for adoption rather than a set of options among which the regional organizations and countries must decide.
Author: Robin Mahon, Alexcia Cooke, Lucia Fanning and Patrick McConney for the CLME Project
Year: 2013
Keywords:
---
This document offers a detailed explanation on Governance assessment methodology for CLME pilot projects and case studies.
Author: CERMES
Year: 2012
Keywords:
---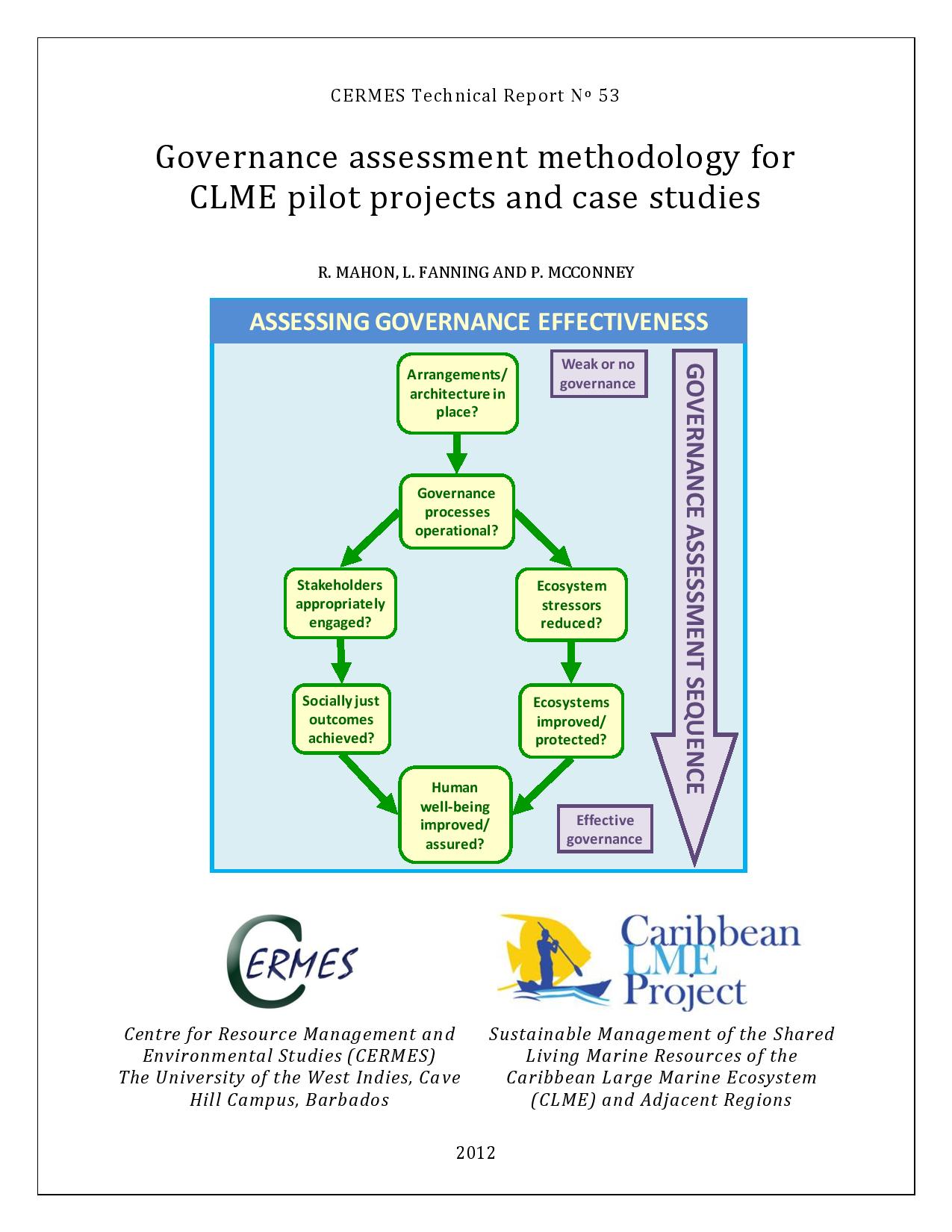 The Caribbean Large Marine Ecosystem and Adjacent Areas (CLME) Project has identified weak governance as a root cause of the problems facing these social ecological systems (SESs). Therefore, the CLME Project has a strong emphasis on assessing LMR governance systems and on proposing ways of strengthening them. This document outlines the approach to governance assessment that was used to assess a variety of SES situations in the CLME Project area as reflected in the CLME Case Studies and Pilot Projects. The methodology was adapted from the methodology developed for the GEF Transboundary Waters Assessment Programme (TWAP). This is based on a multilevel, policy-cycle-based Large Marine Ecosystem (LME) Governance Framework that incorporates and addresses the issues of scale, complexity and interaction inherent in most LMEs.
Author: Mahon, R., L. Fanning, R. and P. McConney
Year: 2012
Keywords: CLME The Caribbean Large Marine Ecosystem and Adjacent Areas governance assessment Large Marine Ecosystems, case study
---
Author: Sing, A.
Year: 2008
Keywords: marine habitats, pollution
---
The present study focuses on the current arrangements and options for future arrangements for governance of transboundary fisheries resources in the Wider Caribbean. It was undertaken as a thematic study to provide background analysis for consideration of fisheries governance issues in the preparation of a Transboundary Diagnostic Analysis and development of a proposal for a Caribbean Large Marine Ecosystem (CLME) project for funding by the GEF/World Bank.
Author: Parsons, S.
Year:
Keywords: LME, Large Marine Ecosystems
---
The main objective of this report is to assess the performance of the water and sanitation sector in the Caribbean and provide recommendations to improve governance of the sector in the region. This report is composed of two parts: the baseline report and the action plan. The baseline report assesses the operating efficiency, financial performance, policies, and institutions of the water and sanitation sectors in The Bahamas, Barbados, Belize, Guyana, Jamaica, Suriname, and Trinidad and Tobago. The action plan provides recommendations on how to improve governance of the water and sanitation sector in those countries.
Author: K&M Advisors
Year: 2019
Keywords: pollution
---
Author: CLME+ PCU
Year: 2020
Keywords: Government Members of the Caribbean Tourism Organization (CTO)
---
Author: UNOPS
Year: 2011
Keywords: Grand Support Agrrement
---
Author: CLME+ PCU
Year: 2020
Keywords: Grandes Ecosistemas Marinos (GEMs) en el Gran Caribe
---
Author: CLME+ PCU
Year: 2020
Keywords: Grandes Ecosistemas Marinos (GEMs) y la Área del Convenio de Cartagena
---
FROM VISION TO STRATEGIC ACTION
FROM VISION TO STRATEGIC ACTION
The CLME+ Hub is an initiative of the Secretariat of the CLME+ Interim Coordination Mechanism (ICM), in collaboration with the members of the CLME+ ICM and CLME+ Project Executive Group (PEG) and (prospective) Partner Organizations. Development of the Hub has benefited from the financial support of the UNDP/GEF Project: "Catalysing Implementation of the Strategic Action Programme (SAP) for the Sustainable Management of shared Living Marine Resources in the Caribbean and North Brazil Shelf Large Marine Ecosystems" (CLME+ Project, 2015-2020). The CLME+ Project is executed by the United Nations Office for Project Services (UNOPS) in close collaboration with a large number of global, regional and national-level partners. For more information on the CLME+ Project click here
Copyright © 2021 CLME + HUB