Displaying 860 results.
testing email 2 edits test 2
Author: ttst
Year: –2021
Keywords: biodiversity
---
testing emails 2 outlook correction
Author: tsts
Year: –2021
Keywords: blue carbon
---
testing tranfer of owner
this was transfered to another user
Author: Camilo transfered
Year: 2021
Keywords: CLME+
---
testing verified user
Author: verified
Year: 1991
Keywords: blue carbon
---
The phenomenon of the "dead zone" results from an excess of nitrates and phosphorous in the Mississippi River. The latter stimulates the proliferation of algae which decomposes when dead, covering over the seabed. This decomposition absorbs all the available oxygen, preventing the presence of all other living matter. The phenomenon has been triggered by the increase in surface cultivation of maize for fuel energy production (more than 35 million hectares). The infatuation of the United States for agro-motor fuels has thus contributed to an increase in use of chemical fertilizers containing nitrates and phosphorous… According to some experts, this "dead zone" phenomenon will certainly exacerbate in the future by climate change, the increase in water temperature accelerating the decomposition of the algae and the redistribution of rainfall, modifying river flow rates.
Author: AREC
Year: 2014
Keywords:
---
This map illustrates the 18 Marine Ecoregions of TNC's Mesoamerican and Caribbean Region.
Author: TNC
Year: 2006
Keywords:
---
Author: CLME+ PCU
Year: 2020
Keywords:
---
This case study aims to enhance knowledge about innovations and best practices currently being utilised by civil society organisations (CSOs) and their partners in the Caribbean that can be applied to support conservation, restoration and sustainable use of coastal and marine resources in marine protected areas (MPAs) and marine managed areas (MMAs). It has been developed under the regional project 'Powering Innovations in Civil Society and Enterprises for Sustainability in the Caribbean' (PISCES) which is being funded by the European Union EuropeAid programme and implemented over a three-year period (2017 to 2020). PISCES is taking place in ten countries: Antigua and Barbuda; The Bahamas; Dominica;
Grenada; Haiti; Jamaica; Saint Kitts and Nevis; Saint Lucia; Saint Vincent and the Grenadines; and
Trinidad and Tobago.
Author: Goddard, G. and Fitzjames, K,
Year: –2021
Keywords:
---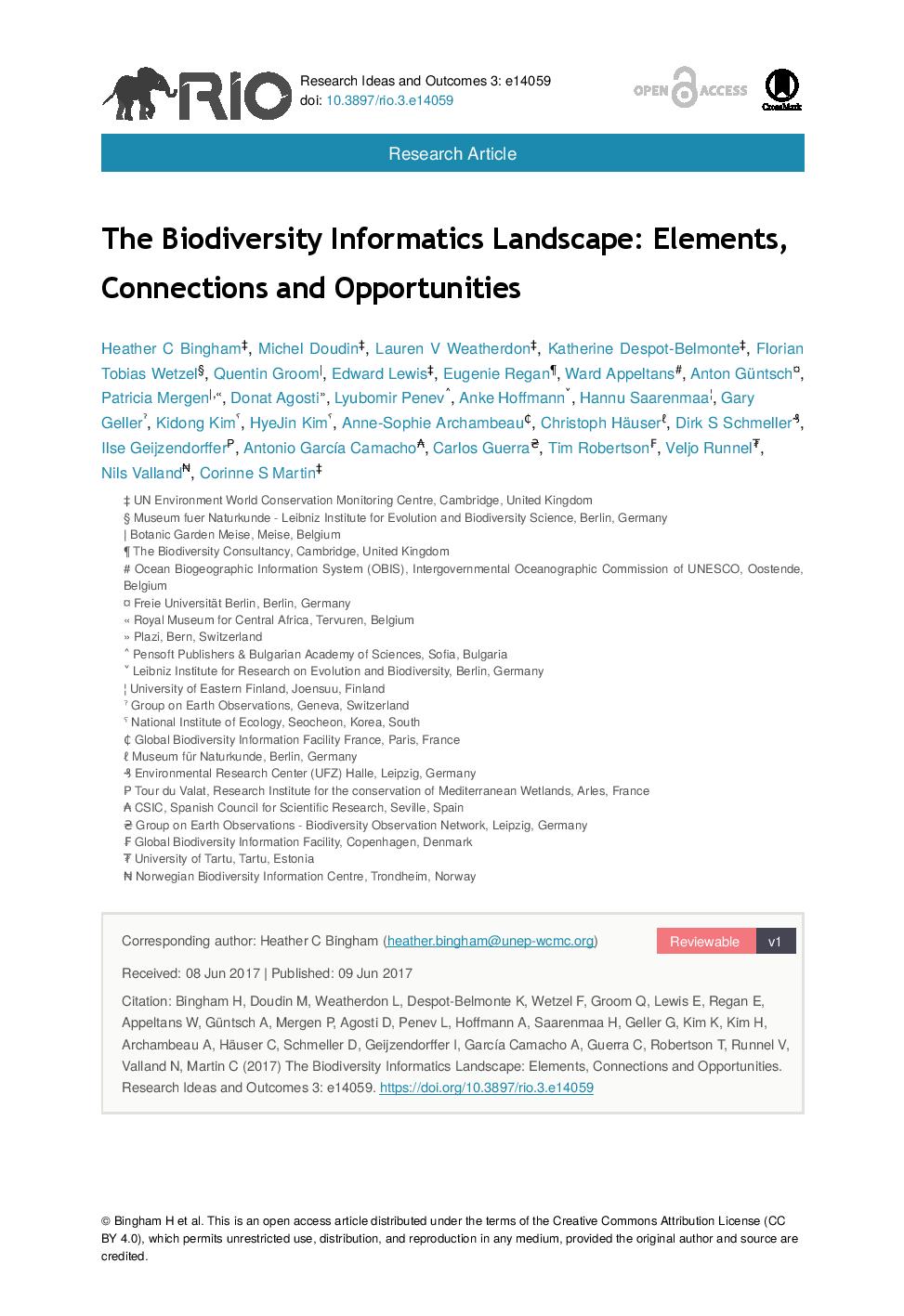 There are a multitude of biodiversity informatics projects, datasets, databases and initiatives at the global level, and many more at regional, national, and sometimes local levels. In such a complex landscape, it can be unclear how different elements relate to each other. Based on a high-level review of global and European-level elements, we present a map of the biodiversity informatics landscape. This is a first attempt at identifying key datasets/databases and data services, and mapping them in a way that can be used to identify the links, gaps and redundancies in the landscape.
Author: Bingham, H.,Doudin, M.,Weatherdon, L., Despot-Belmonte, K.,Wetzel, F., Groom, Q.,Lewis, E., Regan, E, Appeltans, W., Güntsch, A.,Mergen, P.,Agosti, D.,Penev, L.,Hoffmann, A.,Saarenmaa, H., Gary Geller , Kidong Kim , HyeJin Kim , Anne-Sophie Archambeau , Christoph Häuser , Dirk S Schmeller , Ilse Geijzendorffer , Antonio García Camacho , Carlos Guerra , Tim Robertson , Veljo Runnel , Nils Valland , Corinne S Martin |,« » ˄ ˅ ¦ ˀ ˁ ˁ ₵ ℓ ₰ ₱ ₳ ₴ ₣ ₮ ₦ ‡
Year: 2017
Keywords:
---
This Caribbean Billfish Management and Conservation Plan has been prepared to reverse the trend of declining stocks of billfish species within the Western Central Atlantic Ocean and its adjacent seas, and to address unsustainable fishing practices.
The objective of this Plan is to outline and guide the implementation of a suite of billfish management measures over a five-year period at regional and sub-regional scales to help secure the potential future benefits that can accrue from billfish stocks in the Caribbean.
Author: Bealet, R., Pérez, M. and. Anrooy, R.
Year: 2019
Keywords:
---
FROM VISION TO STRATEGIC ACTION
FROM VISION TO STRATEGIC ACTION
The CLME+ Hub is an initiative of the Secretariat of the CLME+ Interim Coordination Mechanism (ICM), in collaboration with the members of the CLME+ ICM and CLME+ Project Executive Group (PEG) and (prospective) Partner Organizations. Development of the Hub has benefited from the financial support of the UNDP/GEF Project: "Catalysing Implementation of the Strategic Action Programme (SAP) for the Sustainable Management of shared Living Marine Resources in the Caribbean and North Brazil Shelf Large Marine Ecosystems" (CLME+ Project, 2015-2020). The CLME+ Project is executed by the United Nations Office for Project Services (UNOPS) in close collaboration with a large number of global, regional and national-level partners. For more information on the CLME+ Project click here
Copyright © 2021 CLME + HUB