Displaying 860 results.
Author: FAO WECAFC
Year:
Keywords: Flyingfish working group Flyingfish
---
Author: FAO WECAFC
Year: 2018
Keywords: IUU Working Group IUU fishing
---
Author: FAO WECAFC
Year: 2017
Keywords: Recreational Fisheries Working Group Recreational Fisheries
---
Author: FAO WECAFC
Year:
Keywords: Spiny lobster working group grupo de trabajo de la langosta Espinosa Working Group, spiny lobster
---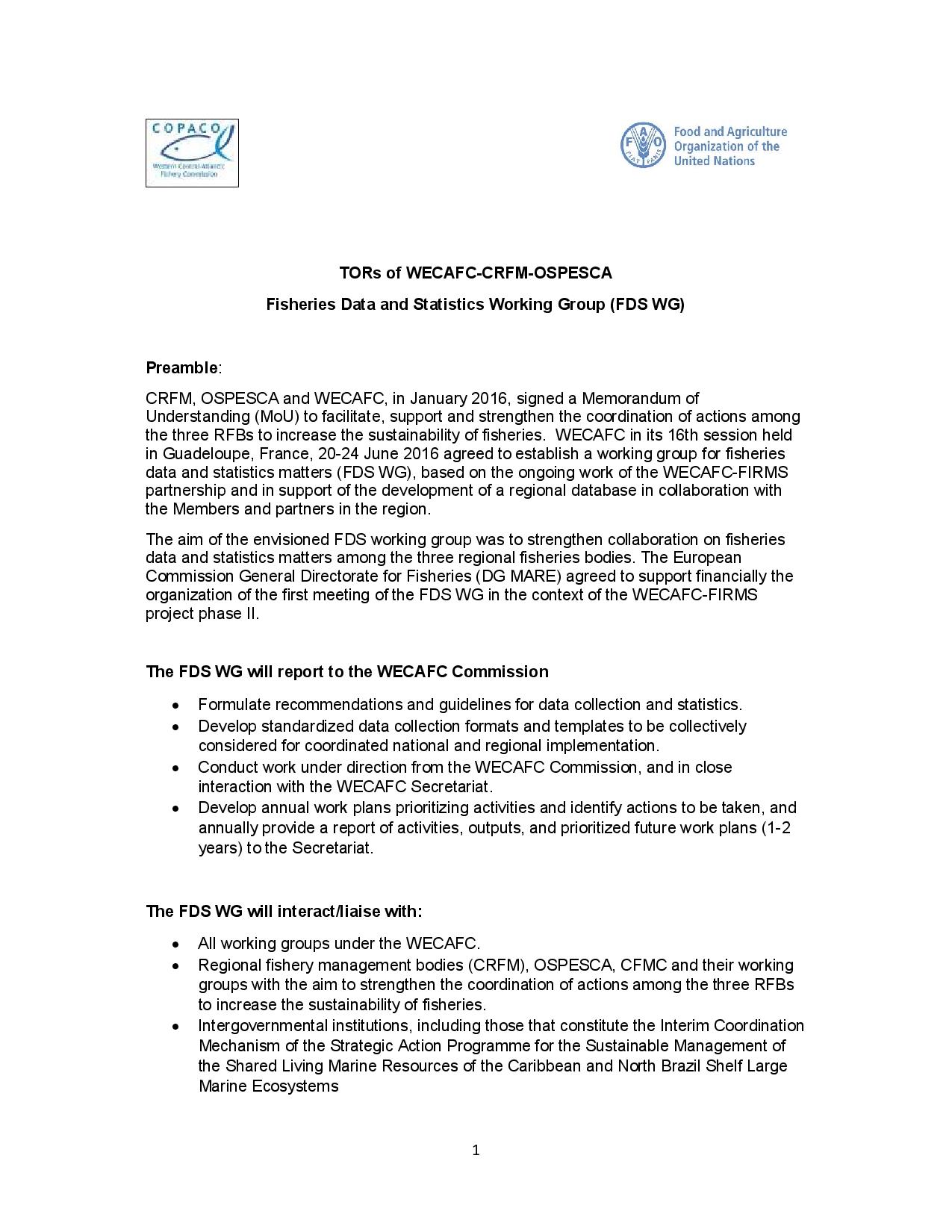 CRFM, OSPESCA and WECAFC, in January 2016, signed a Memorandum of Understanding (MoU) to facilitate, support and strengthen the coordination of actions among the three RFBs to increase the sustainability of fisheries. WECAFC in its 16th session held in Guadeloupe, France, 20-24 June 2016 agreed to establish a working group for fisheries data and statistics matters (FDS WG), based on the ongoing work of the WECAFC-FIRMS partnership and in support of the development of a regional database in collaboration with the Members and partners in the region.
The aim of the envisioned FDS working group was to strengthen collaboration on fisheries data and statistics matters among the three regional fisheries bodies. The European Commission General Directorate for Fisheries (DG MARE) agreed to support financially the organization of the first meeting of the FDS WG in the context of the WECAFC-FIRMS project phase II.
Author: FAO WECAFC
Year:
Keywords: Fisheries Data and Statistics Working Group governance
---
Tourism is the Caribbean's newest industry, particularly across the islands of the Archipelago. It has developed uninterrupted over the past thirty years, and since the 1990s has brought periods of continuous growth to many small island communities. Along the mainland coast, wherever tourism has been developed, the numbers involved have proved much greater than on the islands. Nevertheless, for several Caribbean islands, tourism represents the most important economic activity. This map contains an illustrative explanation on how tourism behavior in the Caribbean.
Author: AREC
Year: 2010
Keywords:
---
This report attempts to quantify the current ocean economy in the region and summarize projections about where we may find new pockets of sustainable growth, and define the blue economy concepts and possible policy responses that might better align economic growth and environmental health in the Caribbean.
Author: Patil, P.G., Virdin, J., Diez, S.M., Roberts, J., Singh, A.
Year: 2016
Keywords:
---
Abstract: In order to ensure sustainable use of their shared marine resources, the nations of the West Caribbean Region must adopt an approach that encompasses both the human and natural dimensions of ecosystems. This volume directly contributes to that vision, bringing together the collective knowledge and experience of scholars and practitioners within the wider Caribbean to assemble a road map towards marine ecosystem based management for the region. The research presented here will be used not only as a training tool for graduate students, but also as comparative example and guide for stakeholders and policy makers in each of the world's sixty-four large marine ecosystems.
Author: Fanning, Lucia / Mahon, Robin / McConney, Patrick / Verhart, L.
Year: 2011
Keywords: EAF, EBM, LME, Large Marine Ecosystems, governance
---
PSC2006_AI5.3-Process-and-Tentative-Timeline.
Author: ICM CLME+
Year:
Keywords: Towards the establishment of the Permanent Coordination Mechanism: process & timeline governance
---
In this resolution the General Assembly called on the United Nations system and the international community to assist, as appropriate, Caribbean countries and their regional organizations in their efforts to ensure the protection and sustainable management of the Caribbean Sea, and requested the Secretary-General to report to it at its sixty-fifth session on the status of the implementation of the said resolution, and to include "a section on the possible legal and financial implications of the concept of the Caribbean Sea as a special area within the context of sustainable development, including its designation as such without prejudice to relevant international law, taking into account the views expressed by Member States and relevant regional organizations."
Author: UN General Assembly
Year: 2009
Keywords:
---
FROM VISION TO STRATEGIC ACTION
FROM VISION TO STRATEGIC ACTION
The CLME+ Hub is an initiative of the Secretariat of the CLME+ Interim Coordination Mechanism (ICM), in collaboration with the members of the CLME+ ICM and CLME+ Project Executive Group (PEG) and (prospective) Partner Organizations. Development of the Hub has benefited from the financial support of the UNDP/GEF Project: "Catalysing Implementation of the Strategic Action Programme (SAP) for the Sustainable Management of shared Living Marine Resources in the Caribbean and North Brazil Shelf Large Marine Ecosystems" (CLME+ Project, 2015-2020). The CLME+ Project is executed by the United Nations Office for Project Services (UNOPS) in close collaboration with a large number of global, regional and national-level partners. For more information on the CLME+ Project click here
Copyright © 2021 CLME + HUB