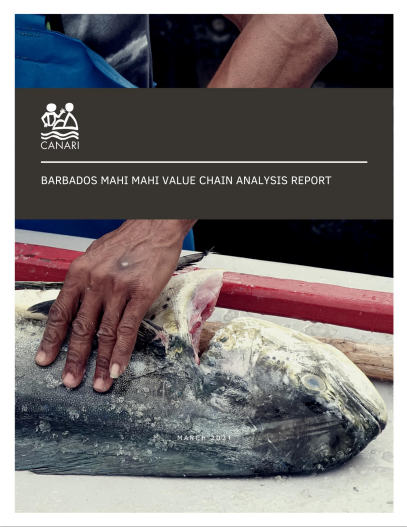 StewardFish: Barbados Mahi Mahi Value Chain Analysis Report
Mahi mahi (Coryphaena hippurus) was the second largest fish species in total fish catch for Barbados in 2016. It accounted for 24.5 percent of the catch. It was second to the four-winged flying fish, which is, traditionally, the largest contributor to fish catch, at 28.4 percent in that year. In Barbados, mahi mahi is normally caught using iceboats and longliners. Landings in 2018 were only 47 percent of the landings in 2009 and have been at low levels since 2010, relative to the historical catch, where landings reached a high of 2011 tonnes in 1988. The mahi mahi fishery in Barbados is under significant threat from increasing numbers of juveniles being easily caught near floating sargassum mats. The increase in sargassum since 2011, due to climate change or other factors, is likely to further exacerbate this problem. Consumers have also been demanding the smaller-sized mahi mahi in recent years, as this is more affordable, and this behaviour has intensified as a result of limited incomes due to the COVID-19 pandemic. Furthermore, female vendors were disproportionately affected due to the pandemic, since they generally did not own a vehicle, and therefore could not engage in mobile sales to households. The COVID-19 pandemic has accelerated the growth of online, telephone, and mobile (WhatsApp) retail channels. Growth in these retail channels is expected to continue in the future. Industry stakeholders unanimously agree that the fishery's sustainability is under severe threat, given the small landings of mahi mahi, and also because the quantity of landings have not recovered in recent years, and remains very low. In addition, while the global mahi mahi market is expanding, consumers in these markets are increasingly demanding traceability of the product as well as mahi mahi from sustainably-managed fisheries with needed certifications. Further, the Barbados mahi mahi fishery continues to show variability in its inter-year abundance, even with the increased landings of juveniles. The development of a minimum-sized regulation for the species is commendable, but this needs to be put into law to encourage less landings of juveniles. One significant strength of the mahi mahi fishery is the vibrant fisherfolk organisation, Barbados National Union of Fisherfolk Organisations (BARNUFO), which works closely with the private sector, government, and research and development agencies to provide training and policy support for fishers and vendors. In the first quarter of 2021, BARNUFO's members are expected to access health and life insurance through a new product by insurers Sagicor. This would provide much-needed livelihood support for fishers and vendors and their families. In addition to promoting new systems by which vendors and processors can market their products locally, mahi mahi appears to have good market potential in the Caribbean Community (CARICOM) region, as this high-valued product is often utilised by the tourism sector, which was growing well preCOVID-19, especially in countries such as Antigua and Barbuda. New value-added products, such as fish burger patties, fish fingers, and fish sausages have growing international appeal as consumers look for healthier food options. As the local and regional tourism sectors recover in the short to medium term, hoteliers and restaurant owners should be targeted for new business opportunities.
Year: 2021
Author: Hutchinson, Sharon D. and Girvan, Alexander S.T.
Keywords:




Report issue