Displaying 853 results.
The primary goal of this project was to set in motion a tri-state marine action plan that identifies common problems across the region, consolidating information, and gathering stakeholder inputfor responding to marine biodiversity loss and climate change adaptation needs from a marine corridor perspective.
Author: Schill, S., Raber G., Roberts, J., and Treml, E.
Year: 2012
Keywords:
---
This document describes the Action Plan that the region wishes to undertake for the next ten years promote, improve, accelerate and scale up ecosystem restoration in the region. It is a regional level voluntary effort that focuses on cooperation mechanisms and enabling conditions designed to effectively support countries according to their national needs, priorities and capacities, while promoting synergies and complementarity with existing initiatives.
Author: UNEP CEP
Year: 2021
Keywords: Global strategy for the implementation of the UN Decade on Ecosystem Restoration
---
This Document Shows the Agreement Establishing The Caribbean Regional Fisheries Mechanism.
Author: CRFM
Year:
Keywords:
---
En la edición 2017 del Informe Mundial de las Naciones Unidas sobre el Desarrollo de los Recursos Hídricos (WWDR) se analiza la temática de aguas residuales y su potencial como recurso sostenible.
En el Informe Mundial sobre Desarrollo de los Recursos Hídricos 2017 se demuestra que una mejor gestión de las aguas residuales implica no solo la reducción de la contaminación en las fuentes, sino también la eliminación de contaminantes de los flujos de aguas residuales, la reutilización de las aguas regeneradas y la recuperación de los subproductos útiles.
Author: UNESCO
Year: 2017
Keywords:
---
A nivel mundial, la mayor parte de las aguas residuales no se recoge ni se somete a ningún tratamiento. Las aguas residuales son un recurso valioso, pero a menudo son vistas como una carga de la que hay que deshacerse. Es necesario cambiar esta percepción.
Author: World Bank
Year:
Keywords: pollution
---
This document contents the signed amendment to the Fisheries ICM Memorandum of Understanding (MOU)
Author: SAP ICM
Year: 2020
Keywords: Amendment to the Fisheries ICM Memorandum of Understanding (MOU)
---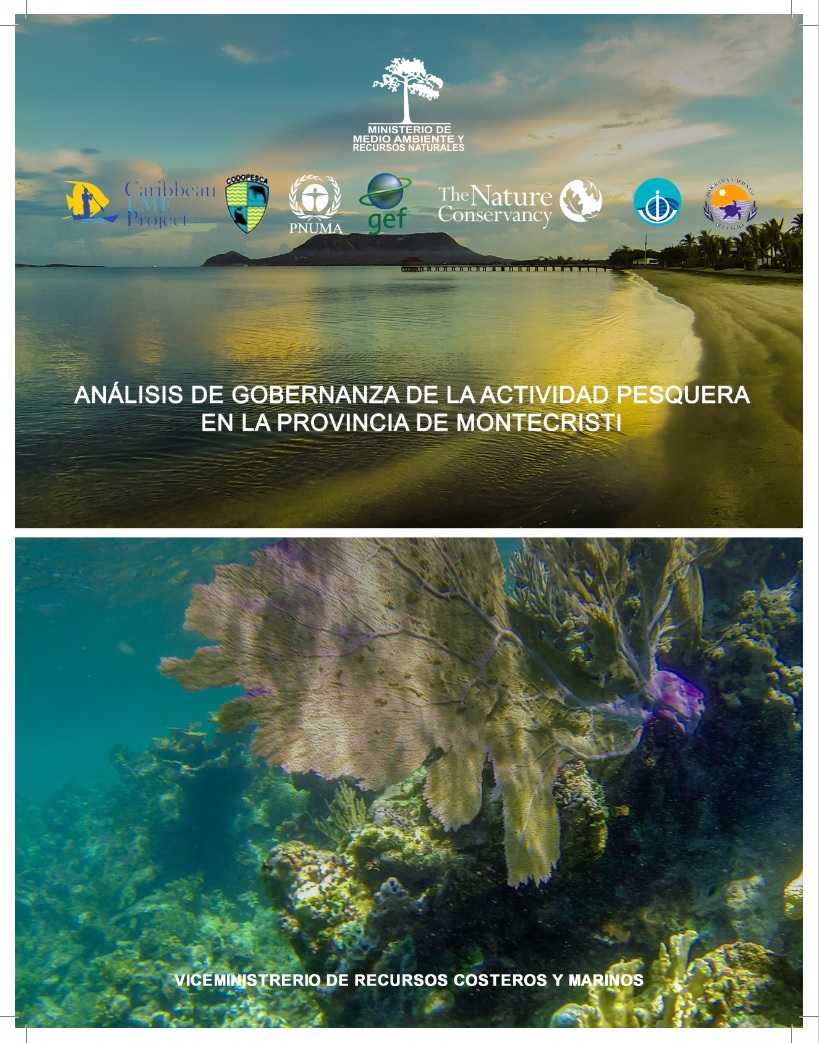 La gobernanza se refiere a los procesos de toma de decisiones y sus implementaciones. Su análisis se concentra en los actores formales e informales que están involucrados en dichos procesos.  Algunos sostienen que la gobernanza está  ligada a los procesos de interacción entre los actores involucrados en un asunto público, que llevan a la toma de decisiones o a la formulación de normas. El presente documento parte de estos conceptos y realiza un análisis de  la gobernanza de la actividad pesquera en la provincia de Montecristi, tendiendo en consideración que la existencia de los debidos consensos en cuanto a las metas,  roles, responsabilidades y la transparencia de las acciones, facilitan la unión de esfuerzos y voluntades de todos los potenciales actores en cada área de actividad de la pesca arrecifal que es fuente de beneficio colectivo a la población, proporcionando alimento de forma sostenible que a la vez puede contribuir a la preservación del ambiente si se hace de forma responsable.
Consenso, objetivos y normas claras, participación y transparencia son claves para una buena gobernanza!
Author: ViceMinisterio de Recursos Costeros y Marinos, Ministerio de Ambiente y Recursos Naturales, Republica Dominicana
Year: 2012
Keywords:
---
---
Define and map the study area including key geographic and land use data to identify wastewater pollution and other water pollution pathways and populations of interest.
Author: Gray, E., Burke, L. and. Lambert, L.
Year:
Keywords:
---
Author: Gray, E., Burke, L., Karim, R., and. Santana, C.
Year: 2015
Keywords:
---
FROM VISION TO STRATEGIC ACTION
The CLME+ Hub is an initiative of the Secretariat of the CLME+ Interim Coordination Mechanism (ICM), in collaboration with the members of the CLME+ ICM and CLME+ Project Executive Group (PEG) and (prospective) Partner Organizations. Development of the Hub has benefited from the financial support of the UNDP/GEF Project: "Catalysing Implementation of the Strategic Action Programme (SAP) for the Sustainable Management of shared Living Marine Resources in the Caribbean and North Brazil Shelf Large Marine Ecosystems" (CLME+ Project, 2015-2020). The CLME+ Project is executed by the United Nations Office for Project Services (UNOPS) in close collaboration with a large number of global, regional and national-level partners. For more information on the CLME+ Project click here
Copyright © 2021 CLME + HUB
SOMEE content is still under development and is therefore not yet available online. However, you can already check for sample text and materials under the sections in blue text