Displaying 866 results.
This strategy is not a separate undertaking. It extracts and summarises the already agreed activities and tasks under all other relevant outputs, but particularly the sub-projects, overall communication strategy and knowledge sharing. Different partners are responsible for these. The field initiatives include UNEP-led EBM sub-project, CRFM-led flyingfish sub-project, OSPESCA-led lobster sub-project, FAO-led shrimp and groundfish sub-project and OECS-led oceanscape that have the potential to practically demonstrate EBM-EAF and document good practices in addition to communicating and conceptualising the practices.  The overall governance, sustainable financing, knowledge sharing, research agenda, P-SAP and C-SAP all facilitate institutional mainstreaming. Success will require good leadership in implementing EBM-EAF at all levels, and at all times, in this work and in the institutional arrangements that guide, learn and adapt.
Author: CERMES
Year: 2017
Keywords:
---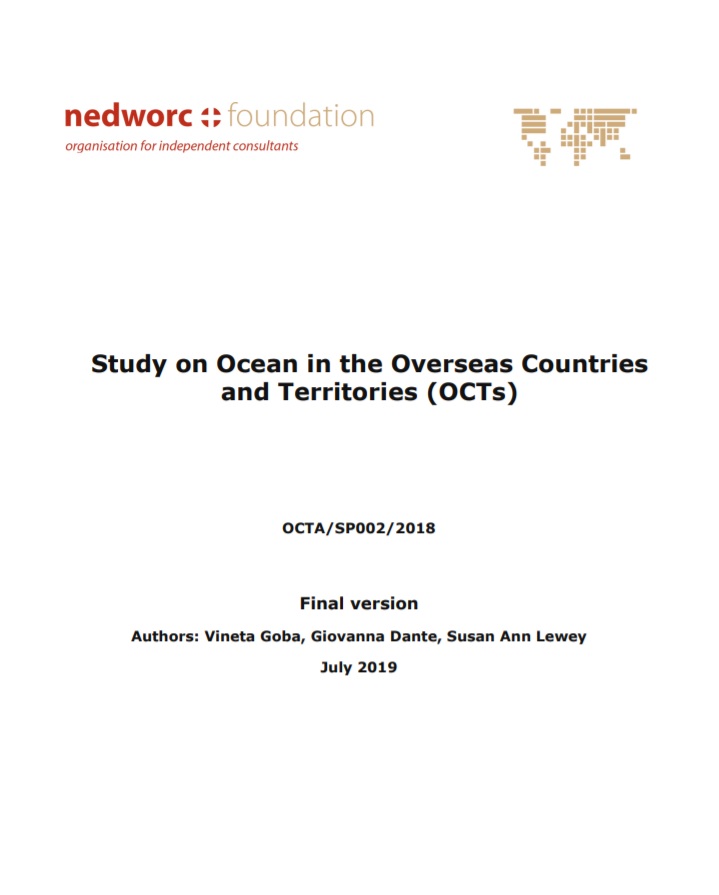 The Overseas Countries and Territories of the European Union (OCTs) make up a group of currently 25 countries and territories which, despite a number of differences between them, have a lot in common (e.g. insular micro-economies, a rich biodiversity, etc.). The Global objective of the study is to provide inputs as a basis for a discussion for the development of an OCTs joint approach to an Ocean Policy by: 1) benchmarking where the OCTs stand – individually – in terms of developing an Ocean agenda as well as their individual contribution to SDG 14 and Aichi targets. To identify the stakeholders responsible for related public policy and/or actions carried in the OCTs; 2) identifying EU and international, public and private, funding opportunities on ocean-related issues, and produce a mapping; 3) identifying topics of interest and common priorities for the OCTs and formulate recommendations to develop a common strategy that may encompasses specific recommendations per geographical area linked to regional strategies and programmes implemented by regional organizations; and 4) providing an overview of other ocean related global and EU initiatives and networks in which OCTA or the OCTs could take part.
Author: Goba, V., Dante, G. and Lewey, S.
Year:
Keywords:
---
Author: CLME+ PCU
Year: 2019
Keywords: Styrofoam and Plastics Bag Ban Status
---
Author: CLME+ PCU
Year: 2019
Keywords: Styrofoam and Plastics Bag Ban Status as of 2019 Habitat, pollution
---
Author: CLME+ PCU
Year: 2020
Keywords: Sub-ecosystems in the Wider Caribbean Region
---
Author: CRFM
Year: 2014
Keywords: Flyingfish working group EAF, Flyingfish
---
Author: CLME+ PCU
Year: 2020
Keywords: Sub-regions of the State of Convention Area Report (SOCAR) on Pollution
---
Comisión Oceanográfica Intergubernamental
Informes de los Organos Rectores y de los Organos Subsidiarios Principales
Subcomisión de la COI para el Caribe y Regiones Adyacentes (IOCARIBE)
Séptima Reunión Veracruz, México 25-28 de febrero de 2002
Author: IOCARIBE-IOC
Year: 2002
Keywords:
---
Author: CLME+ PCU
Year: 2020
Keywords: Submission of Water Quality Data
---
El documento en cuestión presenta un resumen ejecutivo del Informe Final Proyecto Piloto de Manejo y  Conservación de la Pesquería y Biodiversidad Arrecifal Parque Nacional Montecristi. El informe contiene: información general del proyecto; diseño e implementación del mismo; sus resultados; propuestas y conclusiones.
Author: ViceMinisterio de Recursos Costeros y Marinos, Ministerio de Ambiente y Recursos Naturales, Republica Dominicana
Year: 2012
Keywords:
---
FROM VISION TO STRATEGIC ACTION
FROM VISION TO STRATEGIC ACTION
The CLME+ Hub is an initiative of the Secretariat of the CLME+ Interim Coordination Mechanism (ICM), in collaboration with the members of the CLME+ ICM and CLME+ Project Executive Group (PEG) and (prospective) Partner Organizations. Development of the Hub has benefited from the financial support of the UNDP/GEF Project: "Catalysing Implementation of the Strategic Action Programme (SAP) for the Sustainable Management of shared Living Marine Resources in the Caribbean and North Brazil Shelf Large Marine Ecosystems" (CLME+ Project, 2015-2020). The CLME+ Project is executed by the United Nations Office for Project Services (UNOPS) in close collaboration with a large number of global, regional and national-level partners. For more information on the CLME+ Project click here
Copyright © 2021 CLME + HUB