Displaying 860 results.
As governing instruments, data access and sharing policies are meant to set principles and boundaries which shall govern the in and-out flow of data by the WECAFC community, data security and confidentiality aspects, collaborative work through data sharing, and publishing.
Author: Taconet, M.
Year: 2018
Keywords: Fisheries Data and Statistics Working Group
---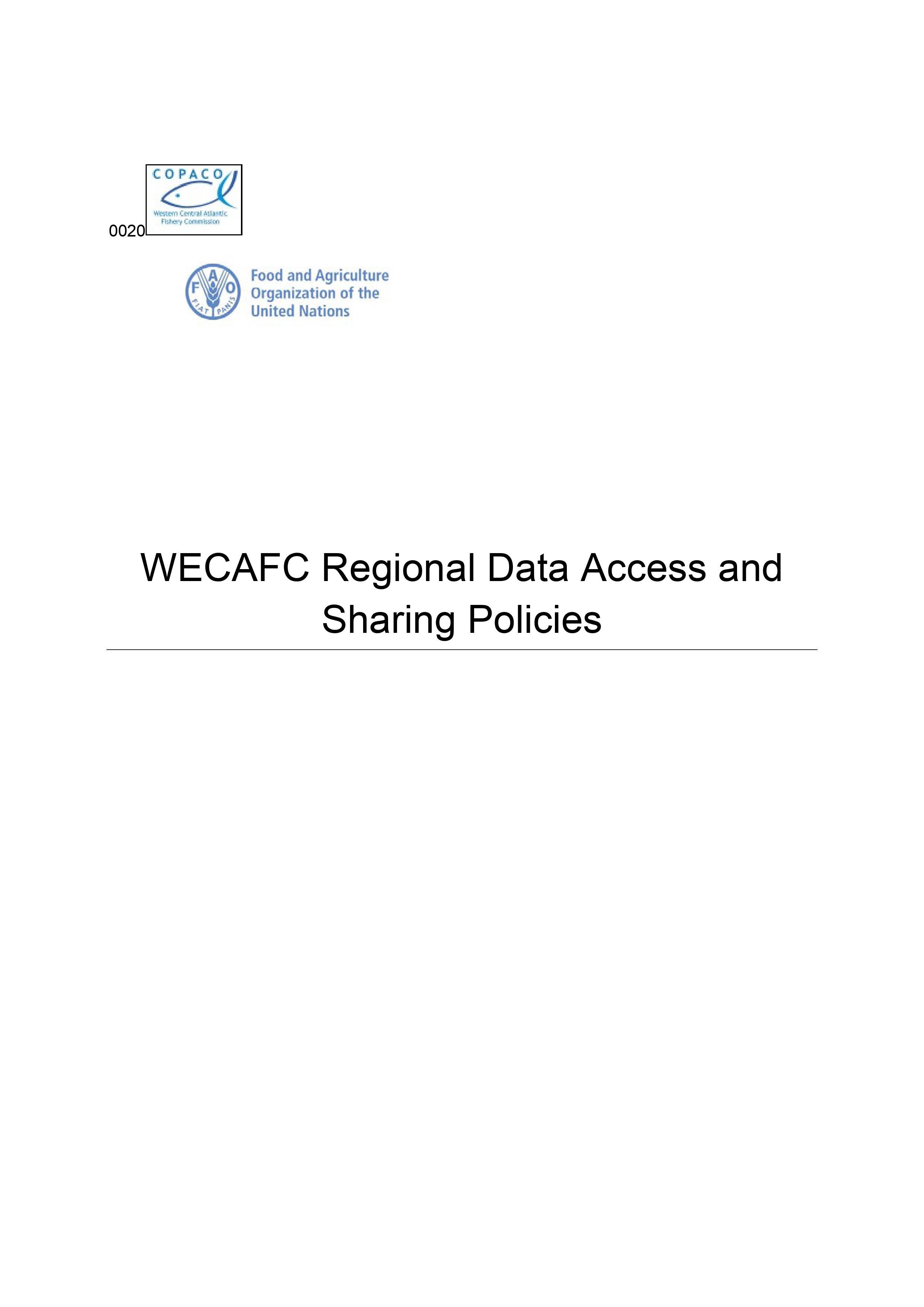 WECAFC member countries recognized in the 1970s and 1980s that without the necessary data and information, it would be impossible for the countries in the region to manage their shared fisheries. Following major investments by the countries, with support from the Danish Government (DANIDA) capacity building projects and the FAO/Norway EEZ programme (1982 -1985), the availability of data and information on the status of the stocks and the fisheries improved significantly.
The proposed WECAFC data management and related Regional Data Sharing and Access Policies respond to international and regional data strategies including, in a context of multiple reporting requirements, the need for streamline data reporting, as well as collaboration and harmonization among RFBs and other national and regional institutions involved in improving the state of marine resources (WECAFC-CRFM-OSPESCA MoU) and that of the marine environment (SAP). Fostering public awareness while providing access to the underlying scientific evidence, and involving stakeholders in the collection and ownership of data processes feature high in those strategies, described below.
Author: Laurent, Y.
Year: 2018
Keywords:
---
Author: CLME+ PCU
Year: 2020
Keywords: Western Central Atlantic Fisheries Commission (WECAFC) Area of Competence
---
This report reviews a selected set of projects under the umbrella of the Water and Ocean Governance Programme (WOGP), with a view to exploring what has worked on the ground in terms of assisting countries and stakeholders to reform their water and ocean governance frameworks. The analysis inserts the reported transformation into the steps of the WOGP theory of change, as a way of identifying the factors that helped stakeholders improve their way of interaction and realize governance reforms.
Author: UNDP
Year: 2018
Keywords:
---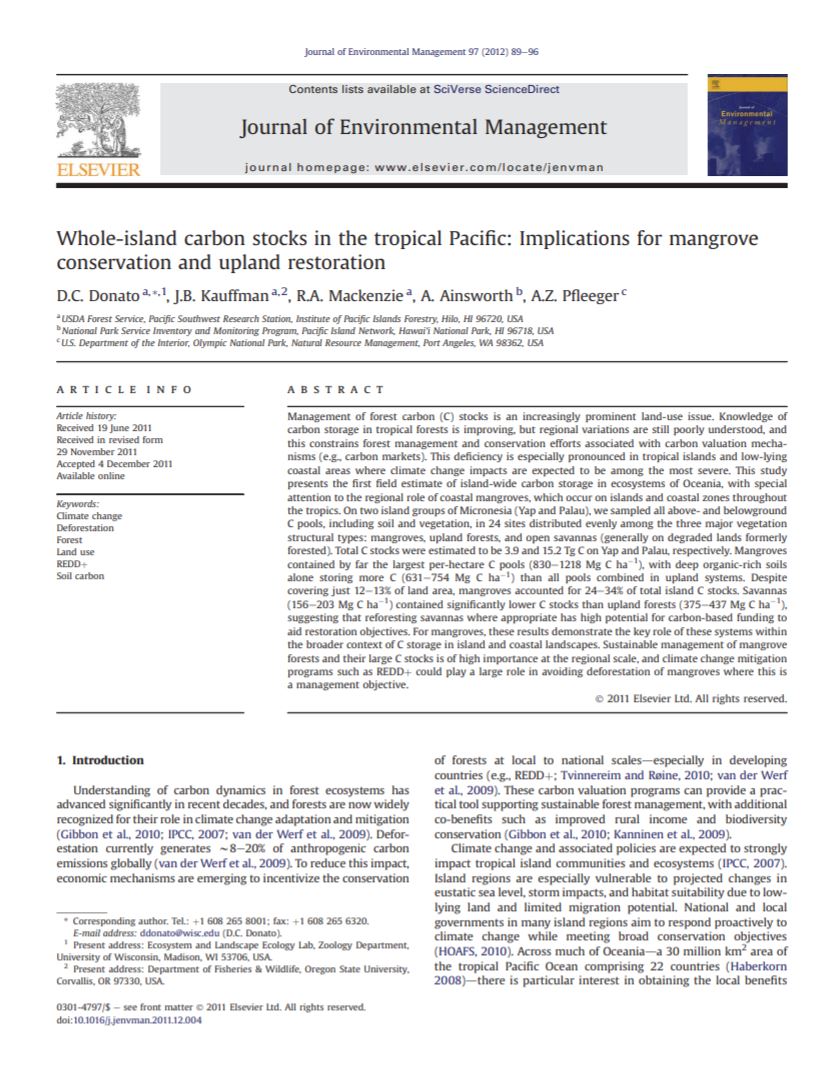 Management of forest carbon (C) stocks is an increasingly prominent land-use issue. Knowledge of carbon storage in tropical forests is improving, but regional variations are still poorly understood, and this constrains forest management and conservation efforts associated with carbon valuation mechanisms (e.g., carbon markets). This deficiency is especially pronounced in tropical islands and low-lying coastal areas where climate change impacts are expected to be among the most severe. This study presents the first field estimate of island-wide carbon storage in ecosystems of Oceania, with special attention to the regional role of coastal mangroves, which occur on islands and coastal zones throughout the tropics. On two island groups of Micronesia (Yap and Palau), we sampled all above- and belowground C pools, including soil and vegetation, in 24 sites distributed evenly among the three major vegetation structural types: mangroves, upland forests, and open savannas (generally on degraded lands formerly forested). Total C stocks were estimated to be 3.9 and 15.2 Tg C on Yap and Palau, respectively. Mangroves
contained by far the largest per-hectare C pools (830e1218 Mg C ha1), with deep organic-rich soils alone storing more C (631e754 Mg C ha1) than all pools combined in upland systems. Despite
covering just 12e13% of land area, mangroves accounted for 24e34% of total island C stocks. Savannas (156e203 Mg C ha1) contained significantly lower C stocks than upland forests (375e437 Mg C ha1), suggesting that reforesting savannas where appropriate has high potential for carbon-based funding to aid restoration objectives. For mangroves, these results demonstrate the key role of these systems within the broader context of C storage in island and coastal landscapes. Sustainable management of mangrove forests and their large C stocks is of high importance at the regional scale, and climate change mitigation programs such as REDDþ could play a large role in avoiding deforestation of mangroves where this is a management objective.
Author: Donato, D., Kauffman, J., Mackenzie, R., Ainsworth, A., Pfleeger, A.
Year: 2012
Keywords: Island, Carbon, Stocks, Tropical pacific, Mangrove, conservation, upland restoration. blue carbon, mangroves
---
Sustainable Development Goal #6 (SDG6) includes ambitious and comprehensive targets aiming for universal coverage of water, sanitation and hygiene (WASH) services and safe management and treatment of fecal sludge and wastewater, among others. In Latin America and the Caribbean (LAC), achieving SDG6 by 2030 will require significant effort and investment: at least US$ 14 billion annually will need to be mobilized solely to cover the capital costs associated with expanding and improving services.1 Despite much progress made towards increasing improved WASH coverage in LAC, there is still much work and investment needed, and the transition from an MDG framework to that of the SDGs will likely be a sobering "reality check" for the region with respect to the true scope, quality and challenges associated with achieving universal WASH coverage and sound water resource management.
Author: Sparkman, D and. Sturzenegger, G.
Year: 2017
Keywords:
---
The countries of the Wider Caribbean Region (WCR) are linked economically by their transboundary living marine resources. Th e region is facing a continued decline of these resources. Science is improving our understanding of the human contributions to this decline, but national policies and programmes have not kept pace with this understanding. Th e Caribbean Regional Seas Programme and its Cartagena Convention and Protocols provide the regional legal framework for protection and sustainable management of the WCR's living marine and coastal resources.
Author: Lausche, B.
Year: 2008
Keywords: biodiversity, marine habitats
---
In this publication, the GEF Small Grants Programme, implemented by UNDP, features women as environmental stewards in case studies about biodiversity conservation, climate change, land degradation, international waters and chemicals and waste management. These examples show action from the ground up and demonstrate the importance of investing in women's leadership and technical skills for improved environmental benefits and sustainable development, while challenging traditional gender norms that often prevent women from taking leadership roles or from having access and control over the natural resources they help preserve.
Author: UNDP
Year: 2018
Keywords: Women As Environmental Stewards: The Experience Of The Small Grants Programme
---
This workplan and budget covers ongoing and proposed projects and activities under the Assessment and Management of Environmental Pollution (AMEP) sub-programme of the Secretariat to the Cartagena Convention for the biennium 2019-2020.
The goal of AMEP is to prevent, reduce, and control pollution of the coastal and marine environment from land and marine-based sources thereby enabling countries of the Wider Caribbean Region to meet their obligations under the Protocols Concerning Pollution from Land-based Sources and Activities (LBS Protocol), and Concerning Co-Operation in Combating Oil Spills (Oil Spills Protocol) of the Cartagena Convention.
Author: UNEP CEP
Year: 2018
Keywords: LBS SOCAR Working Group
---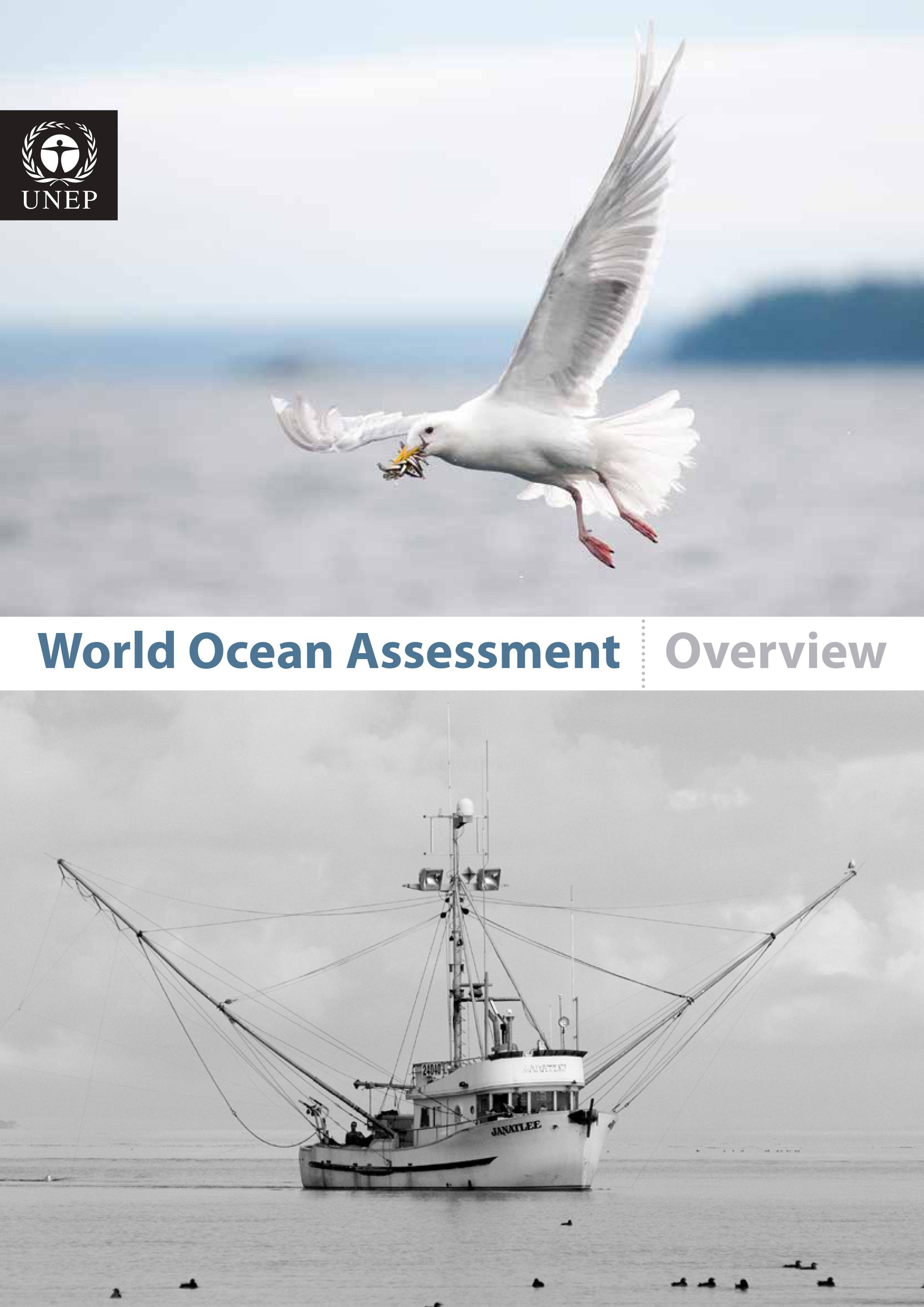 The first World Ocean Assessment (WOA) is a report on the state of the planet's oceans. It is the product of the first cycle of the Regular Process for global reporting and assessment of the state of the marine environment, including socio-economic aspects, which was established after the 2002 World Summit on Sustainable Development. The assessment, though not a policy document, is intended to provide a scientific basis for action by governments, intergovernmental processes, policy-makers and others involved in ocean affairs. It offers a baseline for gauging the effectiveness of management and policy decisions and provides guidance in developing strategies and technologies to solve problems.
This overview looks at the results of the first WOA in a framework that distinguishes driving forces, pressures, states, impacts and responses (called the "DPSIR framework"). The DPSIR framework provides a structure to broadly examine the state of the world's oceans and reflects the relationship between the marine environment and human activity.
Author: GRID-Arendal and UNEP
Year: 2016
Keywords:
---
FROM VISION TO STRATEGIC ACTION
FROM VISION TO STRATEGIC ACTION
The CLME+ Hub is an initiative of the Secretariat of the CLME+ Interim Coordination Mechanism (ICM), in collaboration with the members of the CLME+ ICM and CLME+ Project Executive Group (PEG) and (prospective) Partner Organizations. Development of the Hub has benefited from the financial support of the UNDP/GEF Project: "Catalysing Implementation of the Strategic Action Programme (SAP) for the Sustainable Management of shared Living Marine Resources in the Caribbean and North Brazil Shelf Large Marine Ecosystems" (CLME+ Project, 2015-2020). The CLME+ Project is executed by the United Nations Office for Project Services (UNOPS) in close collaboration with a large number of global, regional and national-level partners. For more information on the CLME+ Project click here
Copyright © 2021 CLME + HUB